Trump Detention Centers Listed Alongside Nazi Concentration Camps on Wikipedia
The Wikipedia entry "List of concentration and internment camps" has seen the addition of the Trump administration's child detention centers which are being used to house immigrant children. The extensive list includes concentration camps used by the Nazi regime.
"As part of the 2018 Trump administration family separation policy, nearly 2,000 immigrant children have been taken from their parents and placed in 'detention centers,'" the Wikipedia entry currently reads under a section titled 'Separation of immigrant children.'
"These centers have been described by those in opposition to the policy as 'concentration camps.' The centers had previously been cited by Texas officials for more than 150 health violations," the entry reads.
"Several government officials disputed accusations of detention centers being concentration camps. Both White House Press Secretary Sarah Huckabee Sanders and Attorney General Jeff Sessions defended the policy by citing the Bible," the Wikipedia page continued. "Sessions specifically cited Romans 13, saying, 'I would cite you to the Apostle Paul and his clear and wise command in Romans 13, to obey the laws of the government because God has ordained the government for his purposes.'"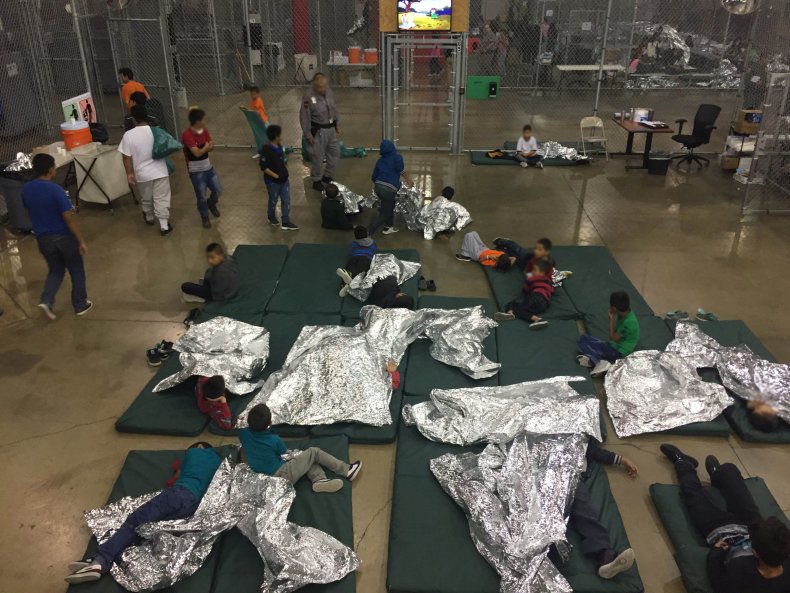 Wikipedia is a free online encyclopedia that is hosted by the Wikimedia Foundation, with pages created and edited by volunteers around the world. Its model is based on a platform that allows users to edit the content. Since the section was added, it has sparked heated discussions among editors of the site which has led to the entry being locked from further edits to prevent vandalism.
In recent weeks, the Trump administration's child separation and "zero-tolerance" policies have sparked enormous backlash from both Republicans and Democrats, who believe the president has gone too far in his crackdown on illegal immigrants.
ICE officials have been separating children from their parents on the U.S.-Mexico border, including toddlers and babies, reported Associated Press. Yesterday, the news organization revealed the existence of three "tender age" shelters in South Texas. The government is also planning on opening a fourth location in Houston.
In April, Attorney General Jeff Sessions announced the Trump administration's "zero-tolerance" policy on immigration which has since resulted in over 2,000 children being ripped away from their families while crossing the border and being detained in holding facilities that lawmakers have called "cages."
Steve Wagner, a Department of Health and Human Services official, described the "tender age" detention centers as "facilities that are devoted to providing care to children with special needs and tender age children."
"They're not government facilities per se, and they have very well-trained clinicians, and those facilities meet state licensing standards for child welfare agencies, and they're staffed by people who know how to deal with the needs—particularly of the younger children," he said.
At a press conference on Monday, Homeland Security Secretary Kristjen Nielsen shifted the heat onto lawmakers. "Congress and the courts created this problem, and Congress alone can fix it," she said. "Until then, we will enforce every law we have on the books to defend the sovereignty and security of the United States."
That same day, Propublica released an audio clip of children inside one of the centers crying for their parents while a Border Patrol Agent can be heard saying, "Well, we have an orchestra here… What's missing is a conductor."