Donald Trump Administration Can't Get Child Separation 'Policy' Messaging Straight
White House communications aide Mercedes Schlapp on Tuesday became the latest member of the Trump administration to fumble or change the messaging about its policy of separating immigrant children from their parents after they've crossed the U.S.-Mexico border.
Schlapp, appearing on Fox & Friends, was asked to clear up conflicting comments made by Attorney General Jeff Sessions and Homeland Security Secretary Kirstjen Nielsen over whether or not the administration's policy was a "deterrent," or even a policy at all.
During a widely panned press briefing Monday, Nielsen stated the administration was following laws already on the books and that it was not the administration's policy to take children from their parents. But Sessions's own words when he announced a "zero-tolerance" policy last month suggest the the Trump administration is responsible for the separations at the border.
With roughly 2,000 children already removed from their parents, Schlapp's comments on Tuesday appeared to reflect Sessions's stance far more than Nielsen's.
"I think at the end of the day it's very clear that these smugglers, for example, know exactly what the business model is," Schlapp said. "And their business model is that if they are able to bring these children across the border, that these individuals will then be quickly released in 20 days.
"I think it's a bigger and broader message which is that, clearly, that we are simply enforcing the law," she continued. "And that law is, if you come in as an illegal adult, you will be prosecuted as a criminal. There is no question you will get a misdemeanor. If you come in a second time, it will be a felony. If you come in a third time you will serve jail time."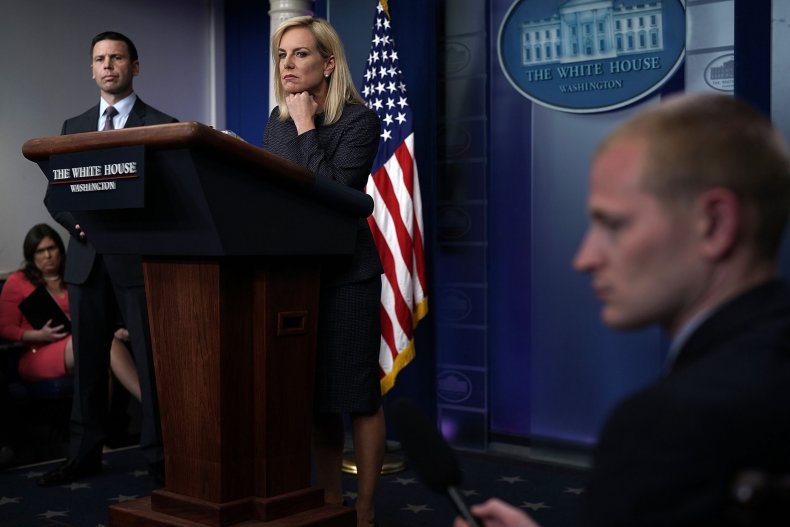 Indeed, Schlapp remarks mirrored Sessions's messaging when he appeared on Fox News Monday and confirmed the policy was meant to serve as a deterrent, stating, "hopefully, people will get the message and come through the border at the port of entry, and not break across the border unlawfully."
White House policy adviser Steven Miller, a former aide to Sessions and longtime immigration hardliner, has also labeled the Trump administration's action a policy, despite President Trump pinning the blame on Democrats.
White House press secretary Sarah Huckabee Sanders also told reporters during last Thursday's press briefing that the administration was merely enforcing existing law and that Congress had the power to change the situation immediately.
But White House Chief of Staff John Kelly, in an interview with NPR just days after Sessions announced that going forward immigrants crossing the border illegally would be charged under criminal not civil law, also called the policy was a detrrent.
"They're not bad people," Kelly said. "They're coming here for a reason. And I sympathize with the reason. But the laws are the laws. But a big name of the game is deterrence."