Ivanka and Donald Trump Jr. Can Give Their Dad Social Media Edge Over Biden
President Donald Trump may be buoyed by the online popularity of his children in his battle for social media supremacy over Democratic rival Joe Biden.
While Trump's has more followers on Twitter and Facebook, previous analysis from Newsweek found Biden was getting stronger engagement figures.
In terms of running mates, Biden also had a stronger surrogate on social media in Sen. Kamala Harris (D-CA) than Trump has in Vice President Mike Pence.
However, Trump has previously looked to his children to boost his campaign, and angling their social media accounts behind him could also be a powerful weapon in his arsenal.
On Facebook, figures from analytics service Newswhip show both Donald Trump Jr. and Ivanka Trump outstrip Biden in terms of average interactions per post.
Ivanka has more than twice the number of likes on her official page, than Biden's, with around 6.8 million and 3.2 million respectively. Trump Jr. lags close behind with around 2.5 million, while Eric Trump has a much smaller Facebook following of around 700,000.
However, in terms of average interaction Ivanka also outdoes Biden, as does Trump Jr.. despite their smaller followings.
Biden had on average 26,145 interactions for each post from the start of 2020 to October 20. In comparison: Trump Jr. had 64,267, Ivanka had 57,159, and Eric had 18,484.
Trump Jr.'s accounts has also surpassed Biden on total interactions on the platform during that period, with around 97 million compared to Biden's around 55 million.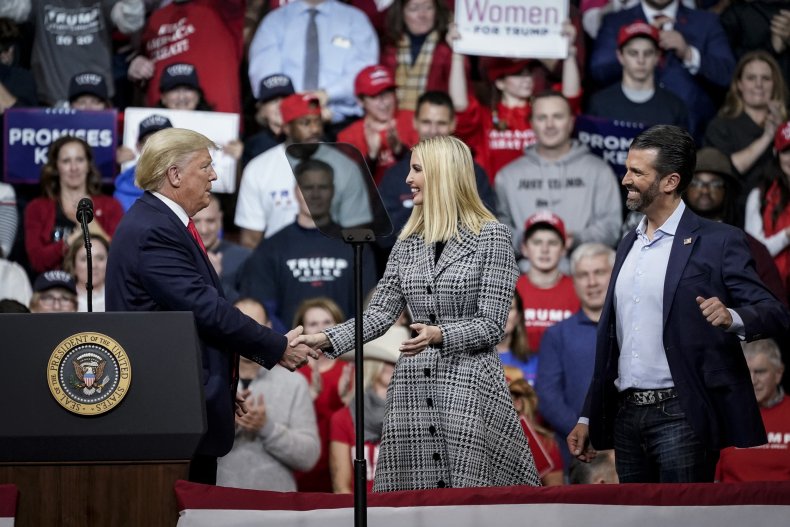 Meanwhile, on Twitter, both Trump and Biden remain ahead of the children on topline figures—but again the rate at which their engagement stats surpass are lower than expected based upon their respective followings.
According to reports from Tweet Binder, Biden gets around 11,221 retweets on average for his posts, based at tweets from the start of the year to October 14.
The Democratic presidential candidate has around 11.3 million followers, which is a higher tally than Ivanka's 9.6 million, Trump Jr.'s 5.8 million and Eric's 4.2 million.
Biden is doing relatively well on retweets compared to the president's children.
Over the year to October 14, Biden had been retweeted around 28 million times, with each Twitter post having been retweeted on average 11,221 times.
Ivanka had 2.7 million retweets, with around 3,453 retweets per post. Trump Jr. had 16.6 million retweets, with 6,742 retweets on average.
Eric had 4.5 million retweets, at an average of 7,046 per post.
According to Maite Muruzabal of Tweet Binder, around 9 percent of Trump Jr's retweets were for tweets about his father, while such tweets accounted for 11 percent of Ivanka's, and 17 percent of Eric's.
"Their top tweets are about Trump and there is not doubt that @DonaldJTrumpJr's is the most devoted to support his dad, he even mentions Joe Biden 51 times," Muruzabal told Newsweek, while also highlighted that Eric's activity has appeared to increase as the election nears.
"It is also remarkable that @EricTrump's timeline is getting more activity these days, that could point out that he's trying now to help Trump by being more active on Twitter than before," Muruzabal said.
"We'll see if Ivanka gets more invested in the tweeting game as she is the one with the most number of followers."
Newsweek has contacted the Trump and Biden campaigns for comment.