Trump Says China Would 'Love' It if He Loses to 'Sleepy' Joe Biden in November
President Donald Trump said China would "love" to see him lose the November election to former Vice President Joe Biden after U.S. intelligence officials reported that Beijing would rather see the incumbent lose his reelection battle.
Speaking to reporters at a press conference in Bedminster, New Jersey, on Friday, Trump also claimed Russia would not like to see him win a second term in the Oval Office, despite intelligence officials saying that Moscow was more inclined to work against Biden.
The president further said that China would "own" the U.S. if the two country's ever struck a trade deal under a Biden presidency.
Addressing the media, Trump said: "China would love us to have an election where Donald Trump lost to sleepy Joe Biden. They would own our country. If Joe Biden was president, China would own our country.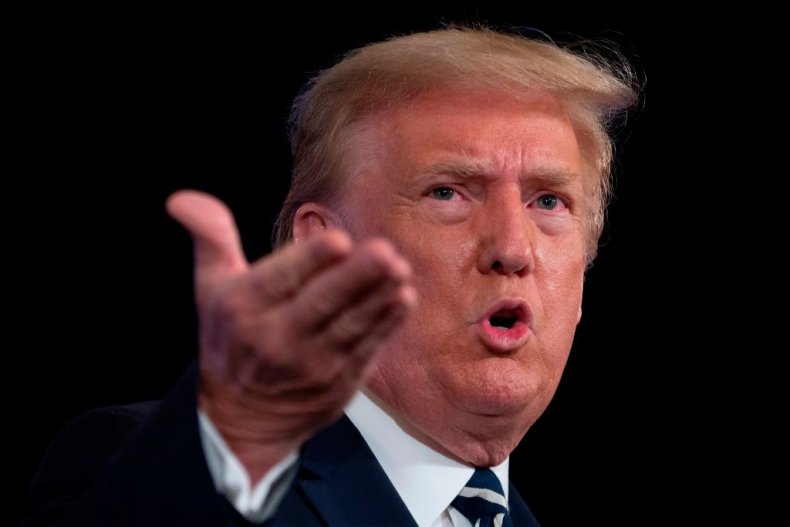 The president also claimed that Russia and Iran would also been keen to see him lose the 2020 presidential race to his Democratic challenger.
"If China makes a deal with the United States with Biden in charge, they would own our country," Trump added. "Look what I've done. I've taken tens of billions from China."
He later said: "The last thing that Russia wants, and China wants, and Iran wants if for Donald Trump to win." Newsweek has contacted the Biden 2020 campaign for comment and will update this article with any response.
The president levied his attack on Biden after he was asked for his views on the intelligence community reporting that China "prefers" the possibility of Trump failing to win reelection on November 3.
Issuing a statement on Friday, National Counterintelligence and Security Center Director William Evanina said: "We assess that China prefers that President Trump – whom Beijing sees as unpredictable – does not win reelection.
"China has been expanding its influence efforts ahead of November 2020 to shape the policy environment in the United States, pressure political figures it views as opposed to China's interests, and deflect and counter criticism of China."
The NCSC boss added that Russia was "using a range of measures to primarily denigrate former Vice President Biden" in the run up to polling day, adding that the view was "consistent" with Moscow's public criticism of the Democratic nominee while he was serving in the Obama administration.
"Some Kremlin-linked actors are also seeking to boost President Trump's candidacy on social media and Russian television," Evanina said.
The intelligence official added that Iran was seeking to "undermine" President Trump and exacerbate divides in the U.S. ahead of the November election.