Trump's China Policy? Send Ivanka and Jared Kushner for Visit Later This Year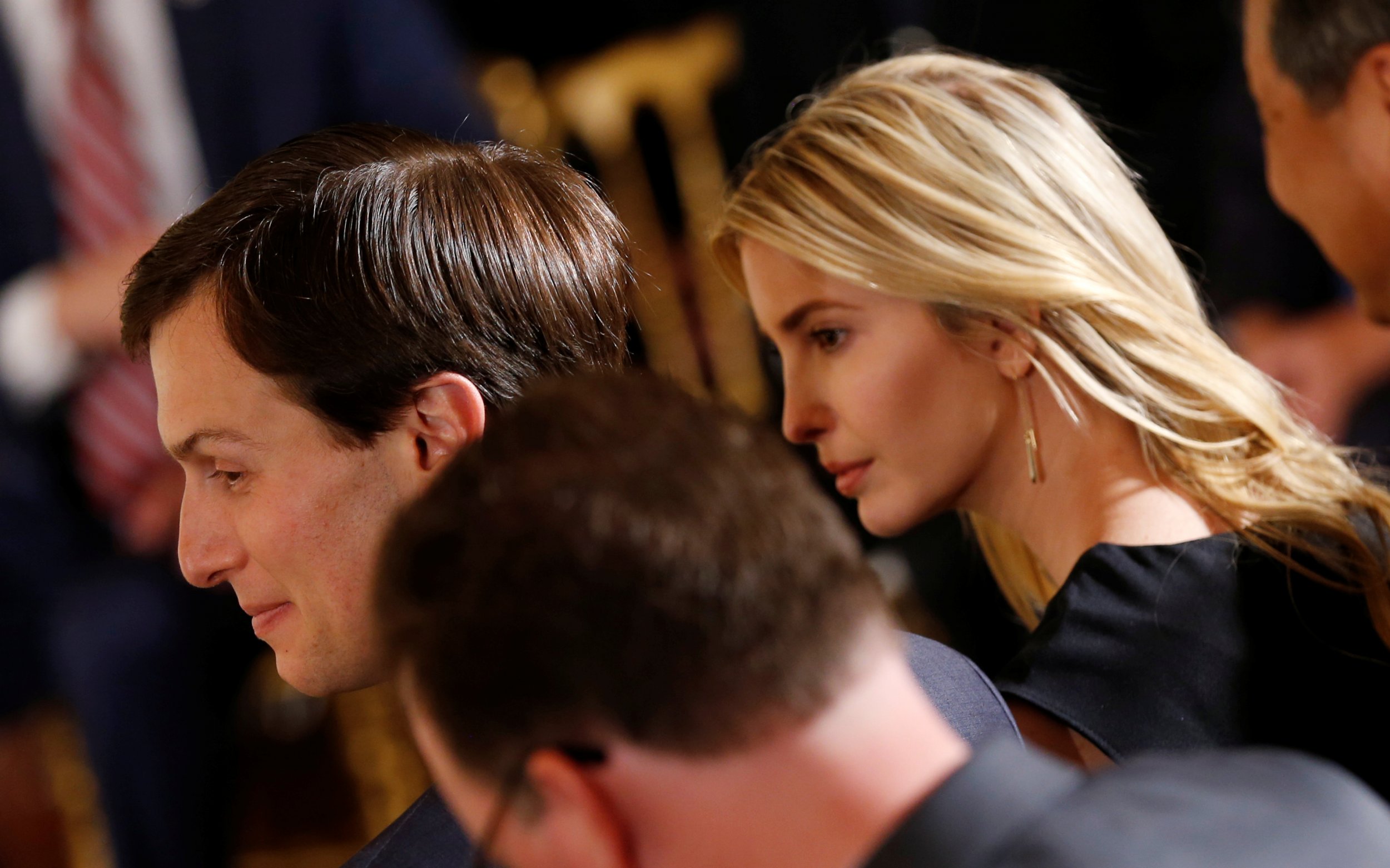 President Donald Trump's family may be widening its influence beyond the White House once again—this time, potentially as far as China.
Trump's daughter and adviser, Ivanka Trump, and son-in-law and adviser, Jared Kushner, were invited to visit the Far East superpower later this year, Bloomberg reported Tuesday, citing unidentified U.S. and Chinese officials privy to potential plans. The invitation came after Chinese President Xi Jinping met with the U.S. president at his Mar-a-Lago estate in Florida in April, during which Xi offered a similar, verbal invitation.
It's also possible that the power couple could be carving a path for Donald Trump himself to visit China. Ivanka Trump and Kushner may have made inroads for their trip when they dined with the new U.S. ambassador to China, Terry Branstad, the former Iowa governor, on Sunday at the Trump Hotel in Washington, according to the report.
While the trip has not been confirmed or officially announced, it could be viewed as yet another way Ivanka Trump and Kushner have broadened their influence in a West Wing that's been labeled as chaotic since the president took office in January.
For Kushner, who has been assigned myriad duties across a number of agenda efforts, the trip to China would be more of the same. Having already been to Iraq in April, the real estate developer is also scheduled to visit the Middle East and to try to work on a peace deal between Israel and the Palestinians.
The China trek could also remove Kushner from the Trump-Russia investigations that have enveloped him. Kushner recently was reportedly considering switching up his legal counsel, as inquiries continue about his talks with Russia's ambassador to the U.S while his current lawyer preps him for a meeting with Senate Intelligence Committee investigators, The New York Times reported Sunday.
The Times also reported earlier this year that Kushner was largely the architect of Xi's first meeting with the president.
Ivanka Trump has also recently faced criticism, for failing to convince her father to remain in the Paris climate agreement, as well as for her business dealings in China. After her father's announcement that he would pull the U.S. out of the emissions-cutting accord, Ivanka Trump took to Twitter to vocalize support for the country's gay community, a move for which she received significant backlash on social media.
In late May, Chinese labor activists were arrested for probing allegedly poor treatment of workers in a shoe factory that manufactures numerous lines, including Ivanka Trump's, according to NPR.
Regardless, the China trip could be a way for the new administration to make good on the president's promises to even the economic playing field with China, and perhaps to build on Xi's visit earlier this year.
In particular, the president has repeatedly called for China to take a more aggressive approach in its dealings with North Korea over the authoritarian government's increased nuclear and weapons testing under leader Kim Jong Un.
Relations or talks could also help improve claims over the South China Sea, where China has constructed islands and reportedly installed weapons systems while denying claims from other Southeast Asian nations in the trade-rich waterway.