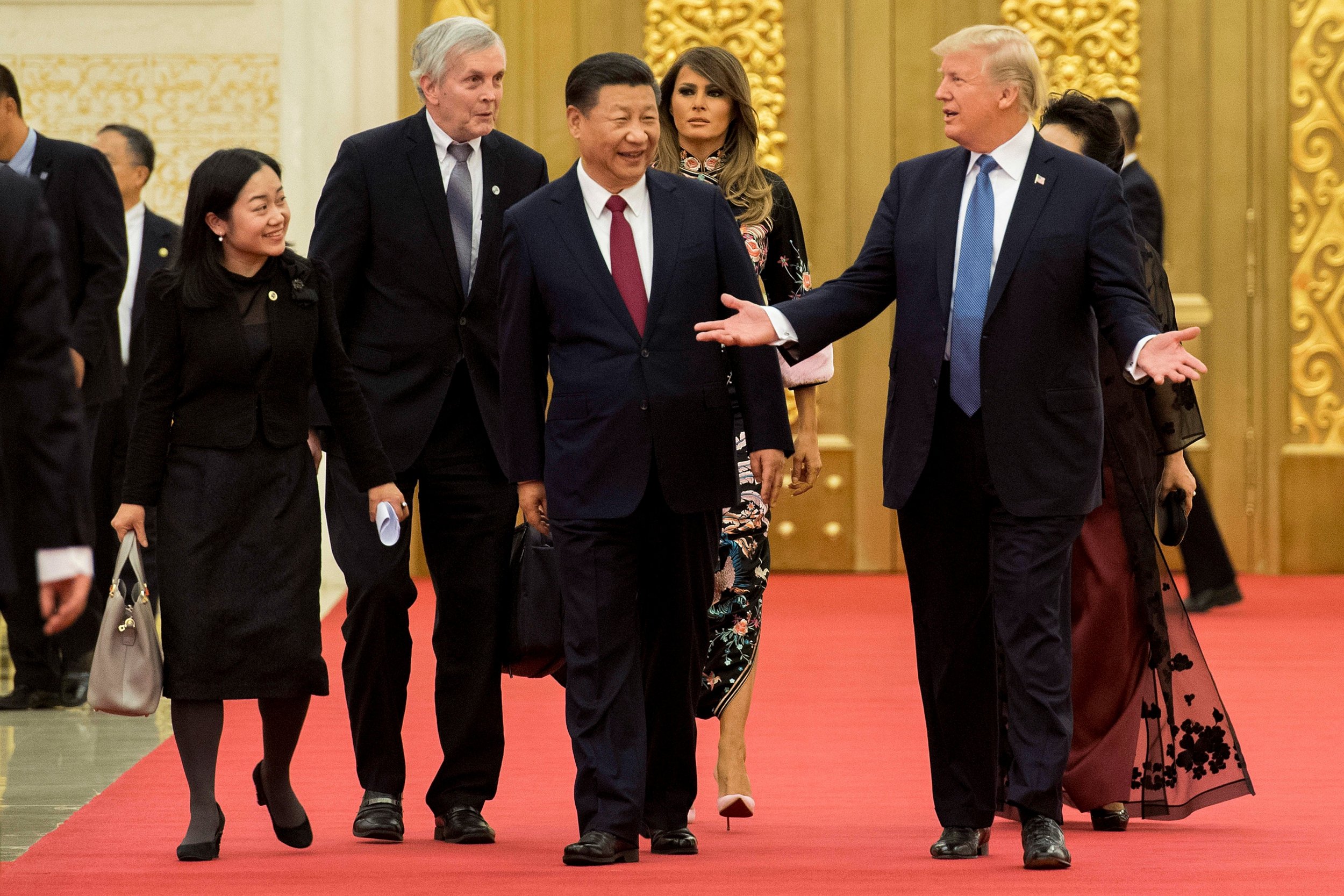 The sight was so strange, so unexpected, that the globalistas who trek every January to Davos, a small ski resort in Switzerland, to bask in each other's self regard, couldn't help themselves. As if Sasquatch had showed up on the slopes, they whipped out their phones and began snapping away, as the president of the United States made his way into the main hall. If Richard Nixon could go to China in the 1970s, then Donald Trump could go to Davos today.
And so he did, touting his administration's economic successes—the solid GDP growth, low unemployment and booming stock market. America, he said, is "open for business.'' Yet Trump also reiterated he didn't like big trade deficits, and was intent on bringing the U.S.'s down, even as it's risen to its highest level since 2012. The one surprise: He might be willing to re-enter the Trans Pacific Partnership—the big Asian trade agreement, which he abandoned right after coming to office—if he could negotiate "a better deal."
More important than what he said, however, and more important than his presence among people who (mostly) loathe him, was the timing: Trump's Davos appearance came just before his administration needs to make several, high profile decisions on trade that could, according to many economists and business executives, put at risk the economic gains Trump loves to boast about—in particular, those related to the stock market.
Before Trump headed to Davos, the administration had announced the U.S. would place tariffs on solar panels and washing machines, two minor decisions the markets disregarded. But what's coming can't—and likely won't be—ignored. For the past year, the United States Trade Representative's (USTR) office has been investigating the extent to which China has allegedly ripped off the intellectual property of American companies. That probe, the administration says, is now complete, and the USTR's office is trying to put a value on the damages. As William Alan Reinsch, former president of the National Foreign Trade Council puts it, that value "will be a big number"—likely over one trillion dollars.
Related: How Trump is making China great again
The question then is, what does Trump do about it? Administration officials say he has been presented with options, everything from steep tariffs on Chinese imports to enhanced export controls, to filing new complaints at the World Trade Organization. Some responses are more extreme than others, and many U.S. companies are now frantically lobbying the administration—largely through Gary Cohn, head of the National Economic Council, and WIlbur Ross, the secretary of commerce—to nudge the president towards a measured response. Beijing has already signaled privately that it will respond in kind to whatever action the U.S. takes. Each side seems to believe it has more leverage than the other. The risk of a trade war is real—an argument Cohn, knowing the president's fondness for tariffs, is making to Trump, according to multiple sources both inside and outside the administration. (They, like others who spoke to me for this story, asked for anonymity because they weren't authorized to speak about the matter).
The tension with China will ratchet up as negotiations continue with the U.S.'s other two major trading partners, Canada and Mexico. Trump is trying to renegotiate the North American Free Trade Agreement (NAFTA), and has threatened to pull out altogether if he can't remake it to his liking. The U.S. auto industry, meanwhile—hugely dependent on supply chains in both countries—is negotiating with the administration, laying out what it believes it can and cannot live with. The industry is absolutely petrified, an administration source says, adding that the likely outcome will be disruptive to the industry in a way that will have real consequences for employment and GDP growth.
Ross, who accompanied Trump to Davos, has said the U.S. was not trying to start a trade war—it just seeks to"level the playing field," particularly with China, when it comes to high tech goods. It's not apparent that's a distinction with a difference, but equity markets, for the moment, are still unperturbed: all three major indices in the United States rallied to all time highs at the close of business on January 26.
It's not, however, clear that everything is ok. Critical decisions draw near—decisions that will dictate whether there is a trade conflict with China, Mexico and Canada—and just how intense that conflict might be. Trade is the one, obvious thing that could quickly disrupt the good economic story that actually has Trump's approval rating inching upwards ever so slightly.
Is his administration really ready to screw that up?