Trump's China Trade War Bailout 'Nowhere Near' Covers Farmers' Losses, Minnesota Farmers Union President Says
Gary Wertish, the president of the Minnesota Farmers Union, criticized President Donald Trump's ongoing trade war with China, dismissing promised bailout money to aid struggling farmers impacted by the tensions as not even coming close to covering losses.
Speaking to CNN Newsroom for a Monday interview, Wertish admitted that he and many other farmers have supported Trump's desire to hold China to account for its trade practices. However, he argued that the approach of using tariffs has had a "devastating" impact on farmers and communities in rural America.
"It already has driven some farmers off the farm, which not only hurts the farming community but it hurts rural – small rural communities," he explained. "It's been very devastating to rural America."
CNN anchor Jim Sciutto then asked about the multi-billion bailout package that Trump has promised to farmers this year, while their profits suffer due to the trade tensions with Beijing. Wertish argued that farmers "don't want" the subsidy and instead prefer to have their markets back.
"It does not nowhere near cover the gaps– the markets that we lost," he said. "It does not nowhere near cover the loss of income."
"No the farmers do not want that," Wertish asserted. "We want our markets back. We do not want the money from the taxpayer." Although he said the payments were appreciated, he argued that taxpayers would be angered that they were constantly required to bail out the agriculture sector.
Last year, the Trump administration set aside $12 billion as bail out money as farmers felt the sting of drastically decreased exports to China. For 2019, the White House has promised some $16 billion in aid money.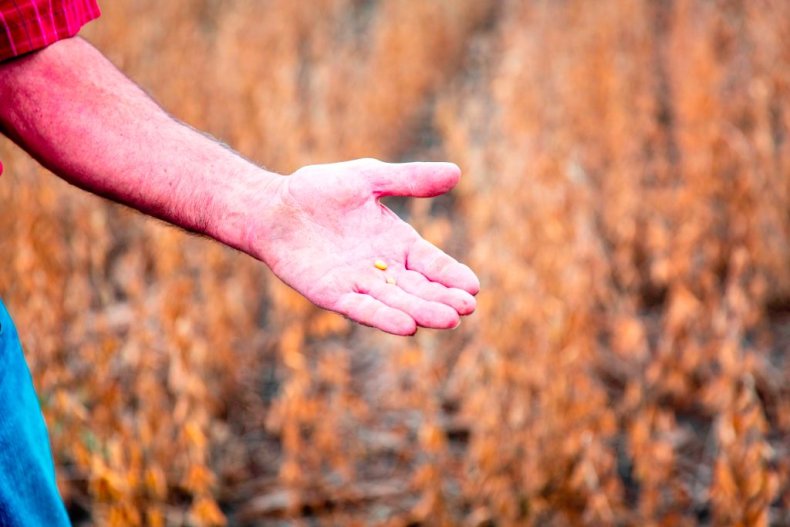 In the U.S., the agriculture sector has been particularly hard hit by trade tensions with China. As Washington has added tariffs to $250 billion of Chinese imports since last summer, Beijing has responded by adding its own levies to a range of American products, specifically targeting the farm goods.
Soybean farmers nationwide have been particularly impacted, as many had built reliable markets in China for their yearly yields. Some have raised concerns that the Chinese market for U.S. agricultural products may never come back, as Beijing quickly pivoted to South American countries to meet demand.
Rural Americans, which includes the nations farmers and agricultural workers, widely supported Trump in the 2016 election, with 62 percent voting for the president, according to an analysis by Pew Research. Despite the trade tensions and concerns voiced by prominent farming community leaders such as Wertish, the majority of rural Americans still support the president, although many have grown frustrated. A May Gallup survey found that 54 percent of self-described rural residents still supported Trump, compared to just 41 percent of Americans overall.