Elliott Abrams Failed Trump's Mission to Overthrow Venezuela—Now He Will Take On Iran
President Donald Trump's pick to compel Iran into changing its strategy has quit amid a failure to foster diplomacy with the longtime foe and may be replaced by the White House's point person for Venezuela, another country whose embattled government has resisted a "maximum pressure" campaign by the United States.
Elliott Abrams, a Washington veteran who rose to prominence in the 1980s with his staunch interventionist, anti-communist stances in Latin America and until now served as Trump's special representative to Venezuela will replace Brian Hook, who was appointed in the wake of the U.S. exit from the Iran nuclear deal in 2018, the State Department confirmed in a statement.
The selection signifies a hardline push for the administration against Iran in the final months of Trump's first term as the revolutionary Shiite Muslim power continues to defy U.S. attempts to force it to change what Washington calls Tehran's "malign behavior" across the Middle East.
Prior to the State Department statement, Hook told the New York Times on Wednesday that he was preparing to resign from his position. "There is never a good time to leave," Hook told the publication in an interview published Thursday.
Hook argued that while the Trump administration was unable to secure a new agreement to replace the 2015 pact still maintained by Iran as well as China, France, Germany, Russia and the United Kingdom, the U.S. was able to drain the Islamic Republic financially through sanctions.
"Sometimes it's the journey and sometimes it's the destination," Hook told the Times.
Abrams first served President Ronald Reagan, where as the designated diplomat for Inter-American Affairs, he played a role in the Iran-Contra Affair that saw former President Ronald Reagan administration officials sell arms to Iran in exchange for funds to be given to insurgents battling the socialist government of Nicaragua. He was pardoned by Reagan's successor President George H.W. Bush for lying to lawmakers about his knowledge of the scandal.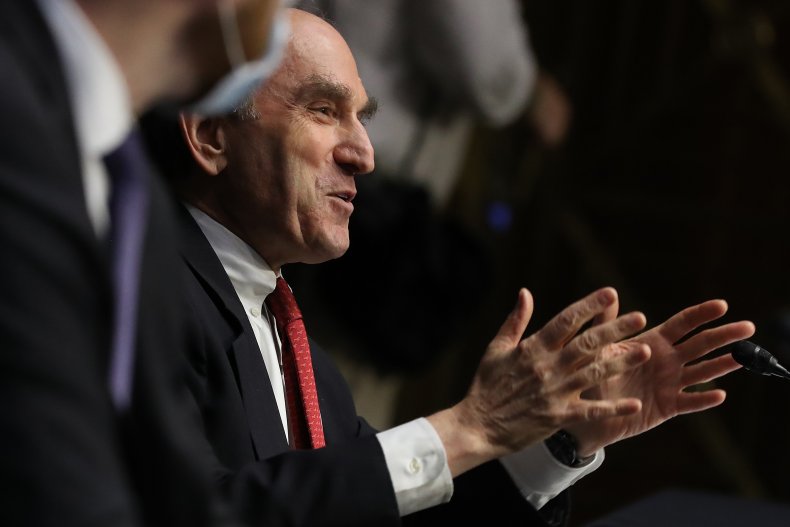 Abrams went on to serve Bush's son, former President George W. Bush, as deputy national security adviser. Abrams had espoused hawkish views against Iraq from the 1990s on and oversee the war until former President Barack Obama came to office in 2009.
Under Trump, Elliot was slated to return to his roots in taking on socialist leaders in Latin America. His appointment came just two days after Trump announced the U.S. would recognize opposition-controlled National Assembly leader Juan Guaidó as acting leader of Venezuela, severing ties with President Nicolás Maduro in January of last year.
Maduro replaced United Socialist Party founder Hugo Chávez after his death in 2013 and inherited a booming economy that quickly fell into decline. Like Chavez before him, Maduro accused the U.S. of trying to unseat him and, amid accusations of corruption, Trump instituted sanctions against Venezuela in August 2017, around the same time a modest economic recovery fell back into sharp decline.
Maduro's election the following year was mired with allegations of fraud, which served as Guaidó's claim to the presidency in January 2019. While the U.S. and partners, mostly across Latin America and Europe, back Guaidó, a number of other countries such as Russia, China and Iran still recognize Maduro as leader, as does the United Nations.
Having resisted heavier sanctions and an attempted coup, Maduro's resilience has frustrated officials and lawmakers in Washington alike, especially after Guaidó announced he would boycott upcoming elections in Venezuela.
"We just have to be clear that our Venezuela policy over the last year and a half has been an unmitigated disaster," Democratic Senator Chris Murphy of Connecticut told Abrams at a congressional hearing on Tuesday. "If we aren't honest about that, then we can't self-correct."
While Abrams defended what he called "a positive formula" to bring democracy to Venezuela, he now had an entirely new set of issues to deal with: attempting to pressure Iran to the negotiating table just months before the U.S. national election in November and to convince countries into supporting an extension of a U.N. arms embargo on Tehran set to expire in October.
Hook had recently traveled to North Africa, the Middle East and Europe to try to influence countries in backing the U.S. initiative and finally appealed to the international community at the Aspen Security Forum on Wednesday, the same day he reportedly told the Times he was resigning.
A defining factor of the "maximum pressure" campaigns launched against both Iran and Venezuela is the term "all options are on the table," words repeated by both Hook and Abrams.