Trump Chuckles as Duterte Calls Journalists 'Spies' in Manila Meeting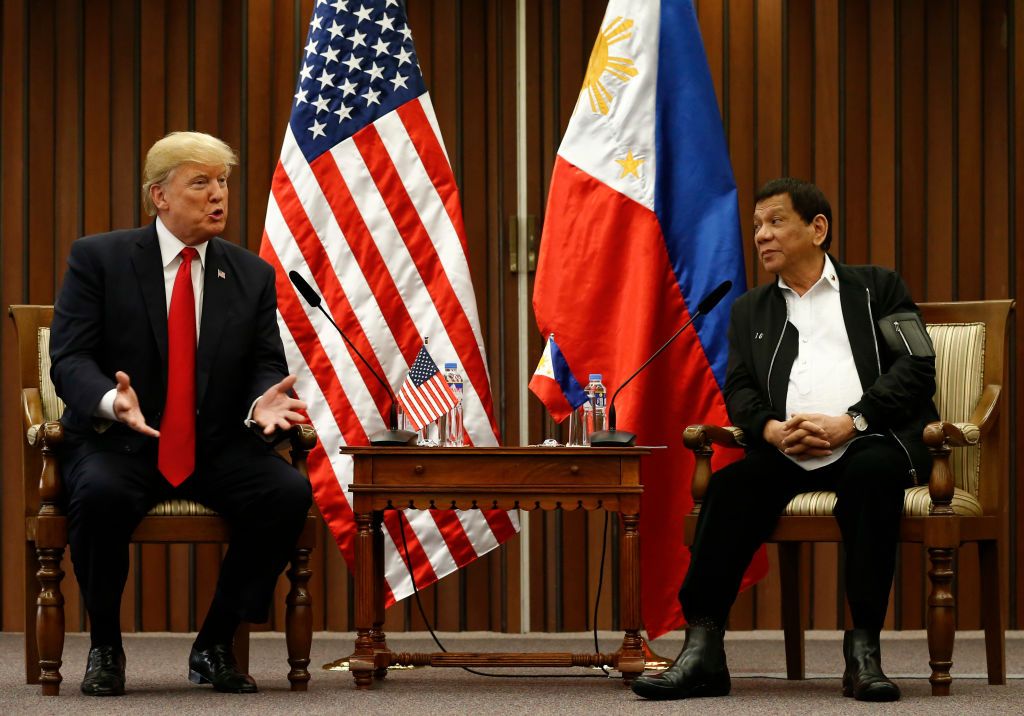 President Donald Trump chuckled as his Philippine counterpart Rodrigo Duterte denounced reporters as spies after they raised questions about human rights.
Ahead of discussions at the Association of Southeast Asian Nations (ASEAN) Summit in Manila on Monday, the two leaders bonded during their first-ever formal meeting.
"We would be talking on matters that are of interest of both the Philippines and... With you around guys, you are the spies," Duterte said, as he batted off questions from reporters.
"You are," he said as Trump laughed.
Comparisons have frequently been drawn between Trump and Duterte, with both men surging to power on the back of no-holds-barred populist rhetoric and contempt for diplomatic conventions.
Both have also frequently railed at journalists, with Trump frequently denouncing news organizations critical of him as "fake news," and Duterte in 2016 calling "corrupt" journalists legitimate targets of assassination.
According to Human Rights Watch, 177 journalists have been killed in the Philippines since 1986, making it one of the deadliest countries to be a journalist.
Trump has faced questions over whether he would address Duterte's human rights record during his visit to the Philippines, with thousands of alleged dealers and addicts killed since 2016 in extrajudicial executions as part of Duterte's "war on drugs."
Duterte said last week that he would tell Trump to "lay off" if the president attempted to raise the issue of human rights.
Contradictory accounts of the leaders' discussions emerged Monday, with Philippines' presidential spokesman Harry Roque telling reporters that the issue of human rights did not come up and that Trump "seemed to be in agreement" when Duterte explained his war on drugs.
But White House spokesperson Sarah Huckabee Sanders said that human rights had come up when the presidents talked about the war on drugs, in discussions that focused on "ISIS, illegal drugs and trade."
At a state banquet, the two leaders appeared to get along famously, with Duterte even crooning a ballad at Trump's request in a duet with local pop diva Pilita Corrales.
Philippine foreign ministry spokesman Robespierre Bolivar said the two presidents shared "an excellent rapport."
Trump is in the Philippines as part of his 13-day tour of Asia, his first as president.