Trump Claimed Thousands of Dead Voted in Georgia Election, Investigation Found Only Four
Despite former President Donald Trump's claims that thousands of dead voters cast a ballot in Georgia's 2020 presidential election, investigators found that only four absentee ballots were cast in the name of dead Georgia voters.
An investigation conducted by the Georgia attorney general's office, first reported by The Atlanta Journal-Constitution, found that just four of the over 4 million ballots cast were signed by a voter who had died, all of them sent by relatives of the deceased.
The number is much smaller than the 5,000 Trump alleged voted in the election during a phone call with state election officials, in which he tried to overturn the results in Georgia.
President Joe Biden won the state with 49.5 percent of the vote, according to Secretary of State Brad Raffensperger's office. Biden's victory in Georgia has also been affirmed by three vote counts.
In his call to Raffensperger and other state officials earlier this year, Trump said, "So dead people voted. And I think the number is close to 5,000 people [in Georgia]."
Raffensperger heads the State Election Board, which referred the cases to the attorney general's office this month for investigation. He has repeatedly rejected Trump's assertions and disputed dozens of allegations that a substantial number of ballots were cast by "dead" voters. The investigation found that almost all of the voters were alive.
"What I tell people is what really happened in Georgia, because we proved that none of that was what happened," Raffensperger said during a recent telephone town hall meeting, according to the Journal-Constitution.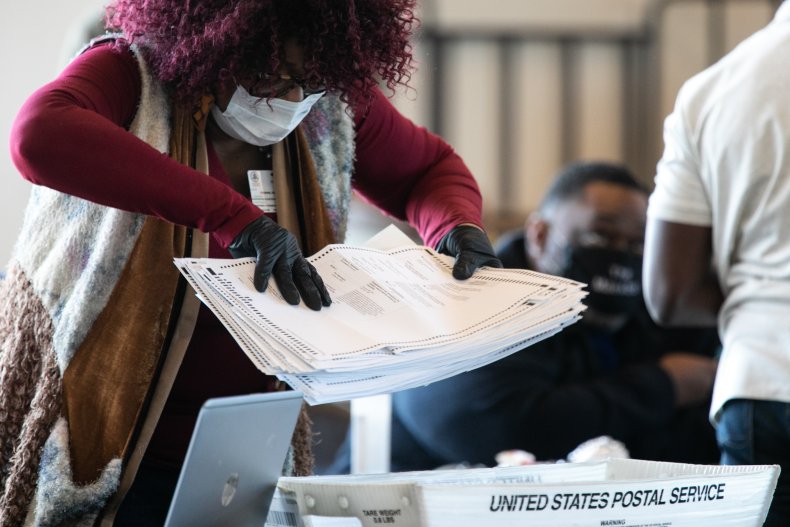 The State Election Board said there will be repercussions for those who cast ballots on behalf of dead relatives, even if they regret doing so.
"Remorse is something we hear a lot, and it's something I appreciate because sometimes we do make these mistakes unknowingly," Anh Le, a member of the State Election Board, said during a meeting earlier this month, according to the Journal-Constitution. "However, the law is what it is."
The board has the authority to issue fines between $100 and $5,000, depending on the violation.
In one instance, a 74-year-old widow submitted an absentee ballot on behalf of her husband, who had died in September 2020.
"He was going to vote Republican, and she said, 'Well, I'm going to cancel your ballot because I'm voting Democrat.' It was kind of a joke between them," an attorney for the widow told the State Election Board, according to the Journal-Constitution. "She received the absentee ballot and carried out his wishes.... She now realizes that was not the thing to do."
The state investigation found that two other ballots were cast by widows on behalf of their recently deceased spouses and that one ballot was cast by a mother for her deceased son, the Journal-Constitution reported.
Newsweek reached out to Trump for comment but did not hear back before publication.