As Trump Claims Election Is Being Stolen, John McCain's Concession Speech From 2008 Goes Viral
Hours after President Donald Trump addressed the nation on Thursday evening, claiming the presidential election had been stolen, the late Senator John McCain's 2008 concession speech went viral.
McCain, who lost against former President Barack Obama 12 years ago, began his speech by congratulating Obama on his presidency.
"We have come to the end of a long journey. The American people have spoken, and they have spoken clearly," McCain said. "A little while ago, I had the honor of calling Senator Barack Obama to congratulate him on being elected the next president of the country that we both love."
Despite booing from the crowd, McCain continues with his speech, in which he not only accepted defeat but congratulated Obama's campaign for inspiring Americans to vote.
"[Obama] managed to [win] by inspiring the hopes of so many millions of Americans who once wrongly believed that they had little at stake or little influence in the election of an American president," he said.
The senator recognized the historic significance Obama's victory had for African Americans and vowed to do everything in his power to help Obama lead the country during his presidency.
"Whatever our differences, we are fellow Americans, and please believe me when I say that no association has ever meant more to me than that," McCain concluded.
As of 11:15 p.m. ET, the video had been viewed more than 5.2 million times.
McCain's words in 2008 contrast with what many heard coming out of the White House on Thursday evening.
Although votes in several states are still being counted in the presidential contest, races in key swing states like Georgia and Pennsylvania are narrowing and Democratic nominee Joe Biden appears favored to reach the 270 electoral votes needed to win the election.
The Trump campaign, however, has gone on the offense, claiming victory by arguing that the still-to-be-tabulated ballots are instances of widespread voter fraud.
The campaign has filed lawsuits in Michigan and Pennsylvania to halt ballot counting and has requested a recount in Wisconsin. Trump's team has also filed lawsuits over absentee ballots in Georgia, where the president is now ahead by less than 2,000 votes.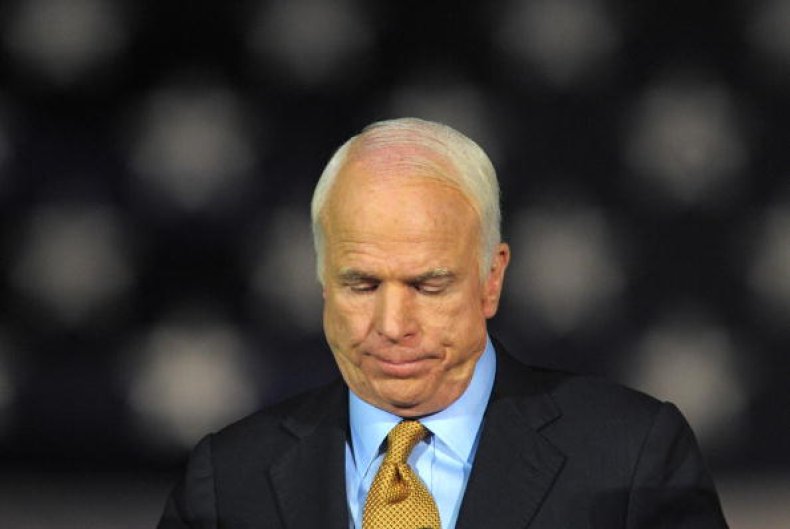 On Thursday, Trump broke his recent silence in a speech addressing the ongoing vote counting.
"If you count the legal vote, I easily win. If you count the illegal votes, they can try to steal the election from us. If you count the votes that came in late, we're looking at them very strongly. A lot of votes came in late," he said.
Trump went on, "I talked about mail-in voting for a long time. It's really destroyed our system. It's a corrupt system. And it's made us corrupt, even if we are not corrupt by nature. It's too easy. They wait and wait and you see that on election night."
A number of prominent Republicans pledged not to support the president's re-election, citing McCain's well-known "country first" campaign message.
McCain and Trump clashed in the past, with Trump even calling the former prisoner of war a loser at one point.
"He lost, so I never liked him as much after that, 'cause I don't like losers," Trump said in 2015. The president added that McCain was "not a war hero. He's a war hero because he was captured. I like people that weren't captured."
In September, McCain's widow, Cindy, endorsed Biden for president, tweeting, "My husband John lived by a code: country first. We are Republicans, yes, but Americans foremost. There's only one candidate in this race who stands up for our values as a nation, and that is Joe Biden."
Cindy McCain campaigned on the former vice president's behalf in virtual events for veterans and military families. McCain's daughter Meghan and 131 former staffers of his also backed Biden's candidacy.
Newsweek reached out to the McCain Institute for comment but did not hear back before publication.