Trump Claims He 'Came Up With Vaccines,' as Biden Injured Playing With Dog
President Donald Trump on Sunday claimed that he "came up with vaccines that people didn't think we've have for five years" during his first TV interview since the 2020 election—while President-elect Joe Biden twisted his ankle playing with a German Shepherd.
Speaking to Fox News anchor Maria Bartiromo on Sunday Morning Futures, Trump repeated unverified allegations of a "rigged" election that he claimed caused his loss to Biden.
"We had glitches where they moved thousands of votes from my account to Biden's account," he said, casting doubt on the integrity of mail-in voting. The president also claimed that "dead people were applying to get a ballot."
Most media outlets called the election for Biden over two weeks ago. The Democrat has secured 306 Electoral College votes, but Trump, with his 232 Electoral College votes, has refused to concede.
The president also suggested that the FBI and Department of Justice, government agencies led by officials he appointed, might be "involved' in the alleged rigging of the election to favor his opponent.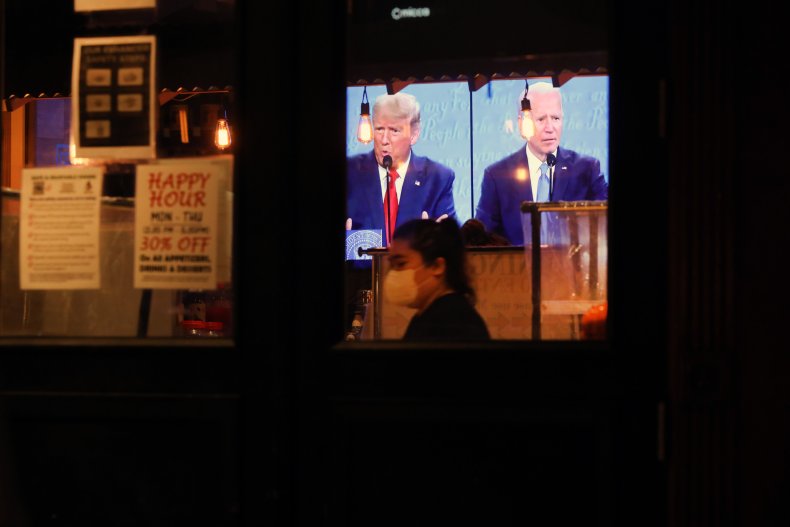 "This is total fraud," the president said. "And how the FBI and Department of Justice—I don't know—maybe they're involved, but how people are allowed to get away from this stuff—it's unbelievable."
Later in the interview, Trump touted his administration's Operation Warp Speed program and said: "I came up with vaccines that people didn't think we'd have for five years."
His remarks came after the Federal Aviation Administration (FAA) confirmed the first "mass air shipments" of Pfizer's COVID-19 vaccine to the U.S. from Belgium on Friday as domestic cases continued to surge in the country's third wave.
The federal government has started preparations for widespread distribution of the Pfizer vaccine that is expected to be authorized by the Food and Drug Administration (FDA) by the end of the year.
Meanwhile, Biden's office revealed that the former vice president he slipped and twisted his ankle while playing with Major, one of his two dogs.
Dr. Kevin O'Connor, Biden's physician, said in a statement that the president-elect sustained a right foot sprain on Saturday: "Initial X-rays are reassuring that there is no obvious fracture and he will be getting an additional CT for more detailed imaging."
Major and Champ, the Biden family's other dog, are slated to become the next first dogs to enter the White House after the president-elect's upcoming inauguration on January 20.
On Thanksgiving Day, Trump took one step closer to conceding by committing to leaving the White House if the Electoral College, set to meet on December 14, confirms Biden as the winner. Over the past month, the Trump campaign has launched nearly three dozen lawsuits in swing states seeking to flip votes in his favor in an attempt to reverse his election defeat. While Trump has alleged widespread voter fraud and a "rigged" election in remarks issued to the public, the contents and claims of the suits have been narrower, and so far, routinely dismissed in court.
Newsweek reached out to the Biden transition team for comment and additional information.
Updated 7:21 PM ET, with a statement from Biden's physician.