With a possible partial government shutdown less than two weeks away over a lack of funding for President Donald Trump's U.S.-Mexico border wall, the U.S. leader has now revived his claim that Mexico would be "paying for the wall."
"One way or the other, Mexico is going to be paying for the Wall," Trump said in an early Thursday morning tweet. "This has never changed."
But just how the president expects the country's southern neighbor to fund the wall does appear to have changed, with Trump suggesting that funds would be returned through money saved by the U.S.'s new trade deal with Mexico and Canada, the United States-Mexico-Canada Agreement (USMCA).
"Our new deal with Mexico (and Canada), the USMCA, is so much better than the old, very costly & anti-USA NAFTA deal, that just by the money we save, MEXICO IS PAYING FOR THE WALL!" Trump claimed.
The assertion breathes new life into Trump's 2016 campaign promise that Mexico would pay for the border wall he vowed to build between the U.S. and Mexico as part of his administration's pledge to crack down on immigration.
Trump has threatened to partially shut down the government if he does not receive the $5 billion in funding he has demanded to go toward the construction of his wall.
Democrats have maintained that Trump should be content with $1.6 billion for border security. The president remains adamant, however, that that amount will not suffice.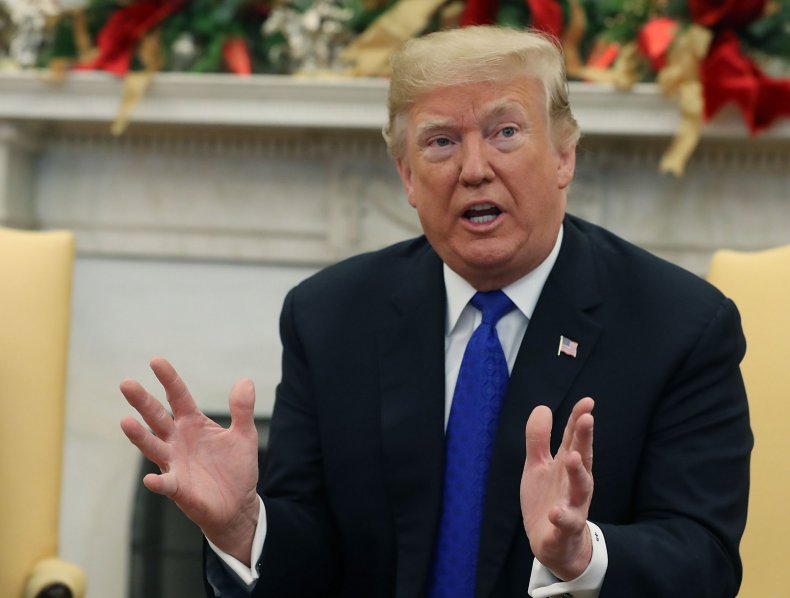 In a heated Oval Office meeting between Trump, House Democratic Leader Nancy Pelosi and Senate Democratic Leader Chuck Schumer, Pelosi said she would not agree to any more money for the president's wall in a Department of Homeland Security funding bill.
If all parties cannot come to an agreement by December 21, the government could face a partial shutdown.
In the same Oval Office meeting, Trump claimed that "tremendous amounts" of his border wall have already been built.
While steel bollard wall has been put up at portions of the southern border since Trump took office, it is a far cry from the 1,000-mile long border wall the U.S. leader has long-promised.