Paris Protesters are not Chanting Trump's Name as he has Claimed, but False Right-Wing Meme Continues to Spread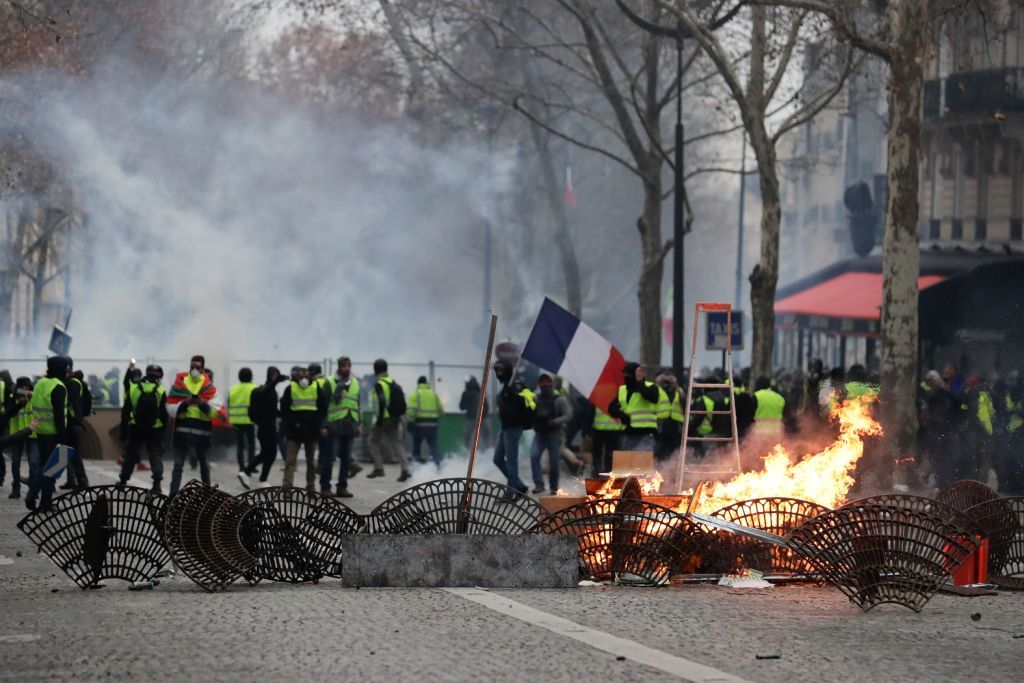 President Donald Trump on Saturday renewed claims that protesters in Paris demonstrating against fuel prices have chanted his name.
"The Paris Agreement isn't working out so well for Paris," Trump tweeted Saturday morning. "Protests and riots all over France. People do not want to pay large sums of money, much to third world countries (that are questionably run), in order to maybe protect the environment. Chanting 'We Want Trump!' Love France."
Read more: U.S. joins Russia and Saudi Arabia in blocking endorsement of landmark climate change report
Trump did not provide any evidence for his claim that Paris protesters have chanted their support for him, but on Tuesday retweeted a tweet in which the claim was made by U.S. conservative activist Charlie Kirk.
"'We want Trump' being chanted through the streets of Paris," tweeted Kirk, 25, in the message shared by Trump with his followers.
In an article posted on Fox News' website Friday, Kirk again claimed French protesters loved Trump, writing "Some of the French protesters have been heard to chant "We want Trump." Why on Earth would these enlightened souls of France be calling for a president our media portray as a pariah to the world?
"The protesters want President Trump because some of them recognize that in 2016 the American people found the courage to elect a president who would be willing to stand up against the united forces of Marxism, globalism and political correctness."
U.S. conservative radio host Rush Limbaugh also made the claim in a broadcast Monday, in which he lauded the demonstrators for their support for the president.
Kirk did not cited evidence for their claims, but other Trump backers have shared a video online that they claim shows Paris protesters shouting support for Trump, but actually shows protesters in London demonstrating in support of far-right activist Tommy Robinson.
In the video, which was first posted online in June, demonstrators chant "we want Trump" in English as a man in a rubber Trump mask stands on top of a bus. In the video police officers are seen wearing the uniform of London's Metropolitan Police and St George's flags are visible.
It is believed to have been filmed on June 9, and shows demonstrators at a rally for Tommy Robinson, an English far-right agitator who was recently prosecuted for broadcasting information that police claim could have led to the collapse of a trial of a group of men charged with sexually abusing minors. Demonstrators have held a series of rallies in London in his support.
Posts saying the video shows Parisian demonstrators began circulating after December 1, when the protests in paris became violent, the Associated Press reported.
The protesters in Paris are demonstrating against a planned fuel cost hike, which the government has since backed away from, and cost of living increases. They have been dubbed the 'Yellow Vests' after the high visibility vests they have worn on demonstrations.