Trump Claims Regeneron is COVID 'Cure,' Says He Didn't Need Drugs to Fight Virus
President Donald Trump claimed Thursday that Regeneron's antibody cocktail is a "cure" for the novel coronavirus but also suggested that he didn't need any drugs to fight off the virus.
While appearing on Fox Business' Mornings With Maria, Trump was asked by host Maria Bartiromo what his symptoms were like while infected with the novel virus, to which he responded by saying that he is in "good health" and spoke about Regeneron.
"Now what happens is you get better, that's what happens you get better," Trump said. "Now we have drugs now that we didn't even know about four months ago, like Regeneron."
"The Regeneron, I view it as a cure, not just a therapeutic, I view it as a cure because I took it," the president added.
He continued, "It's great, it made me better, I'll tell you right now."
Despite stating that he views Regeneron as a cure for the novel virus, Trump also suggested that he could have fought off the virus without any drugs.
"I think I would have done it fine without drugs. You don't really need drugs," Trump said. "But, no, I had tremendous luck with Regneron."
Trump was also asked if he feels that he is contagious and could spread the novel virus to others, to which he responded by saying "No, I don't think I'm contagious. I don't think I'm contagious at all."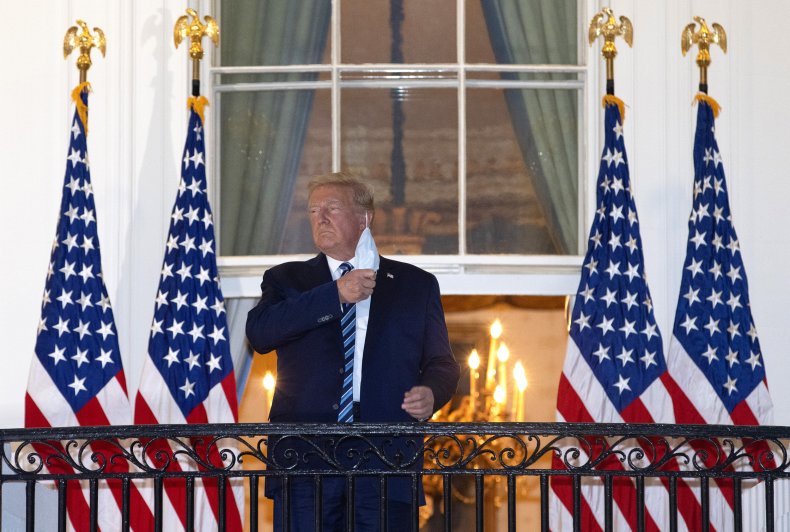 "I feel that I'm great. You catch this thing, a lot of people caught it," Trump said. "Remember this: when you catch it, you get better, and then you're immune. As soon as everything goes away for me, you're immune."
While Trump claims that after contracting the virus once, you become immune to it, the Centers for Disease Control and Prevention (CDC) notes that the immune response to the novel virus, "including the duration of immunity," "is not yet understood."
Trump also noted that he has not been tested for the novel virus recently, but stated, "I'm essentially very clean."
"The big things that happened is we have—I call them cures, I don't call them therapeutics—but between Eli Lilli and Regeneron," Trump said. "You take it, it's an antibody drug, you take it and it beats the hell out of it."
While speaking about his time at Walter Reed Medical Center, Trump said he could have left 24 hours after he went in and stated, "I didn't even have to go in frankly, I think it would have gone away by itself."
Newsweek reached out to the White House for comment from Trump but did not receive a response in time for publication.