Trump Claims Russia Is 'Not Happy' About U.S. Leaving Syria, Shortly After Putin Said He 'Has Done the Right Thing'
President Donald Trump has been justifying his decision to pull out U.S. troops from Syria, but appeared to think that it would go against Russia's wishes, even though Moscow would stand to benefit from the move.
U.S. allies and some senior Republicans were left reeling by Trump's sudden announcement on Wednesday that American troops would leave Syria, after he claimed, "We have defeated ISIS."
Related: Putin backs Trump's decision to pull troops out of Syria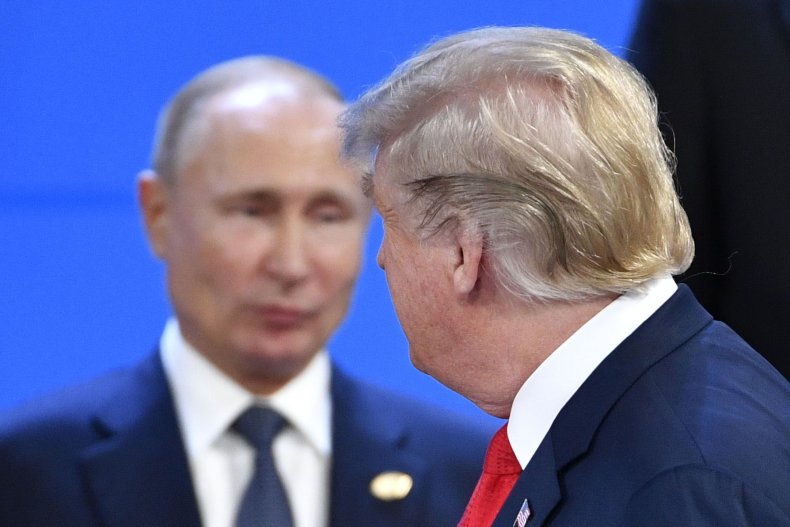 When asked what he thought about the withdrawal, Russian President Vladimir Putin said at his annual press conference on Thursday, "In this Donald is right, and I agree with him," according to The Telegraph.
"As for U.S. troops in Syria, I don't think they're needed, let's not forget that presence of your troops there is illegitimate," said Putin. "They're there without a United Nations decision or an invitation from the Syrian government. We are there at the invitation of the Syrian government, so if the United States has decided to withdraw its contingent, that's good."
But Trump appeared to think that Moscow, as well as Tehran, would not back the move, in one of a series of tweets justifying his decision.
Trump tweeted: "Russia, Iran, Syria & many others are not happy about the U.S. leaving, despite what the Fake News says, because now they will have to fight ISIS and others, who they hate, without us."
Trump also said that the Islamic State militant group (ISIS) would do well not to take on the U.S., adding: "I am building by far the most powerful military in the world. ISIS hits us they are doomed!"
Analysts expect this drawdown of U.S. troops will help Moscow consolidate its influence in Syria and the wider region. Putin has backed Syrian leader Bashar al-Assad militarily, helping the war to swing in his favor.
The Syrian Democratic Forces—Kurdish and Arab units backed by Washington—said in a statement that the move would have "dangerous implications" for stability and allow for a potential ISIS revival, according to Reuters.
Republican Senator Lindsey Graham, a Trump supporter, called the withdrawal decision a "huge Obama-like mistake," the BBC reported. The British government disputed the president's assurance that ISIS had now been defeated.
As the fallout from the sudden announcement continued, Trump started Thursday tweeting a quote from Senator Rand Paul, who had said he was "proud" Trump declared victory in Syria.
Trump then wrote: "Getting out of Syria was no surprise. I've been campaigning on it for years, and six months ago, when I very publicly wanted to do it, I agreed to stay longer. Russia, Iran, Syria & others are the local enemy of ISIS. We were doing there [sic] work. Time to come home & rebuild."
In another tweet, Trump also questioned whether the U.S. wanted "to be the policeman of the Middle East, getting NOTHING but spending precious lives and trillions of dollars protecting others who, in almost all cases, do not appreciate what we are doing?"
"Do we want to be there forever? Time for others to finally fight," he added.