Trump Claims He's Too Busy Reading to Watch TV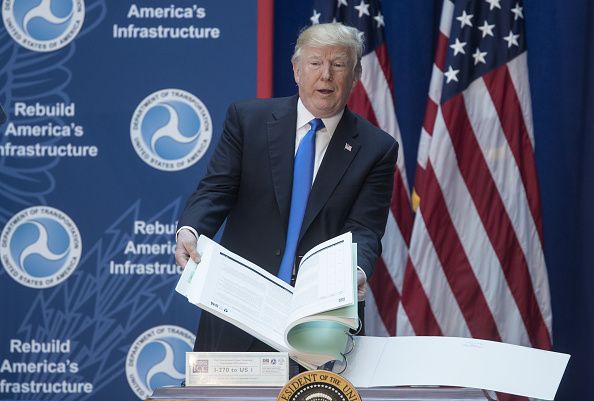 Even though President Donald Trump often tweets out criticism the "liberal media," he told reporters aboard Air Force One on Saturday that he spends more time reading their work than watching TV.
When he's in the White House, Trump said he's all business, often too busy to even glance at the television, The Hill reported. The reason? "Primarily because of documents," Trump said. "I'm reading documents. A lot."
The president continued: "People that don't know me, they like to say I watch television—people with fake sources. You know, fake reporters, fake sources."
Trump was responding to a question about Republican Senate candidate Roy Moore of Alabama, who is under fire after The Washington Post reported he initiated sexual contact with a 14-year-old-girl when he was 32 years old.
The president said he has not "seen much" about Moore during his ongoing trip to Asia, but said will "have further comment as we go down the road."
"I haven't been able to devote very much time to it," Trump said.
Trump has previously said he does not watch much television, despite his frequent tweets praising Fox News and calling out "liberal media" outlets like CNN News. In early November, he blasted news outlets for not discussing former interim DNC Chairwoman Donna Brazile's claims that the Hillary Clinton campaign had fixed the Democratic nomination system in its candidate's favor.
"The rigged Dem Primary, one of the biggest political stories in years, got ZERO coverage on Fake News Network TV last night. Disgraceful!" tweeted Trump.
When he was running for president, Trump was ridiculed by some for not reading enough. He had said that he was too busy to pick up a book and that he had not read and biographies of past presidents.
"I never have. I'm always busy doing a lot. Now I'm more busy, I guess, than ever before," Trump said.