Ex-NATO Commander Wesley Clark Asks If Turkey 'Blackmailed' Trump to Get U.S. to Withdraw From Syria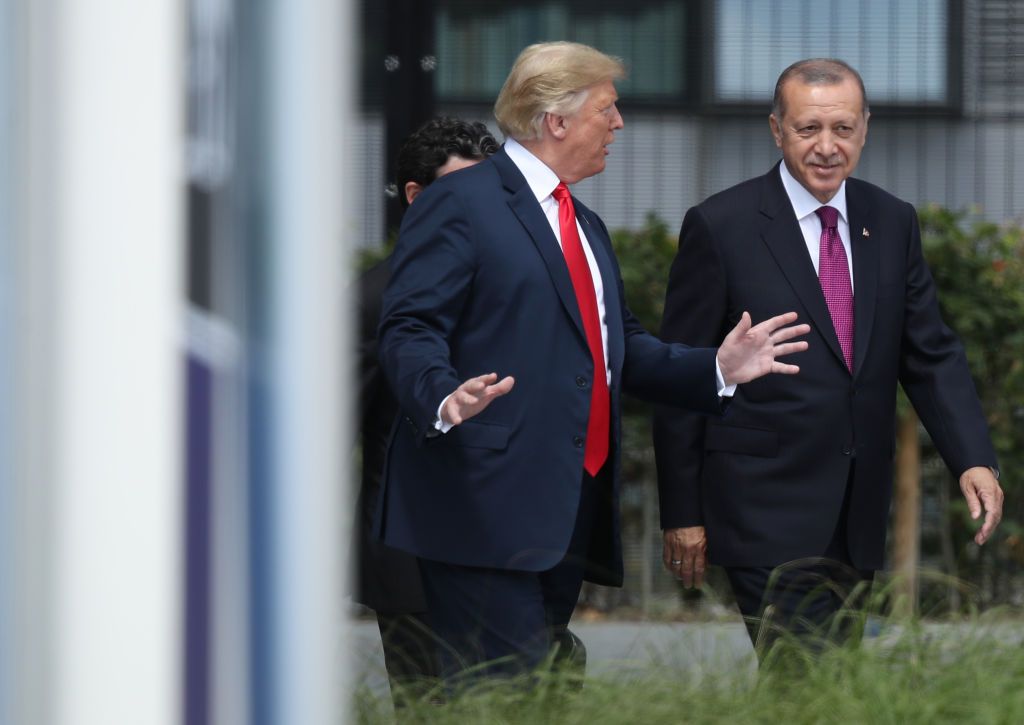 Former NATO commander and retired Army General Wesley Clark has questioned the motive behind President Donald Trump's surprise decision to pull U.S. forces from Syria.
"There doesn't seem to be any strategic rationale for the decision. And if there's no strategic rationale for the decision, then you have to ask, Why was the decision made?" Clark said in an interview on CNN's New Day.
"People around the world are asking this, and some of our friends and our allies in the Middle East are asking, 'Did Erdoğan blackmail the president? Was there a payoff or something? Why would a guy make a decision like this?' Because all the recommendations were against it," Clark continued.
Trump's announcement that he was withdrawing the U.S.'s 2,000 troops from Syria drew criticism from his national security team, senior Republicans and U.S. allies alike. Critics argued the move could allow fighters from militant group Islamic State (ISIS) to regain a foothold in the region, and leave the U.S.'s Kurdish allies on the ground exposed to attacks from Turkey.
Defense Secretary James Mattis and Brett McGurk, the U.S. top official in the fight against ISIS, both resigned in protest of the move.
President Trump claimed in a tweet early Monday that Turkish President Recep Tayyip Erdoğan had pledged to "eradicate" ISIS in Syria following the U.S. military withdrawal.
"President @RT_Erdogan of Turkey has very strongly informed me that he will eradicate whatever is left of ISIS in Syria....and he is a man who can do it plus, Turkey is right 'next door.' Our troops are coming home!" Trump wrote on Twitter.
Trump's tweet followed multiple reports Sunday that he had shocked advisers when he unexpectedly announced in a December 14 phone call with Erdoğan that he was withdrawing military forces.
Erdoğan had told the president that Turkish forces would defeat the remnants of ISIS that remained in Syria, having been ousted from their main Syrian stronghold, Raqqa, by the U.S.-led coalition.
"In fact, as your friend, I give you my word in this," Erdoğan told the president, reported NBC News.
The Pentagon believes that ISIS has about 30,000 fighters, with 17,000 in Syria alone.
Experts have long questioned Turkey's commitment to defeating ISIS and claim its chief focus is to push back Kurdish forces allied with the U.S.—who have formed the bulwark in the battle against ISIS— from its border.
"Since 2015, Erdogan has promised to smash ISIS. The Obama admin repeatedly tested the viability of Turkish plans & they NEVER panned out. Same is true today," tweeted Colin Kahl, former national security adviser to Vice President Joe Biden.
"Turkey is 500 km away from ISIS pockets. Their plan is to kill Kurds, not ISIS."
In 2014, Turkey was criticized for failing to close its border to prevent foreign fighters crossing to join ISIS in Syria, and allowing contraband oil to cross in the opposite direction.
"The Turkish government has been duplicitous in its objectives, nominally supporting the anti-Islamic State coalition while simultaneously engaging in actions that undermine the same coalition," wrote Colin Clarke, associate fellow at the International Centre for Counter-Terrorism in The Hague, and Ahmet S. Yayla, an adjunct associate professor at Georgetown University, in Foreign Policy in April.