Trump Claims U.S. Allies Thanked Him: 'NATO Is Now Strong & Rich!'
President Donald Trump accused the media of "inaccurately" reporting the annual NATO summit in a Twitter post on Monday. He also claimed leaders of NATO countries thanked him for "helping to bring them together" following the event in Brussels last week.
"Received many calls from leaders of NATO countries thanking me for helping to bring them together and to get them focused on financial obligations, both present & future," Trump wrote on Twitter. "We had a truly great Summit that was inaccurately covered by much of the media. NATO is now strong & rich!"
The president's tweet came hours ahead of his summit with Russian President Vladimir Putin in Helsinki, Finland. Last night, Trump revealed on Twitter that he was "looking forward to meeting with President Putin tomorrow."
The two world leaders' meeting today will mark the first time a U.S. president has held an official summit with their Russian counterpart in eight years.
Last Wednesday, Trump slammed other NATO member states for failing to spend 2 percent of their GDP on defense. While only four other states have reached the pledged target of two percent, many others are expected to hit it by 2024. However, Trump reportedly called for NATO to "immediately" increase spending to two percent, and even suggested the target be raised to four percent.
A day later, Trump reportedly threatened to "do his own thing" unless his demands were met, which prompted some to believe that the president was suggesting the U.S. could potentially withdraw from the transatlantic alliance.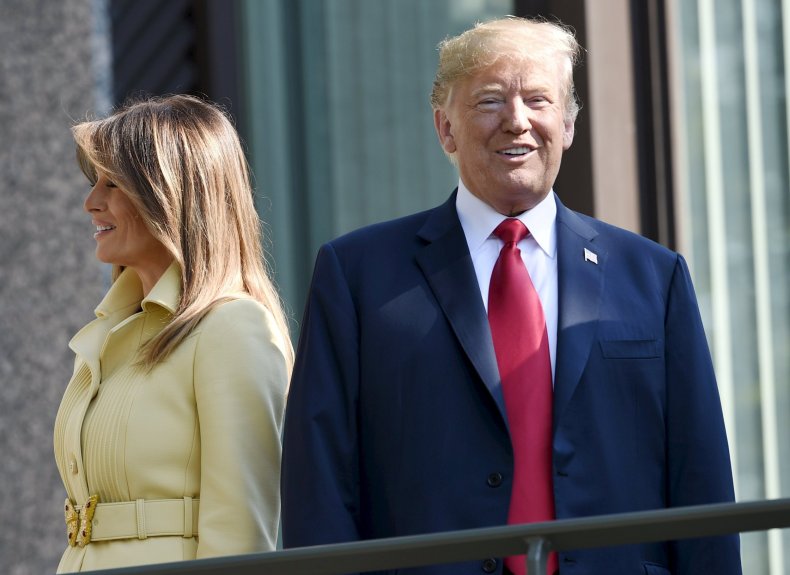 France's President Emmanuel Macron dismissed Trump's call for NATO to increase defense spending to four percent of GDP. "There is a communique that was published yesterday. It's very detailed," he said. "It confirms the goal of 2 percent by 2024. That's all."
Senator John McCain criticized Trump's performance at the NATO summit as "disappointing yet ultimately unsurprising" and advised the president to "hold Putin accountable" at the Helsinki meeting.
"Putin is not America's friend, nor merely a competitor," McCain said. "Putin is America's enemy, not because we wish it so but because he has chosen to be."
He added: "It is up to President Trump to hold Putin accountable for his actions during the meeting in Helsinki. Failure to do so would be a serious indictment of his stewardship of American leadership in the world."
The Trump administration did not immediately respond to Newsweek's request for comment.