Trump Claims 'All We Do Is Lose Money' to China. Here's What the Data Says
President Donald Trump claimed the U.S. had only lost money in its trade with China and warned that his administration would "certainly" consider decoupling from Beijing. But the data shows the trading relationship has significant benefits as well as costs.
While there has been some job destruction in particular sectors, Chinese imports have reduced costs for many businesses and consumers and increase employment elsewhere. And the trade deficit is a more nuanced issue than often suggested.
The commander-in-chief told Fox News on Sunday that no nation had "ripped off" the U.S. more than China and argued that the large trade deficit meant America was losing hundreds of billions of dollars every year.
"There's been no country that's ripped us off like China for many, many years, for decades, where we'd lose anything from $200 billion to $500 billion a year," Trump told The Next Revolution last night.
"I gave them all the credit because they were smarter than our presidents and smarter than our representatives."
Asked whether he would ever consider decoupling the U.S. from China, the president said: "That's a very interesting question because so far we've got nothing out of China. We get nothing, all we do is lose money."
He later added that he would "certainly" break off U.S. trade relations with China if the country didn't "treat us right."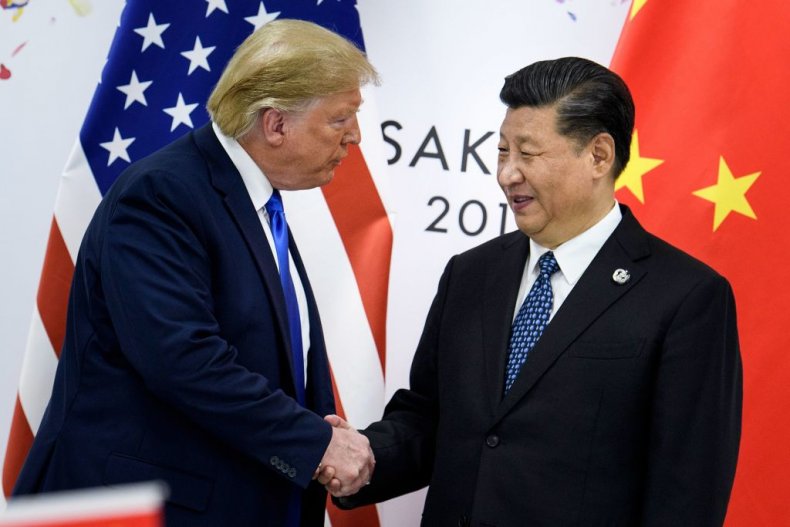 According to a Congressional Research Service fact sheet updated in January of this year, China was the U.S.'s largest trading partner in 2018 in terms of goods with trade totaling at $660 billion.
It was also the third-largest U.S. export market for goods, with America exporting $120 billion worth of product in 2018, along with more than $50 billion worth of services.
But the U.S. did still run a sizeable trade deficit with China, importing a little more than $558.8 billion of goods and services in 2018, putting Beijing's trade surplus with Washington at $380.8 billion.
As tit-for-tat tariffs knocked trade between the countries in 2019, U.S. exports to China fell in the first three quarters by 16 percent while imports from Beijing fell by 13 percent.
A report from the Brookings Institute think tank, published in February last year, noted that U.S. exports to China were helping to support jobs in the agricultural, services, and capital goods sectors.
But it also recognized that the sizeable goods trade deficit had led to "job destruction" in other sectors, such as manufacturing, because of the competition with cheaper Chinese imports.
"The U.S.-China economic relationship delivers more benefits to the U.S. than is commonly understood," the Brookings report said.
"For example, recent data shows that U.S. exports to China support around 1.8 million jobs in sectors such as services, agriculture, and capital goods.
"However, trade with China has also led to job destruction in some U.S. industries—particularly low wage manufacturing.
"Despite these costs, the frequent focus by the administration on the bilateral deficit is not a meaningful yardstick for assessing U.S.-China trade or its impact on employment."
This is partly because there is a low savings rate in the U.S., meaning foreign money is needed to fund business investment and government debt. Savings are typically invested and there is not enough of this money for borrowers to access.
Moreover, Brookings noted that the trade deficit "does not account for the activities of affiliates of U.S. and Chinese companies in each respective market, a calculus that shows the U.S. selling more to China than vice versa."
A Stanford study published in 2019 concluded that there "is no evidence that Chinese import competition generated net job losses" because job destruction in manufacturing was more than offset by job creation elsewhere in services.
U.S. Trade Representative data shows aircraft, machinery, vehicle, and medical instrument sales made up the bulk of American exports to China over the course of 2018, with the agricultural sector selling a further $9.3 billion of goods to the country.
While the U.S. purchased far more machinery from China than vice versa, it did run an agricultural trade surplus with the country, importing $4.9 billion in food from Beijing.
President Trump's Director of Trade and Manufacturing Policy Peter Navarro argued in a 2016 paper that net exports were one of four driving factors in a nation's GDP growth, adding that trade imbalances were hindering the growth of the U.S. economy.
"When net exports are negative, that is, when a country runs a trade deficit by importing more than it exports, this subtracts from growth," the administration official said.
"The structural problems driving the slow growth in the U.S. economy over the last 15 years have primarily been the investment and net exports drivers in the GDP growth equation."
Economists and lobby groups such as the U.S.-China Business Council have countered that the trade relationship between the Washington and Beijing offers "lucrative" opportunities for business as well as support for jobs and cheaper consumer prices.
"China is expected to continue to be one of the fastest-growing major economies, creating growth opportunities for American companies—provided China proceeds with economic reforms that will remove lingering market access barriers in many sectors," the U.S.-China Business Council said in a 2017 report.
"Chinese manufacturing also lowered prices in the United States for consumer goods, dampening inflation and putting more money in American wallets."
Amid the coronavirus pandemic, the trade war, and national security concerns, U.S.-China economic ties are under significant strain. Until those issues are resolved, the economic relationship is unlikely to recover to its previous strength.