Trump Claps Enthusiastically as Melania Tells Children to Be Nice on Social Media
First Lady Melania Trump urged children to be nice on social media during the announcement of her new "Be Best" initiative on Monday, which took place at the White House's Rose Garden.
Melania explained that her campaign will focus on children's wellbeing, social media use and fighting opioid abuse, with the aim to help the "most vulnerable and fragile among us: our children." President Donald Trump enthusiastically clapped her on from just feet away.
"Social media is too often used in negative ways," she said. "When children learn positive online behaviors early on, social media can be used in productive ways and can affect positive change."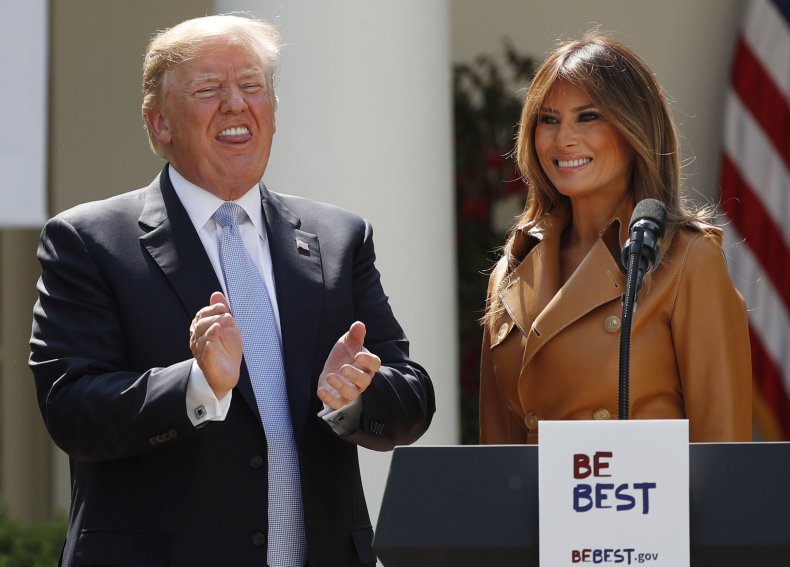 Melania added: "I do believe that children should be both seen and heard, and it is our responsibility as adults to educate and remind them that when they are using their voices—whether verbally or online—they must choose their words wisely and speak with respect and compassion."
Donald Trump is known for regularly posting harsh and offensive criticisms on his rivals to social media. During his election campaign in 2016, Trump mocked Ted Cruz's wife, Heidi Cruz, on Twitter with a side-by-side image comparison of his wife and Melania.
Donald Trump also threatened to "spill the beans on your wife!" Although, it is still not clear what he meant by the comment, Cruz retaliated by calling Trump a "coward" for attacking his wife.
Moments before Melania took to the stage to give her speech on Monday, Trump posted a tweet announcing he had decided on the Iran deal. Although Melania's campaign doesn't explicitly address cyberbullying, the implied purpose has drawn criticism and ridicule due to Trump's constant barrages of online attacks.