Donald Trump's Lawyer Mocked Over Bizarre Document Folder Excuse
A lawyer for Donald Trump has been mocked online after claiming the former president used an empty folder sought by the Department of Justice to block a light on his landline telephone in his bedroom.
Timothy Parlatore, who represents Trump in the special counsel probe into his handling of classified documents, was speaking following reports that the former president's lawyers handed over an empty manila folder marked "Classified Evening Summary" after the DOJ issued a subpoena for its return.
The folder was found in Trump's bedroom in December 2022, four months after the FBI recovered hundreds of sensitive materials from the former president's Florida home.
Speaking to CNN on Sunday, Parlatore said that Trump kept the folder as he was using it to block out light from a landline telephone which kept him up at night.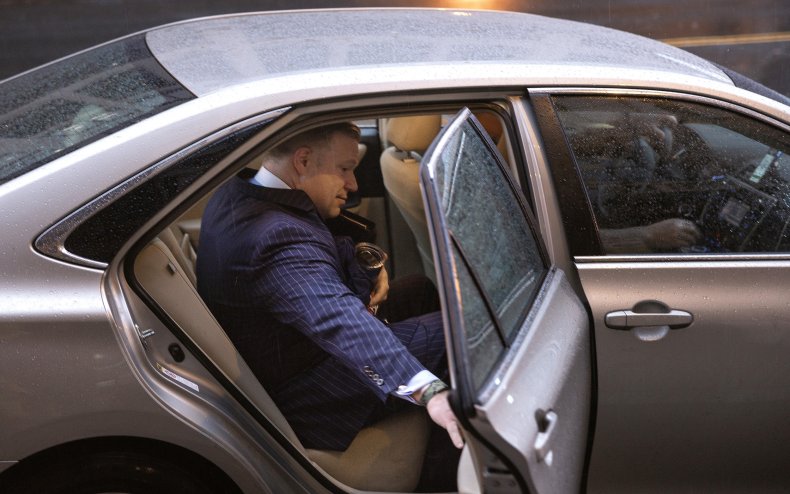 "He has one of those landline telephones next to his bed, and it has a blue light on it, and it keeps him up at night. So he took the manila folder and put it over so it would keep the light down so he could sleep at night," Parlatore said.
"It's just this folder. It says 'Classified Evening Summary' on it. It's not a classification marking. It's not anything that is controlled in any way. There is nothing illegal about it."
A clip of Parlatore's comments was uploaded to Twitter by Acyn Torabi, who monitors right-wing media online, and it has since been viewed more than 600,000 times.
Wiley Nickel, a Democratic congressman representing North Carolina's 13th District, tweeted: "I mean who doesn't use an empty classified folder to block the light on your bedside phone?"
Former Ohio congressional candidate Shannon Freshour wrote: "And one more time...FFS, LIE BETTER."
Florida-based law professor Pearl Goldman added: "When I can't find hockey stick tape to cover blue lights in my bedroom, I use duct tape. But my third choice is always a classified folder."
Elsewhere, national security attorney Mark Zaid tweeted that despite the "stupid" explanation from Parlatore about why Trump did not hand over the folder earlier, the lawyer is correct in saying it is not a classified folder.
"If there is no classified doc within, folder itself is unclassified," Zaid said.
It was previously reported by media outlets that Trump kept an empty "Classified Evening Summary" folder on display at the bar in the lobby of Trump Tower in New York. The folder was kept in glass for several months alongside a "Situation Room" brochure marked "Unclassified FOUO" [for official use only].
Trump is said to have at times asked to keep envelopes and folders which had the red "Classified" notice as keepsakes after being handed the briefings while in the White House, an unnamed source told The Guardian.
Trump has been contacted for comment.