Unlike Hillary, Donald Trump Jr. Just Tweeted His Russia Emails to Start a Scandal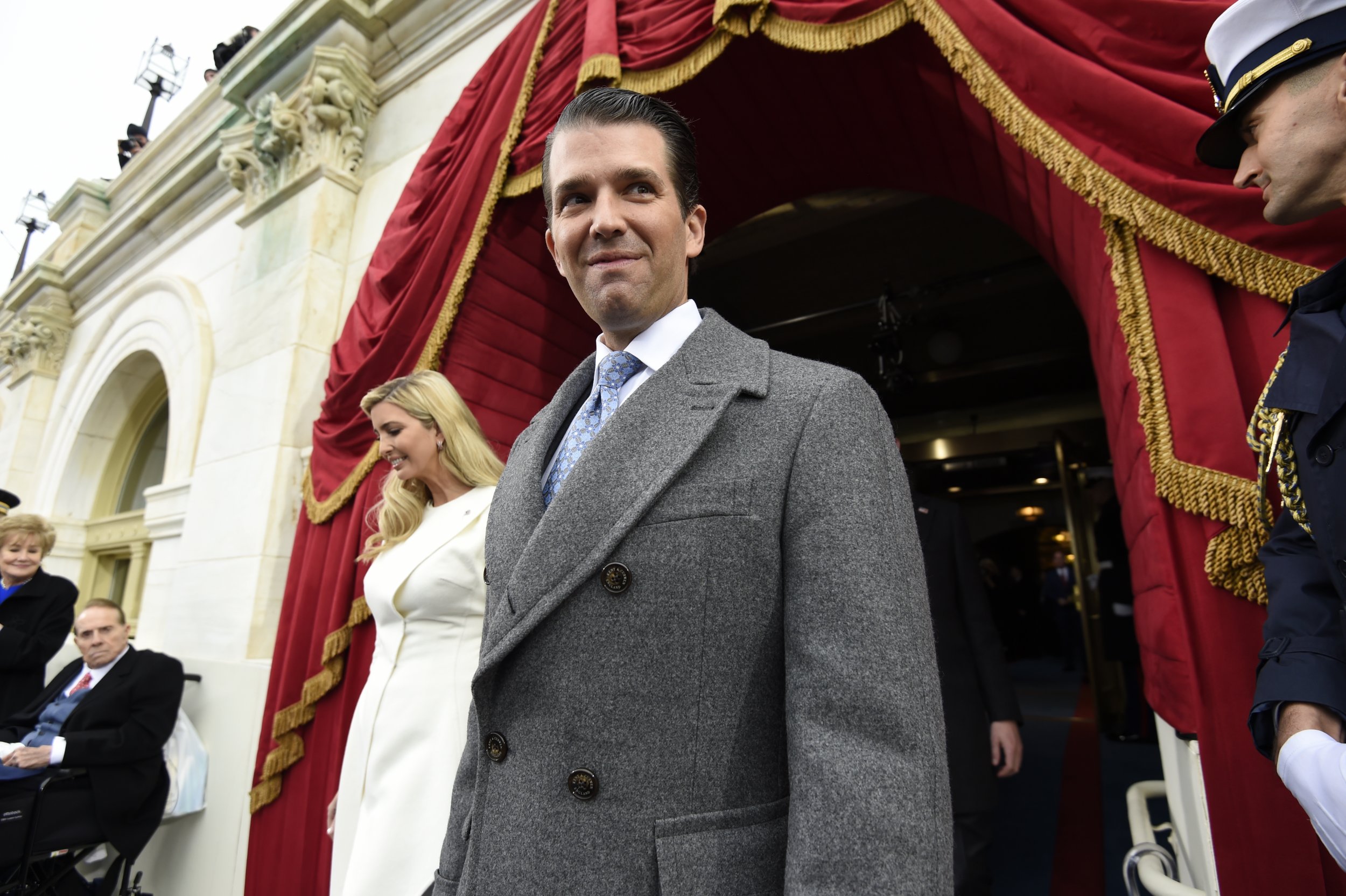 Unlike Hillary Clinton, no FBI investigation or private server or nasty political campaign was needed for Donald Trump Jr. to potentially start an email scandal for his father's administration. Just a Twitter feed.
Though he stated it was for the sake of transparency, Trump Jr., the billionaire president's oldest son and current co-head of his father's global company, could have kick-started a new scandal Tuesday after publicly revealing a days-long exchange just prior to his meeting with a Russian lawyer in June of last year.
Before The New York Times on Tuesday released its latest story on the June 9, 2016, meeting, the younger Trump tweeted out a statement and email exchange with publicist Rob Goldstone, who was setting up a meeting between Trump Jr. and a Russian lawyer who claimed to have disparaging information on Clinton that could have helped his father's campaign.
Parsing through a whole list of characters, the email chain involved a Russian pop star, that celebrity's father, who has done business with the president previously, and Russia's prosecutor general. Emin Agalarov is the singer, his father is Aras Agalarov, and one of Goldstone's exchanges with Trump Jr. states that Emin may have information from Yury Yakovlevich Chaika, the prosecutor general who was appointed by Russian President Vladimir Putin. Chaika is also reportedly close to Natalia Veselnitskaya, the Russian lawyer who met with Trump Jr., according to the Times.
"Emin just called and asked me to contact you with something very interesting," Goldstone wrote on June 3, 2016. "The Crown prosecutor of Russia met with his father Aras this morning and in their meeting offered to provide the Trump campaign with some official documents and information that would incriminate Hillary and her dealings with Russia and would be very useful to your father."
Trump Jr. responded: "Thanks Rob I appreciate that. I am on the road at the moment but perhaps I just speak to Emin first. Seems we have some time and if it's what you say I love it especially later in the summer. Could we do a call first thing next week when I am back?"
That initial exchange eventually led to Trump Jr. asking his brother-in-law, Jared Kushner, and then–Trump campaign manager Paul Manafort to attend the meeting.
Initially, Trump Jr. responded to the Times series of stories by saying the meeting was about an adoption program between the U.S. and Russia. Then, his lawyer said in a statement Monday that the email exchange and meeting were "much ado about nothing," and that "Don Jr.'s takeaway from this communication was that someone had information potentially helpful to the campaign and it was coming from someone he knew. Don Jr. had no knowledge as to what specific information, if any, would be discussed."
But much as his father had claimed Clinton's private email server was reason enough not to elect her, and going so far as to say he wouldn't release his tax returns unless Clinton did her emails, Trump Jr.'s email exchange does further the allegations of collusion that have sparked an FBI and two congressional investigations into whether the campaign had any involvement with Russia last year.
President Donald Trump, vehemently and consistently, chastised Clinton for not disclosing her emails while she served as secretary of state and went so far as to label her "Crooked Hillary."
Clinton's use of the private server came to light in March 2015, thanks to the Times, and eventually led to an FBI investigation that was at first closed after former Director James Comey's announcement on July 5, 2016. Then, after questions arose over whether classified information was stored on the server, new emails came to light, and Comey announced the investigation was reopened on October 28. Nine days later, and two days before Election Day, Comey said the new emails did not constitute further investigation.
Even before Comey's announcements, there was the matter of WikiLeaks releasing hacked emails from the Democratic National Committee and in particular former Clinton campaign manager John Podesta.
But in the cases of the DNC, Clinton and Podesta, years of investigation and hacks were necessary. Not less than 140 characters.