Trump's Instincts vs. Clinton's Experience: Inside NBC's Commander in Chief Forum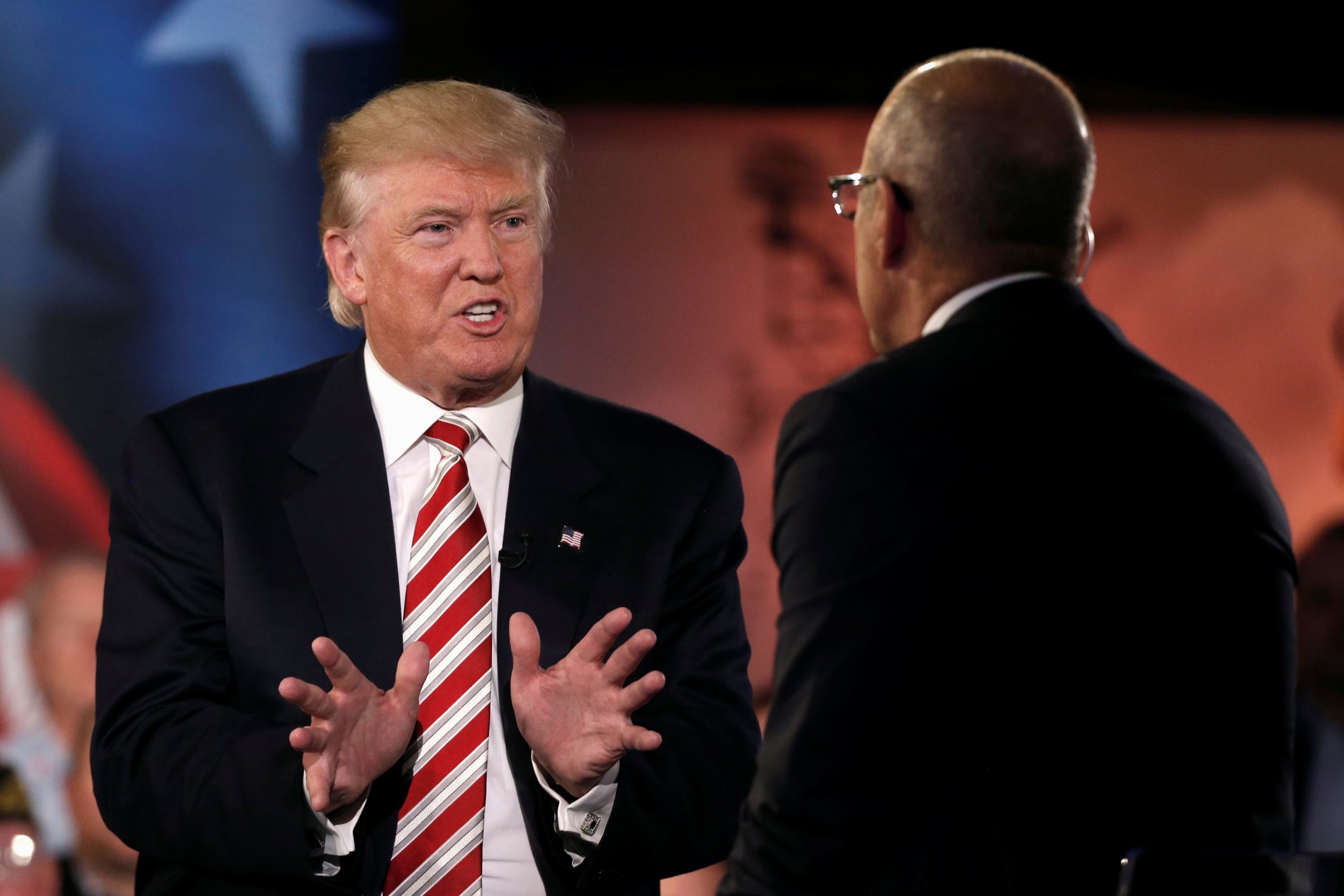 Updated | Voters got to make their first side-by-side comparison of America's presidential candidates on Wednesday, in a televised forum focused on national security. And their appearances, one after the other, on a stage at New York's Intrepid Sea, Air & Space Museum, offered just as stark a contrast as one might expect. Hillary Clinton again demonstrated her mastery of policy, but she continued to struggle to defend her judgment. Donald Trump's remarks, on the other hand, were almost entirely policy-free, but with his typical bravado, he promised he'd bring impeccable judgment to the Oval Office.
"I really feel I have a common sense on the various issues you're talking about," the Republican nominee told NBC's Matt Lauer, when asked how he was preparing to tackle the complex foreign policy concerns he would face if he won in November.
During the GOP primary, Trump famously said he knows more about the Islamic State group (ISIS) than the generals. He didn't reply directly when Lauer asked him if he stood by that comment. "I think under the leadership of Barack Obama and Hillary Clinton, the generals have been reduced to rubble," he said. "They have been reduced to a point where it's embarrassing for our country."
The real estate tycoon made that rhetorical pivot repeatedly throughout his 30-minute Q&A session with Lauer, along with an audience of military personnel and veterans. Asked to resolve his past contradictions or elaborate on his proposals, Trump returned again and again to the past—to what he portrayed as the abject failures of the Obama administration—rather than detail anything he plans to do in the future. The only taste of what a Trump foreign policy might look like came during his remarks about U.S.-Russia relations, when he reiterated his admiration for President Vladimir Putin and predicted "a very, very good relationship" with Moscow.
One of the most striking examples of Trump's lack of policy specifics came in his reply to a retired Marine Corps captain, who asked about his plans to stabilize the Middle East. The Republican nominee launched into a lengthy condemnation of Obama's decision to withdraw troops from Iraq. "I've always said, shouldn't be there, but if we're going to get out, take the oil. If we would have taken the oil, you wouldn't have ISIS, because ISIS formed with the power and the wealth of that oil." Nothing in his remarks addressed how he would approach the Middle East going forward.
Clinton, for her part, was more than happy to dive into the tortuous realm of Middle Eastern policy, explaining how she would try to engage Iran on the nuclear deal, while also taking a tough line on some of the country's other policies. When it comes to defeating ISIS, Clinton declared: "We are not putting ground troops into Iraq ever again. And we're not putting ground troops into Syria." But she promised more help for Iraqi and Kurdish forces currently doing much of the fighting against the group, a not-so-subtle dig at her former boss, President Obama, and his handling of the crisis.
Where Clinton was incisive about how she'd act going forward, she struggled to defend her past decision-making. She remains unconvincing when answering questions about her handling of classified material and her use of a private email server to discuss some of that material while she was Obama's secretary of state. Her answers quickly devolved into a confusing back-and-forth over how public officials discussed America's drone program, an open secret though technically classified. "There were no discussions of any of the covert actions in process being determined about whether or not to go forward," Clinton tried to explain. "But every part of our government had to deal with questions [about the drone program], and the secretary of state's office was first and foremost." It didn't really clarify the issue.
Clinton's email practices weren't the only reason she faced questions about her judgment. An Air Force veteran pressed her on her "extensive record with military intervention" and asked if her "hawkish foreign policy will continue." And Lauer asked Clinton about her vote to authorize the war in Iraq, which she later said was a mistake. While conceding she regrets voting for the war, Clinton seized on the issue to lay out "the totality" of her record. She also asked voters to judge her for "what I've done for our veterans as first lady, as senator, what I've done for Gold Star Families, working with them to increase the death benefit from $12,000 to $100,000, working with Republicans, like Lindsey Graham, to get Tricare for our National Guard members who didn't have health care unless they were deployed."
Trump had plenty to say about that record, far more than about his own. (Though he did once again deny that he supported the second Iraq War, despite evidence to the contrary). In the closing moments of the event, Lauer asked Trump if he was prepared to take over as commander in chief on his first day in office. "One hundred percent," Trump replied, quickly turning back to Clinton. "Again, she made a mistake on Libya. She made a terrible mistake on Libya." In other words, all of Clinton's experience hasn't gotten us very far. Trump's pitch Wednesday night, as it has been for the last year-plus, was that his instincts are better than her knowledge. It presents voters with two very different choices.
This story has been updated to include Trump's denial that he supported the second Iraq War, despite evidence to the contrary.