Trump Clone Brazilian President Bolsonaro Draws Populist Supporters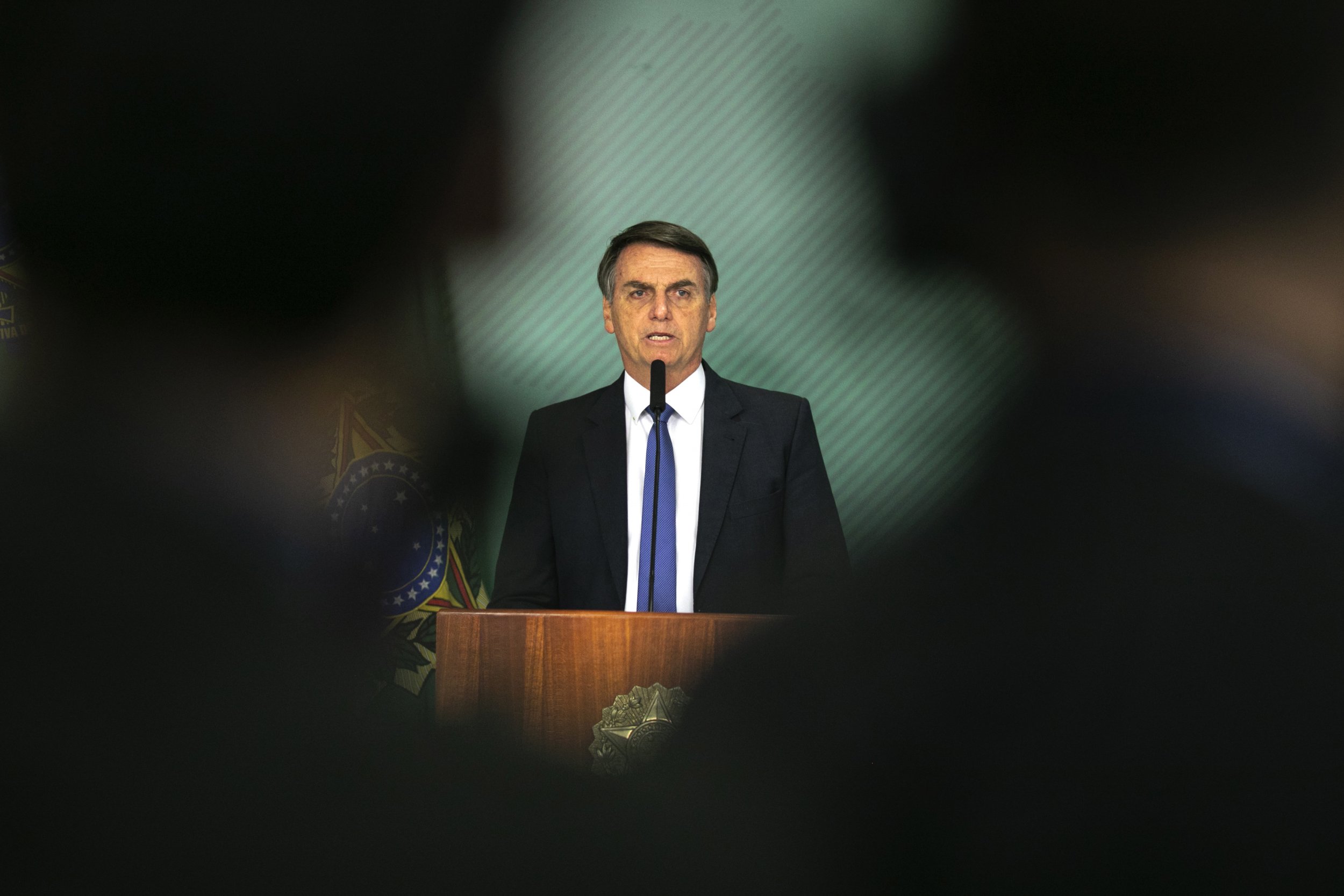 Like President Donald Trump, far-right Brazilian President Jair Bolsonaro has his populist fan base.
Even as heavy scandal and disaster dog Bolsonaro, supporters like Pietro Sambugaro wept with joy with Bolsonaro was confirmed a month ago as president of the world's fourth-largest democracy, reported The Guardian on Friday.
"The mood is of immeasurable satisfaction," the diehard 28-year-old bolsonarista gushed this week in The Guardian interview. "It is wonderful to be able to count on the government, to be able to believe that politics can change, that politics can be more honest, that we can trust [our leaders]."
In short, Sambugaro heaped praise on Bolsonaro's early relaxation of gun laws and vow to eradicate corruption.
"The contentment Brazilians are feeling is just gigantic, thank God," added Sambugaro.
Bolsonaro is hated for his diatribes against women, gays and blacks, but loved by his supporters for his tough talk. He exalts Brazil's military dictatorship, advocates torture and threatens to destroy, jail or drive his political opponents into exile.
Under Bolsonaro's short reign so far, a Minas Gerais dam collapsed on January 25, killing at least 115 people and leaving 248 others missing, according to The New York Times on Saturday. The Guardian reported 259 people are missing.
The failure of the dam - one of the deadliest mining accidents in Brazil's history — unleashed an avalanche of red mud that also buried buildings and contaminated water downstream, the Times reported.
As the search for survivors continue, rescuers dig into the brown sludge that covered the Brazilian mining town, Brumadinho.
Bolsonaro has to deal with what has been characterized as perhaps the most corrupt scandal in history, involving money laundering, political corruption and corporate racketeering in an earlier comprehensive report.
Bolsonaro has mirrored Trump in other ways, declaring that he will effectively "drain the swamp" in his administration, following a common Trump refrain and reference to the politicians in Washington, D.C.
Among his many criticized moves, Bolsonaro appointed judge Sergio Moro, the celebrity Brazilian judge, as his justice and public security minister. Moro jailed Bolsonaro's main rival, the former president Luiz Inácio Lula da Silva, in November, making huge points with Bolsonaro. Moro also spearheaded the sprawling so-called "Car Wash" corruption investigation, reported The Guardian in November, 2018.
At the time, Bolsonaro tweeted to his two million Twitter followers: "We will be guided by his anti-corruption and anti-organized crime agenda, as well as his respect for the constitution and the laws!"
The jailing of Luiz Inácio Lula da Silva infuriated many left-leaning Brazilians, according to media reports.
However, Bolsonaro's ties to organized crime has some supporters already worrying about what his populist reign will bring.
Bolsonaro won election last October by tapping into a deep well of resentment at the status quo in Brazil - a country whiplashed by rising crime and two years of political and economic turmoil - and by presenting himself as the alternative, reported The New York Times.
During the election campaign last September, Adélio Bispo de Oliveira stabbed Bolsonaro in the stomach, piercing his liver, a lung and intestines, requiring surgery, reported the Times. At the time, supporters were carrying Bolsonaro through a crowd during a rally. Bispo de Oliveira was arrested.