Trump Closes Door on Brad Raffensperger by Endorsing Jody Hice for Georgia Secretary of State
Former President Donald Trump has made a major endorsement in the Republican primary for Georgia's secretary of state, backing Representative Jody Hice over Brad Raffensperger.
"Wow, just heard the good news. One of our most outstanding Congressmen, Jody Hice, has announced he is running for Secretary of State in the Great State of Georgia," Trump said in a statement on Monday. Hice, who represents Georgia's 10th congressional district, announced his candidacy just moments before Trump issued his endorsement.
The former president continued, "Unlike our current Georgia Secretary of State, Jody leads out front with integrity."
Trump's endorsement of Hice comes after his falling out with Raffensperger, a fellow Republican, over the state's 2020 election results. The former president lost Georgia to President Joe Biden, but repeatedly claimed victory in the state and at one point asked Raffensperger to "find" enough votes to declare him the winner.
Trump alluded to his baseless claims of voter fraud in Monday's announcement, stating he had "100% confidence in Jody to fight for Free, Fair, and Secure Elections in Georgia, in line with our beloved U.S. Constitution. Jody will stop the Fraud and get honesty into our Elections!"
Newsweek has reached out to Raffensperger's office for comment on Hice's candidacy and Trump's endorsement.
Raffensperger and his top aides have publicly rebuked Trump's conspiracies about the integrity of the 2020 election. Election officials counted the ballots three times and certified the results on two occasions, each one showing Trump was defeated by Biden by 11,779 votes.
On January 2, Trump told told the secretary of state: "All I want to do is this: I just want to find 11,780 votes." A recording of the telephone conversation was first released by The Washington Post.
Last month, Raffensperger's office opened an investigation into Trump's phone call. The probe could lead to a criminal investigation by state and local authorities. His office said the inquiry was "fact-finding and administrative in nature."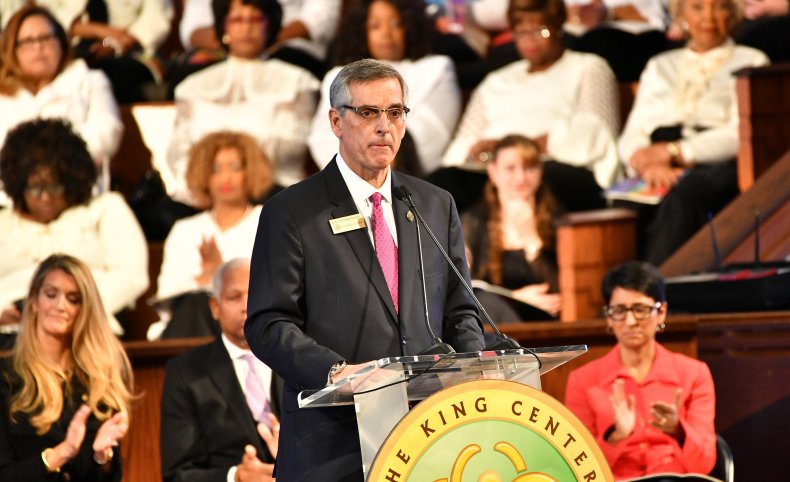 Hice, on the other hand, was leading voice in pushing false claims about Georgia's election system. In a Twitter post on Monday, Hice said he was "honored" to have the former president's endorsement.
The four-term congressman joined a controversial lawsuit filed by Texas Attorney General Ken Paxton to throw out the voting results in Georgia and three other battleground states. Georgia Deputy Secretary of State Jordan Fuchs had decried the suit "false and irresponsible."
Hice was also one of 147 Republicans who voted to overturn the 2020 election results during the congressional certification on January 7.
"Free and fair elections are the foundation of our country. What Brad Raffensperger did was create cracks in the integrity of our elections, which I wholeheartedly believe individuals took advantage of in 2020," Hice said in a statement Monday.
He added, "Though I am encouraged to see the General Assembly taking it upon themselves to address some of the glaring issues in our elections, Georgia deserves a Secretary of State who will own the responsibilities of the office. If elected, I will instill confidence in our election process by upholding the Georgia Constitution, enforcing meaningful reform and aggressively pursuing those who commit voter fraud."