President Donald Trump said flipping "ought almost to be outlawed" after his former personal attorney and fixer Michael Cohen turned on his old boss in a plea deal.
Cohen pleaded guilty to a number of fraud charges relating to his taxi businesses and also to two campaign finance violations in which he implicated Trump without explicitly naming him.
He stated that the then Republican candidate directed him to pay off two women—the adult film actress Stormy Daniels, whose real real name is Stephanie Clifford, and former Playboy model Karen McDougal—who said they had affairs with Trump, buying their silence to influence the election.
Trump denied the affairs and any advance knowledge of the payments, which he maintained were unrelated to the campaign.
In an interview with Fox & Friends that aired Thursday morning, Trump claimed the campaign- finance violations were not crimes. Host Ainsley Earhardt asked Trump why Cohen would say they are illegal if they are not just to get a plea deal.
"Because he gets a better deal when he uses me, like everybody else. And one of the reasons I respect Paul Manafort so much is he went through that trial," Trump said, referring to his former campaign chairman who was found guilty on eight counts of fraud and is looking at a sentence of up to 80 years in prison.
Manafort also faces a second trial on separate charges of money laundering, acting as an unregistered foreign agent in Washington and lying to the F.B.I.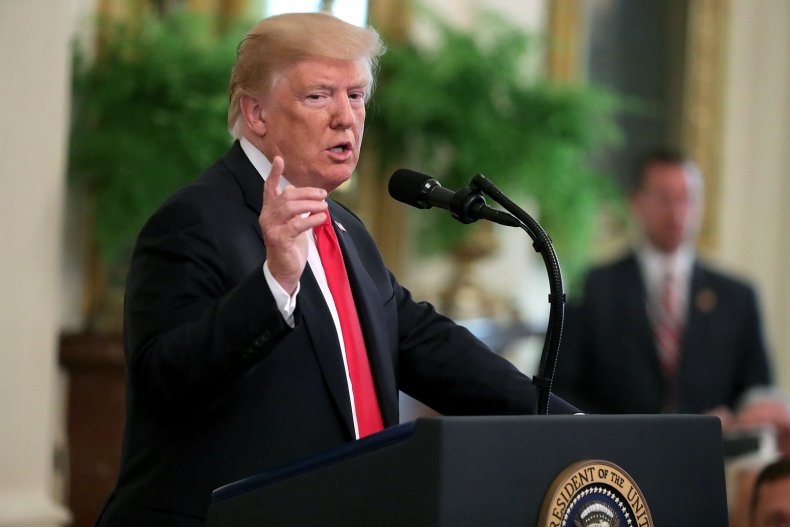 Manafort's lawyer said his client was "exploring his options" and there was speculation that he might cooperate with special counsel Robert Mueller, who has been investigating Russian interference in the 2016 election, potential obstruction of justice and the possibility that the Trump campaign conspired with the Russian government to influence the election. It was Mueller's investigation that uncovered Manafort's and Cohen's tax fraud.
"You know, they make up stories. People make up stories," Trump said.
"This whole thing about 'flipping' they call it. I know all about flipping. For 30, 40 years I've been watching flippers. Everything's wonderful and then they get 10 years in jail and they flip on whoever the next highest one is, or as high as you can go.
"It almost ought to be outlawed. It's not fair because if somebody's going to spend five years like Michael Cohen, or 10 years, or 15 years in jail because of the taxi cab industry, because he defrauded some bank. The last two were the tiny ones. Campaign finance violations are considered not a big deal, frankly.
"But if somebody defrauded a bank and he's going to get 10 years in jail, or 20 years in jail, but if you can say something bad about Donald Trump and you'll go down to two years, or three years, which is the deal he made—in all fairness to him, most people are going to do that.
"And I've seen it many times, I've had many friends involved in this stuff, it's called flipping and it almost ought to be illegal.
"They just make up lies. I've seen it many times. They make up things and now they go from 10 years to they're a national hero, they have a statue erected in their honor, it's not a fair thing but that's why he did it."