Comey Testimony: Republican Senators Dining, Meeting With Trump Two Days Before FBI Director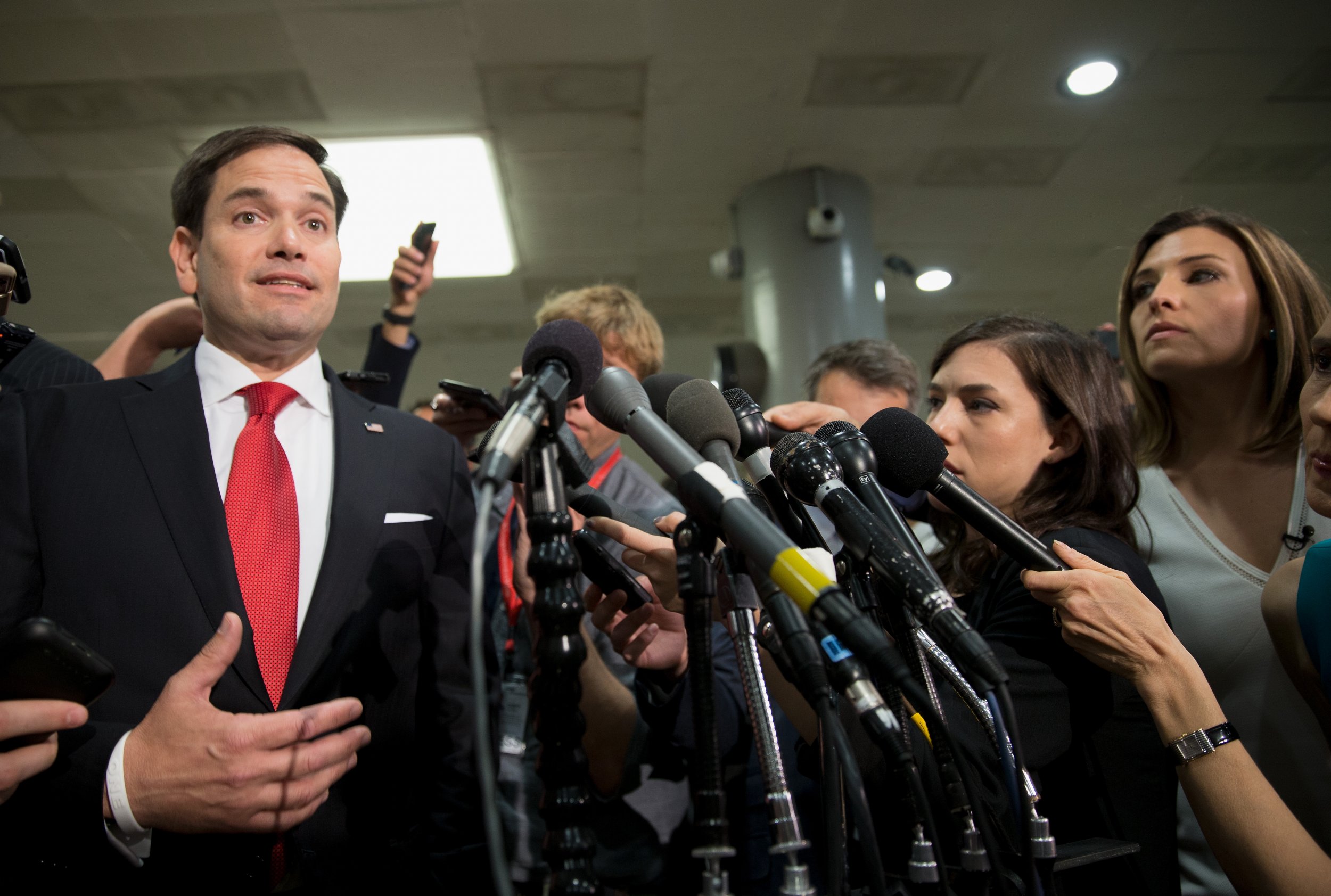 Updated | Republican senators and members of the Senate Intelligence Committee will have dinner with President Donald Trump or have already met with him Tuesday, two days before the committee is scheduled to take testimony from former FBI director James Comey over his discussions with the president and the investigation into the Trump campaign's alleged ties to Russian meddling in last year's election.
Intelligence committee members Sen. Marco Rubio (R-Florida) and Sen. Tom Cotton (R-Arkansas) are scheduled to dine with the president Tuesday night, the Washington Examiner reported and NBC News confirmed.
Sen. John Cornyn (R-Texas) is also scheduled to meet with Trump at 3 p.m. with House and Senate leadership, a Cornyn aide confirmed to Newsweek.
Calls and messages placed to Rubio and Cotton's Washington D.C. offices, respectively, for comment or confirmation were not immediately returned.
It's unclear when the dinner and meetings were scheduled. The committee's Republican chair, Sen. Richard Burr, and Democratic Vice Chair Mark Warner announced May 19 that Comey would testify, a little less than two weeks after Trump fired him.
A member of Warner's press office declined to comment on Rubio and Cotton's dinner and Cornyn's meeting with the president.
Each is a member of the intelligence committee that will take testimony from the fired Comey, who is expected to expound on his conversations with Trump before he was dismissed last month. Reports from the New York Times indicated that Trump had dinner with Comey in January and asked for his loyalty but Comey pledged he would be "honest."
At another reported meeting, Trump allegedly asked Comey to drop the FBI's investigation into former national security adviser Mike Flynn. Previously a top aide during Trump's campaign as well in the billionaire's transition to the White House, Flynn was asked to resign after he misled Vice President Mike Pence about his conversations with Russian ambassador to the U.S., Sergey Kislyak, during which he may have hinted at the new administration lifting sanctions imposed against Russia by President Barack Obama for alleged hacking or meddling in last year's presidential election.
That revelation came after a Times story detailed a memo Comey wrote describing the meeting with Trump. The president responded on Twitter, almost threatening Comey, by stating that he better hope there were no "tapes" of their meetings.
Later, in an interview with NBC News on May 11, Trump stated that he fired Comey because the Trump-Russia investigation wasn't real. Though, a memo written by deputy attorney general Rod Rosenstein was originally used as the reason for Comey's dismissal. White House advisers also have described the FBI as in disarray due to Comey's leadership.
The Trump administration nixed speculation Monday that the president could invoke executive privilege, which has previously been used to keep a president's discussions secret, and stated Trump would not try to block Comey's testimony.
Other Republican lawmakers from both the Senate and the House of Representatives, but no members of the intelligence committee, are also scheduled to attend the dinner at the White House residence, according to the Examiner.
This story has been updated to clarify when Sen. John Cornyn (R-Texas) is scheduled to meet with President Trump as well as House and Senate leadership.