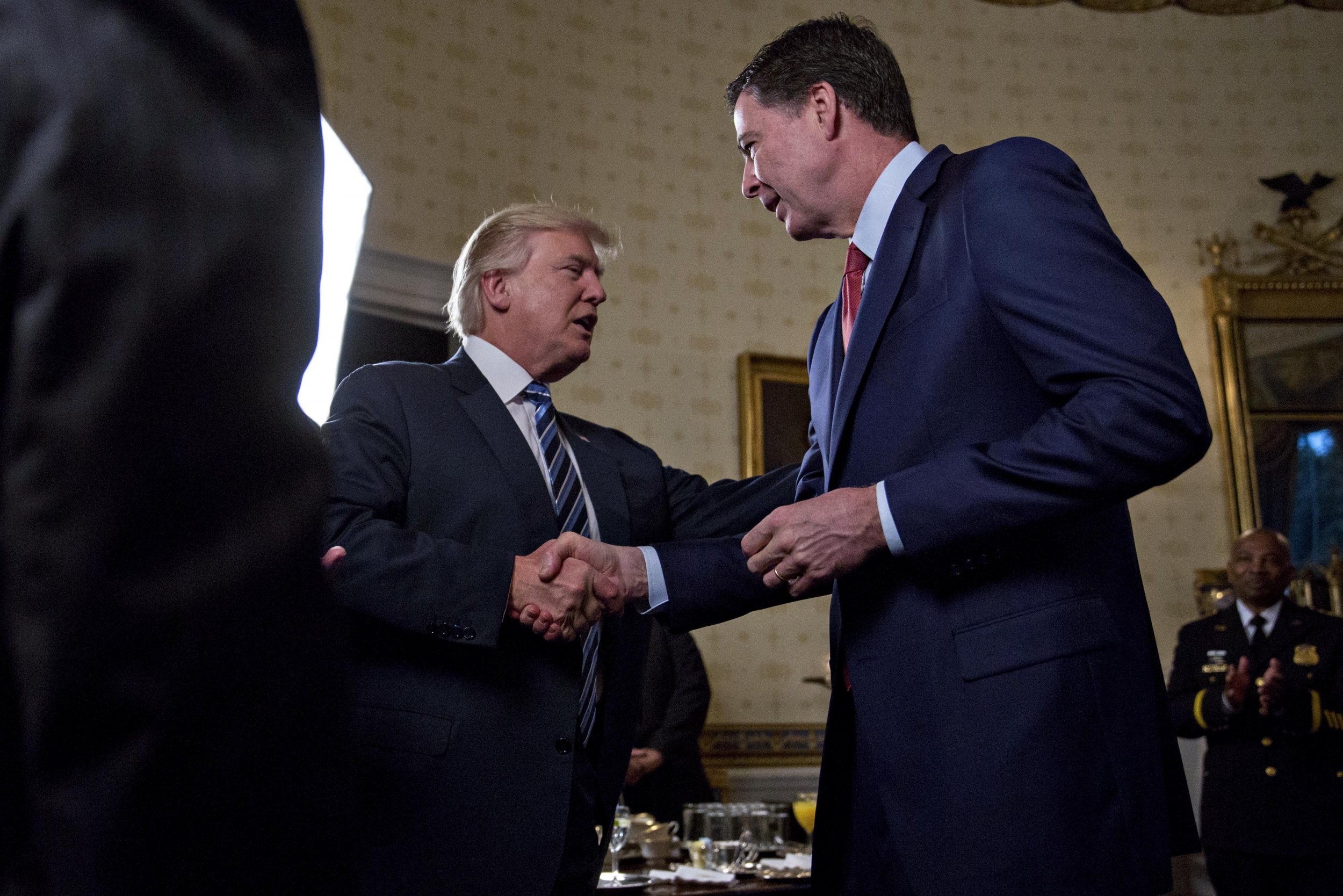 Former FBI Director James Comey is expected to testify publicly before the U.S. Senate Intelligence Committee next week on his allegedly nefarious meetings with President Donald Trump, according to media reports Wednesday. During one interaction, the commander-in-chief reportedly asked Comey to drop the domestic intelligence agency's investigation into disgraced former ex-National Security Adviser Michael Flynn, as well as a probe into the administration's supposed contacts with Russia during last year's presidential election.
Comey's testimony could completely blow wide open the ongoing Trump-Russia saga that's plagued the country's political landscape for months and severely hampered the billionaire's attempts to exact his domestic and foreign agenda. But the president does have the option of blocking Comey from testifying if he attempts to invoke the constitutionally and largely court-upheld right of executive privilege.
Trump has vehemently denied that anyone linked to his campaign colluded with Russia to tip the election in his favor over Democrat Hillary Clinton. She was widely considered a massive frontrunner over the first-time politician and real estate magnate and polls reflected that gap in the months leading up to Election Day.
In keeping with those denials, Trump could use executive privilege to prevent Comey from taking the stand since U.S. courts have held up a president's right to keep his conversations secret, according to The New York Times. Still, the potential political fallout of hindering Comey, which Trump can ill afford following what's been labeled a poor first meeting with European leaders in May, as well as the failure to fully enact his immigration ban or pass a replacement for Obamacare, could only deepen the president's woes.
"If they claim executive privilege, politically it gives the appearance that there's something to hide, which just amplifies all the criticism," George Mason University professor Mark J. Rozell told The Times.
Executive privilege essentially allows either a president or another high-ranking executive branch official to deny Congress, courts or the public information. It has been broken down into four areas, with the first being president communications privilege, Rozell explained in July 2012 for the Library of Law and Liberty.
Technically the privilege dates back to the country's first president, George Washington, but Dwight D. Eisenhower was the first to evoke it. The most famous instance of the privilege came under President Richard Nixon and his Supreme Court case, U.S. vs. Nixon in 1974, which resulted in the White House having to give up tape recordings linked to the Watergate scandal.
Most recently, President Barack Obama attempted to use the privilege in the so-called "fast and furious" gunrunning operation to Mexico. Obama's administration eventually relented and agreed to turn over documents linked to the scandal, ending a four-year battle.