Trump Compares Files on Hunter Biden's Computer to Anthony Weiner Scandal
At a campaign event in Macon, Georgia on Friday, President Donald Trump compared files allegedly found on Hunter Biden's laptop with explicit pictures discovered on former Congressman Anthony Weiner's computer by the FBI.
Files on a laptop with a Biden Foundation sticker on it allegedly connected Democratic presidential candidate Joe Biden to shady business dealings in Ukraine, according to a story published by the New York Post on Wednesday. While Trump has brought up the allegations during public remarks in the following days, the story has been have criticized for using uncorroborated sources.
"Between Anthony Weiner's laptop and this laptop," Trump said, referring to this computer, "these are two beauties. I think this one could be worse than the Weiner laptop."
Newsweek reached out to the Trump campaign for further comment.
According to the New York Post, the information from the computer's hard drive was given to them by Trump's personal lawyer Rudolph Giuliani. The Post published PDFs of the alleged emails without dates or metadata, making it impossible to verify their authenticity. Social media platforms initially attempted to curb the sharing of the story. Twitter temporarily locked down the account of White House Press Secretary Kayleigh McEnany on Wednesday after she posted a link to the story.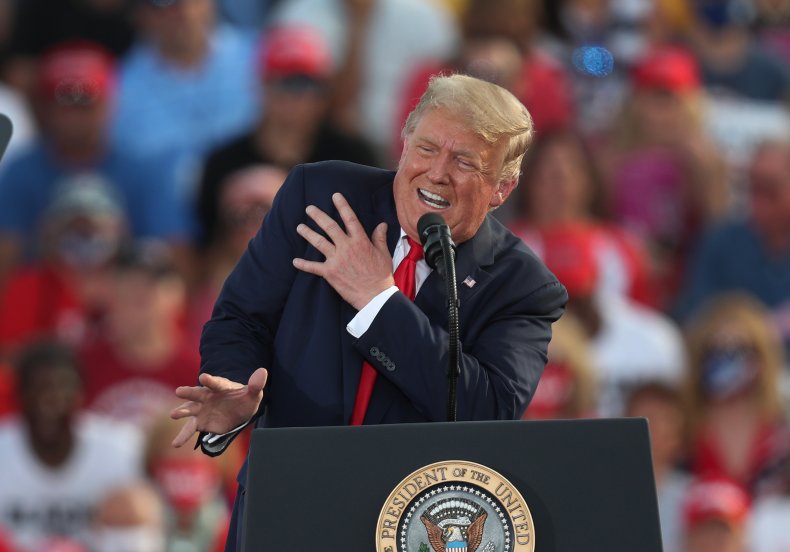 Graphic emails were found on Weiner's computer during a 2016 FBI investigation into the presidential campaign of Hillary Clinton. At the time, Weiner was married to Clinton aide Huma Abedin, whose emails were discovered on Weiner's personal computer. Among those documents was correspondence about Clinton's personal schedule and appearances with the media. However, during the investigation, FBI agents discovered proof that Weiner had been sexting with a minor female.
Weiner pleaded guilty in 2017 to sending obscene material to a minor and was sentenced to 21 months in prison. He was released from prison in February after serving approximately 15 months.
Trump has repeatedly mentioned the abundance of emails involved in the Clinton investigation. Clinton admitted to sending work emails through a personal email server while serving as Secretary of State. Thousands of those emails had been deleted before Clinton's electronic devices could be examined by the FBI. Investigators said there was no evidence to support the theories that the missing emails were deleted to destroy classified information.
Trump has claimed that Clinton's deleted emails contained classified, sensitive information and made public calls for her arrest. In an October interview with Fox News, U.S. Secretary of State Mike Pompeo said the State Department was in possession of those missing emails.
"We're going to get this information out so the American people can see it," Pompeo said, adding that some of Clinton's emails could be released before the November election.