Trump Compares Mueller Team Wiping Phones to Clinton Deleting Emails
President Donald Trump compared members of special counsel Robert Mueller's team wiping their phones clean of data to former Secretary of State Hillary Clinton deleting thousands of emails off a private mail server.
"ALERT: So now we find out that the entire Mueller 'hit squad' illegally wiped their phones clean just prior to the investigation of them, all using the same really dumb reason for this 'accident', just like Crooked Hillary smashing her phones with a hammer, & DELETING HER EMAILS!" Trump tweeted early Saturday morning.
The president continued on to say that the "Mueller Scam should never have been set up in the first place."
"It was all an illegitimate Witch Hunt, & a big price must be paid," he wrote. "How different my life would have been if this fraud on America was never committed!!!"
Trump tweeted in response to records released this week by the Department of Justice (DOJ), which suggest that top members of Mueller's team erased information from at least 15 cell phones, citing forgotten passwords, physical damage and missing hardware, according to Politico.
The documents were released as part of a Freedom of Information Act request by Judicial Watch, a conservative watchdog group, and detailed the inventory and management of mobile devices assigned to members of Mueller's team.
The DOJ's Office of Inspector General (OIG) had requested the phones as part of its probe into the origins of "Crossfire Hurricane," the name of the FBI investigation into Russia's 2016 election interference and the Trump campaign, which later became part of Mueller's probe in mid-2017.
Mueller released his findings in March 2019, concluding that his team's probe "did not establish that members of the Trump campaign conspired or coordinated with the Russian government in its election interference activities."
DOJ Inspector General Michael Horowitz ultimately determined in December that the FBI complied with policies in its decision to launch Crossfire Hurricane, and found no evidence that political bias or improper motivation influenced its decision.
Several senators have already requested that the DOJ further investigate the claims revealed in the documents, arguing that the wiped devices raise concerns about record retention and transparency.
"I respectfully request that your office open an investigation into this matter to determine what, why, and how information was wiped, whether any wrongdoing occurred, and who these devices belonged to," Senate Homeland Security Chair Ron Johnson wrote to Horowitz in a letter.
Johnson, a Republican senator from Wisconsin, is in the midst of leading his committee's own review of the Crossfire Hurricane investigation.
Newsweek contacted the DOJ for comment, but did not hear back in time for publication.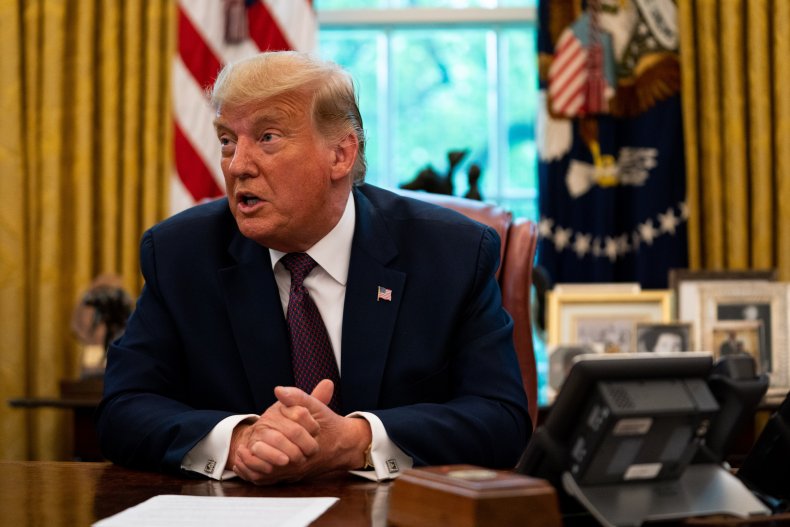 Trump's move Saturday to compare the alleged actions of Mueller's team with Clinton deleting her emails marks another attempt by the president to distance himself from the special counsel's investigation, and to paint his former opponent in the 2016 election as "crooked."
Clinton's private email server became the subject of national news in March 2015, when The New York Times published a story revealing that Clinton had set up a private email server shortly before she was sworn in as secretary of state under President Barack Obama in 2009. She never had a government-issued email address during her four years at the State Department, the Times reported.
Clinton's decision to use a private email server to conduct government business "may have violated federal requirements" and was "alarming" to current and former government officials, according to the Times story.
In the wake of the scandal, which became known as "emailgate," it was revealed that Clinton's team had deleted more than 30,000 older personal emails from the private server.
The FBI began investigating Clinton's use of the private email server in July 2015, ultimately concluding one year later that "no charges are appropriate in this case," despite acknowledging that Clinton and her team "were extremely careless in their handling of very sensitive, highly classified information."
Days before the November 2016 election, however, former FBI Director James Comey told Congress that the FBI had "learned of the existence of emails that appear pertinent" to its investigation into Clinton's email server, announcing the department would renew its probe.
On November 6, 2016, Comey wrote to Congress that, after working "around the clock" to review the newly discovered emails, the FBI hadn't changed the conclusion it made in July, meaning it would not recommend that any charges be brought against Clinton.
In his nearly four years as president, Trump has repeatedly drawn attention to Clinton's actions and the subsequent FBI investigations into them, and Mueller's report into the actions of his campaign, labeling it a sham.