Trump Compares Obamas' 10-Foot Wall Around D.C. Mansion to Border Wall: 'U.S. Needs the Same Thing, Slightly Larger'
On the ninth day of the partial U.S. government shutdown, President Donald Trump said Barack and Michelle Obama had a 10-foot wall around their house in Washington, D.C., and America needed the "same thing" only "slightly larger."
In a Sunday tweet, the president compared a brick fence around the Obamas' D.C. mansion to his proposed border wall, further fueling his demands for $5 billion worth of funding to construct a wall along the U.S.-Mexico border.
"President and Mrs. Obama built/has a ten foot Wall around their D.C. mansion/compound," Trump tweeted. "I agree, totally necessary for their safety and security. The U.S. needs the same thing, slightly larger version!"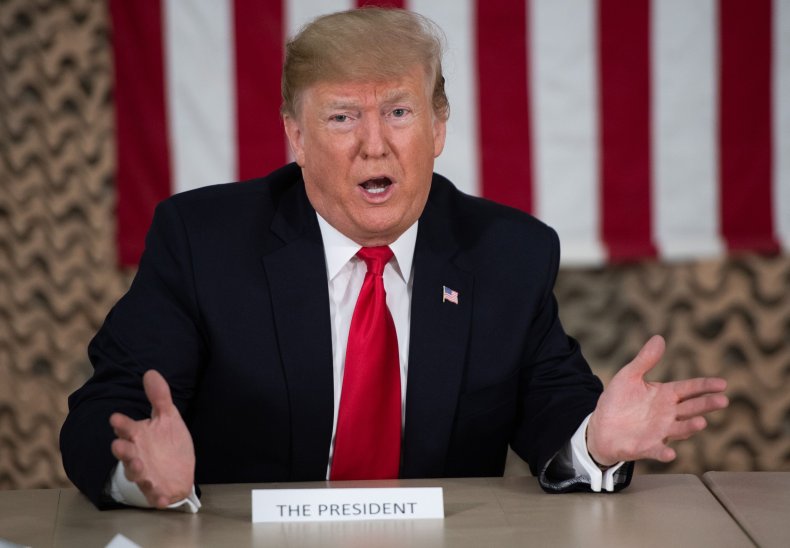 In 2017, TMZ reported that the Obamas were building a wall around their D.C. rental property for additional security. Early construction photos showed the red-brick barrier under construction, although it was unclear how tall the completed version was.
The government went into a partial shutdown at midnight on December 21, after Trump said he would refuse to sign a stop-gap measure to keep the government running through early February, unless it included funding for his long-promised border wall—one of the president's key pledges during his presidential campaign. The House passed a bill allocating more than $5 billion for the wall, but the Senate did not.
Trump's demands for $5 billion worth of funding to construct the border wall has resulted in a stalemate, as Democrats have refused to allocate more than $1.3 billion for border security, which would not include a wall.
According to The Associated Press, Trump said Democrats had left the negotiating table, while Democrats said the president had not contacted House Minority Leader Nancy Pelosi in weeks.
After a private lunch with Trump on Sunday, Republican Senator Lindsey Graham told reporters that the president remained "firm in his commitment to make sure we get money for border security.
"There'll never be a deal that doesn't have money for the physical barriers," Graham said.
But Democratic senators have asserted repeatedly that they wouldn't relent or fund Trump's border wall. Earlier this month, Senate MinorityLeader Charles Schumer declared that Democrats were willing to wait until they take a majority in the House in January to settle the issue.
"I want to be crystal clear. There will be no additional appropriations to pay for the border wall. It's done," Schumer said.