Trump Completes Absentee Ballot in Election Video As Campaign Sues NJ, Three Iowa Counties Over Mail-In Voting
President Donald Trump's reelection campaign is upping its absentee ballot promotion efforts while taking increasing legal action against states and localities aiming to expand mail-in voting access this November.
This week, the campaign filed lawsuits against New Jersey and an Iowa county in response to their respective plans for vote-by-mail procedures ahead of the general election. The latest suits followed others targeting mail-in ballot initiatives in Nevada and two additional Iowa counties.
The Trump campaign's New Jersey lawsuit responds to Governor Phil Murphy's recent executive order, passed last week, requiring election officials throughout the state to send mail-in ballots to all registered voters in their designated counties. New Jersey joined 10 other U.S. states and Washington, D.C., in broadening vote-by-mail amid the novel coronavirus pandemic. Similar to past orders effected elsewhere, Murphy's vote-by-mail expansion aims to reduce risks of potential virus transmission at congested in-person polling sites.
Trump's campaign called the executive order a "direct usurpation of the legislator's authority" and "brazen power grab" in its lawsuit against Murphy, which it filed alongside the Republican National Committee and Republican State Committee in New Jersey.
The campaign, alongside various GOP groups, filed similar suits against election auditors in Iowa's Linn, Johnson and Woodbury counties, where officials also moved to distribute mail-in ballots to all registered voters. Newsweek reached out to the Trump campaign for more information about the Woodbury County lawsuit, as documents provided only mentioned Linn and Johnson counties, but did not receive a reply in time for publication.
Arguments included in the lawsuits echo Trump's rhetoric about the differences between votes cast using absentee ballots versus mail-in ballots. Both processes involve casting a ballot remotely, although voting absentee traditionally requires an individual to submit an application to their local election office. The Trump campaign's Iowa suit states the responsibility to obtain a mail-in ballot "should fall on the applicant alone."
The campaign's support for absentee ballots and criticism of "Universal Mail-Ins," the phrase Trump often uses to describe an election where a large volume of votes are cast by mail, became especially prominent this week. In addition to running ads encouraging Florida residents to vote by mail—using absentee ballots—Trump completed a mail-in ballot himself in a campaign video released on Tuesday. The president and first lady Melania Trump both voted in Florida's primary this week using absentee ballots.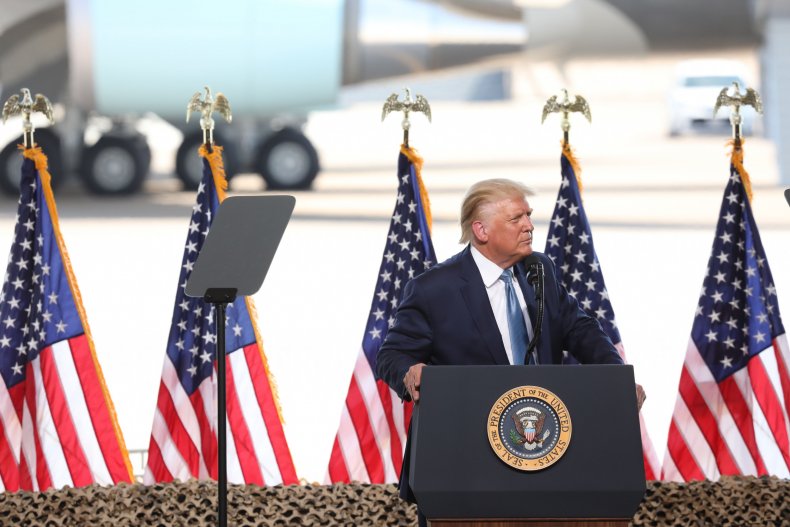 "I'm signing today an absentee ballot," Trump said in Tuesday's campaign video. "Absentee ballots are not universal mail-ins. These are really good. You have to work to get them. You have to make sure everything is perfect, and you send them in. Very little can go wrong."
Trump's opposition to expanded vote-by-mail efforts are rooted in unsubstantiated claims that a significant number of ballots cast by mail will lead to voter fraud in November. Thea McDonald, the Trump campaign's deputy national press secretary, told Newsweek earlier on Wednesday that the campaign wants ensure voters are informed about the voting process "so that every eligible voter can cast their ballot and have their vote counted."
"President Trump has consistently and rightly said that where a voter cannot make it to the polls, they should request an absentee ballot," McDonald continued, noting a distinction between "universal mail-in voting systems" and traditional absentee ballots.
"The President has also correctly distinguished between chaos-ridden universal mail-in voting systems, like the one that led to California's disastrous primary that left 100,000 ballots uncounted, and traditional absentee vote-by-mail systems, like the tried and true system in Florida," she said, "a distinction Democrats and many in the mainstream media purposely ignore to sow confusion."