Trump Condemns Debt Ceiling Deal, Says McConnell 'Had the Weapon and Was Unable To Use It'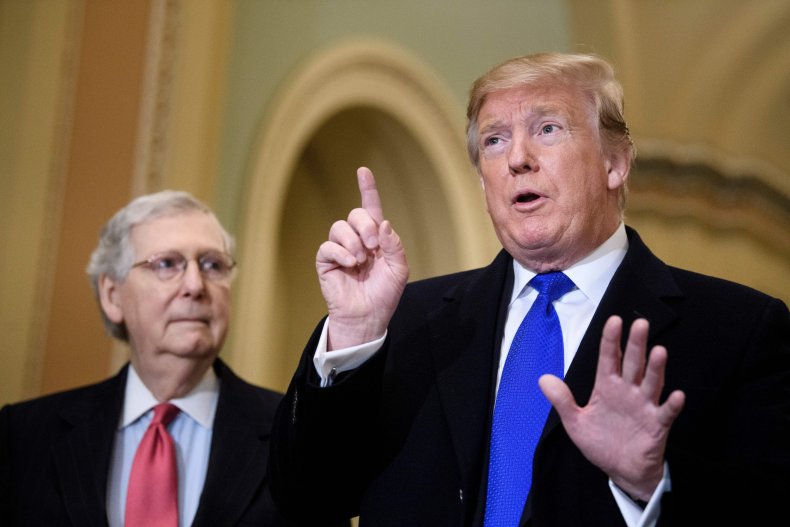 Former President Donald Trump blasted Senate Minority Leader Mitch McConnell (R-Ky.) for not using his "weapon" against Democrats and agreeing to a deal on the debt ceiling.
McConnell had previously opposed a deal but shifted his position on Wednesday, announcing that Republicans would not block a Democratic attempt to pass a temporary fix. The standalone debt ceiling bill passed along party lines on Thursday after 10 Republicans joined McConnell to break a GOP filibuster.
McConnell insisted he had "stepped forward" with "a plan to prevent default." Trump denounced the minority leader's decision and called for "new leadership" among Senate Republicans during a Thursday night interview on Fox News' Hannity.
"The Republican Senate needs new leadership," Trump said. "I've been saying it for a long time: Mitch is not the guy. He's not the right guy, he's not doing the job. He gave them a lifeline, it's more than a lifeline. He gave them so much time now to figure out what to do, because they were in a real big bind. They wouldn't have been able to do anything."
"He had the weapon and he was unable to use it," added Trump. "And it's a shame, it's a shame. These 11 people, I know them. Some are wonderful and some I don't agree with too often. You know, I'm not surprised to see some of the names. But I will tell you this that was not a good thing that happened today. He made a big mistake."
Earlier in the day, Trump issued a statement urging Republican senators to "not vote for this terrible deal being pushed by folding Mitch McConnell." Although 10 senators did join McConnell, no Republicans voted in favor of the bill itself, which temporarily increases the debt limit until December and did not require GOP votes to pass.
Newsweek reached out to McConnell's office for comment.
Senate Majority Leader Chuck Schumer (D-N.Y.) delivered a speech blasting Republicans for partisan "brinksmanship" just after the 11 GOP senators joined with Democrats to end debate on the bill and allow the vote to move forward.
"Republicans played a dangerous and risky partisan game, and I am glad that their brinksmanship did not work," Schumer said. "For the good of American families, for the good of our economy, Republicans must recognize in the future that they should approach fixing the debt limit in a bipartisan way."
"Leader McConnell and Senate Republicans insisted they wanted a solution to the debt ceiling but said Democrats must raise it alone by going through a drawn out, convoluted and risky reconciliation process," he added. "That was simply unacceptable to my caucus. And yesterday, Senate Republicans finally realized that their obstruction was not going to work."
Schumer's speech reportedly infuriated a number of the Republicans who had allowed the vote to move forward. It also rankled Sen. Joe Manchin (D-W. Va.), who told reporters that he "didn't think it was appropriate at this time."