Trump Confident 'Deal Will Happen' With Kim Jong Un Despite North Korea Projectile Launch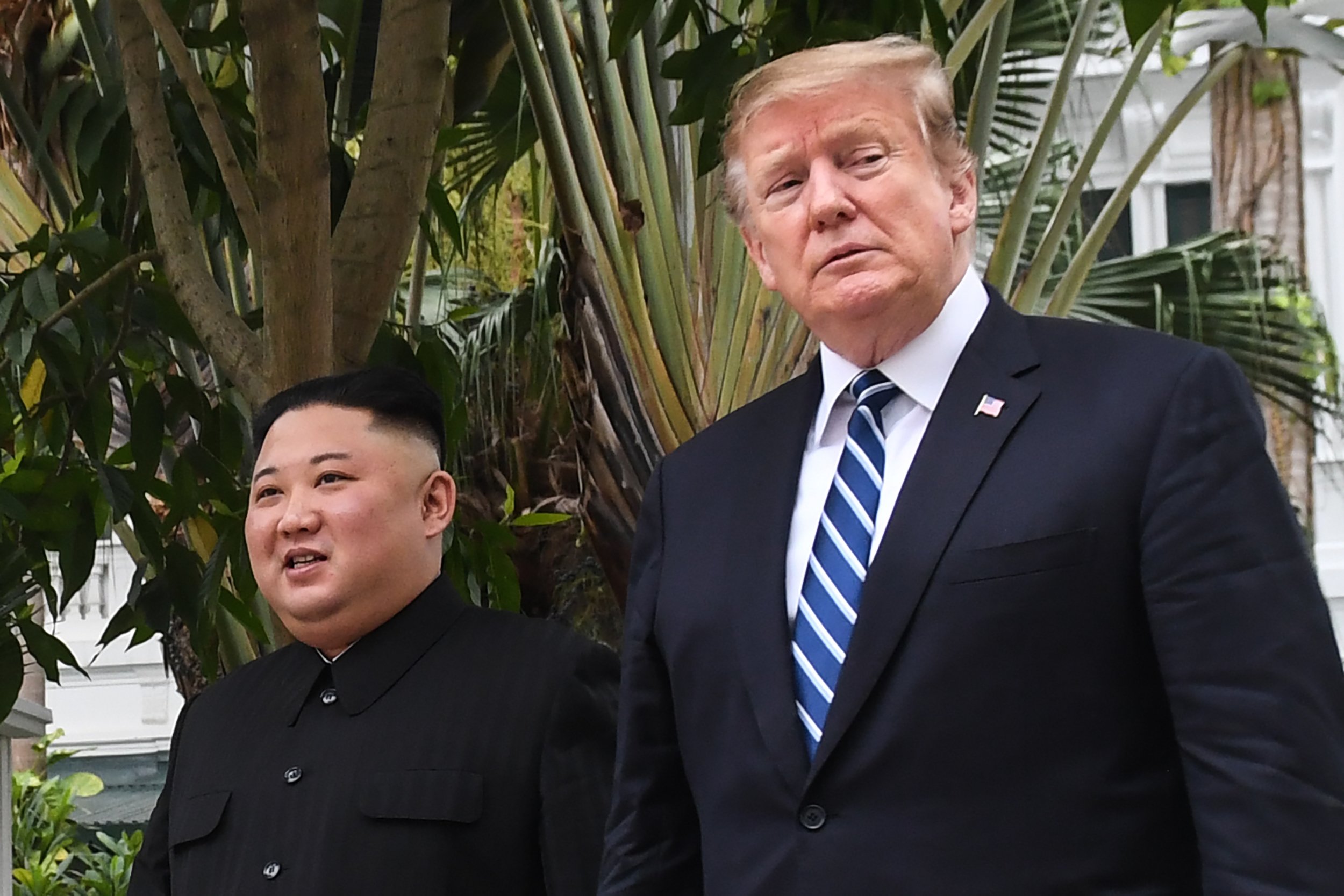 After North Korea fired its latest round of projectiles this weekend, President Donald Trump posted on Twitter that he believes North Korean Supreme Leader Kim Jong Un wouldn't do anything to interfere with his country's "great economic potential."
This weekend's launch from the east coast town of Wonsan reportedly occurred Saturday morning between 9:06 a.m. and 9:27 a.m. local time with the projectiles launched in the direction of Japan, according to Bloomberg.
The launch came about three months after Trump and North Korean Supreme Leader Kim Jong Un met in Vietnam but failed to come to any agreement on a concrete denuclearization plan.
"Anything in this very interesting world is possible, but I believe that Kim Jong Un fully realizes the great economic potential of North Korea, & will do nothing to interfere or end it," Trump tweeted on Saturday. "He also knows that I am with him & does not want to break his promise to me. Deal will happen!"
Reports initially identified the launched objects as missiles, but the language was later clarified to the more generic term "projectiles." South Korea President Moon Jae-In spokeswoman Koh Min Jung told CNBC that Seoul and Washington were analyzing the material in the projectiles to identify exactly what they were.
"In particular, we do notice that North Korea's action this time has taken place when the de-nuclearization dialogue is in lull state," the spokeswoman said. "We do hope that North Korea would positively participate in efforts to resume the dialogue."
Ankit Panda, an adjunct senior fellow at the Federation of American Scientists, told Bloomberg that the use of the word "projectile" could be a strategic reference to an unguided rocket.
"This could also be a politicized attempt to make the word 'missile' not so prominent, in case that creates the kind of news cycle that Trump doesn't want," Panda said.
CNN international correspondent Will Ripley posted on Twitter that if the projectile proved to be a missile, it would be Kim's first launch since November 2017. If so, Ripley noted that such an action would effectively end the missile testing suspension and be a "sign of the epic breakdown of negotiations between the US and North Korea that began with the failed Hanoi summit."
In April, the Korean Central News Agency announced that Kim supervised and guided a test-fire of a "new-type tactical guided weapon." The weapon system was considered a "weighty significance" with regard to increasing North Korea's combat power.On Friday, Cindy Warmbier, whose son Otto Warmbier — died in June 2017, days after being released from 17 months in captivity in North Korea — called diplomacy with North Korea a "charade."
"How can you have diplomacy with someone who never tells the truth? I'm all for it, but I'm very skeptical. He lies, he lies, he lies — all for himself and his regime," Warmbier said during a seminar at the Hudson Institute. "...Unless we keep the pressure on North Korea, they are not going to change, and I am very afraid they are going to let up on this pressure."