Trump Confirms He'll Nominate Supreme Court Justice 'Without Delay'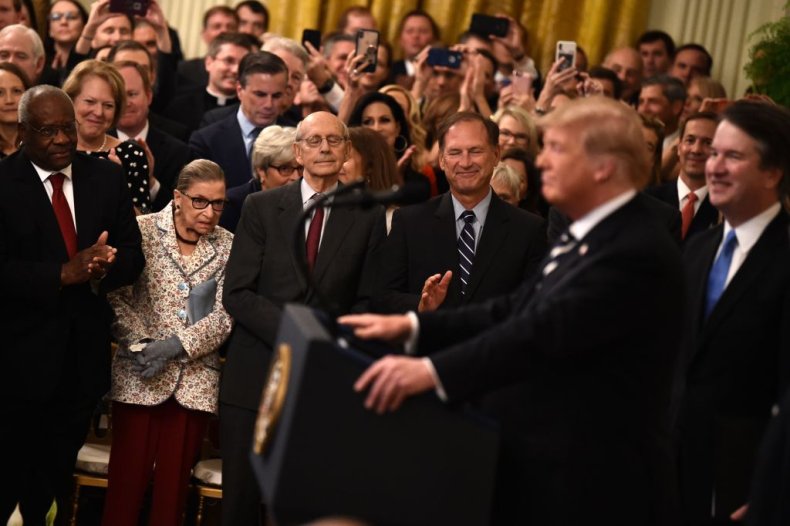 The White House announced Saturday morning that principles, rather than gender or race, will guide President Donald Trump's pick for a Supreme Court nomination following the Friday death of Justice Ruth Bader Ginsburg.
Trump confirmed Saturday he plans to work with Senate Majority Leader Mitch McConnell in immediately securing what will potentially be his third Supreme Court Justice nomination. Earlier, White House Press Secretary Kayleigh McEnany had said Trump will seek out "Constitution-abiding judges" who are "originalists," as he considers nominees for the Supreme Court in the coming weeks.
The president echoed McEnany's Fox News remarks Saturday morning in a tweet: ".@GOP We were put in this position of power and importance to make decisions for the people who so proudly elected us, the most important of which has long been considered to be the selection of United States Supreme Court Justices. We have this obligation, without delay!"
McEnany declined to give an exact timeline of when the president expects to officially nominate his third potential justice, but she told Fox News Saturday Trump will put forth a judge who protects the Second Amendment and opposes abortion. When asked if "identity politics" will factor into Trump potentially picking a Black woman for the Supreme Court, McEnany said "principles" will dictate his choice, not race or gender.
"Kayleigh, our politics have been consumed by identity politics...does race or gender have a factor in who the president ultimately chooses here?" Fox & Friends host Pete Hegseth asked the White House spokeswoman.
"No, principles are at the heart of who the president chooses," McEnany replied. "I remember exactly where I was standing when Justice [Antonin] Scalia passed, it was a heartbreaking moment much like last night was for the nation with the passing of Justice Ginsburg. And it was just before a presidential debate, in fact when Justice Scalia passed and it became laser-focused on the Supreme Court, which is always of importance to voters, but now more than ever."
"This is a lifetime appointment, these are issues which hit at the very core of our liberties, like the Second Amendment, like the right-to-life, the First Amendment, freedom of speech, these issues determine the very values of this country - so knowing where he stands, knowing these names is very important to voters and really the onus is on him now to put out that list," she continued.
McEnany and the Fox News hosts urged Democrats not to repeat the "travesty" of Brett Kavanaugh's appointment to the Supreme Court in 2018. The contentious confirmation hearings questioned allegations of sexual misconduct that dated back decades. Fox & Friends' Hegseth noted many critics of Roe v. Wade have spent an entire "career" pushing to dismantle the landmark abortion case.
McEnany responded to June 30 remarks made by Biden in Wilmington, Delaware, in which the former vice president said he would put forth a list of potential Supreme Court vacancy picks should Ginsburg pass away after he takes office. Biden's list will include at least one Black woman, he said at the time. McEnany said Biden should immediately release a list of his potential picks instead of "telling the current president what to do."
Trump put forth a list of candidates within hours of Ginsburg's death. The president's list includes Senator Tom Cotton of Arkansas; Senator Ted Cruz of Texas; Senator Josh Hawley of Missouri; Kentucky Attorney General Daniel Cameron; former U.S. Solicitor General Paul Clement; and former U.S. Solicitor General Noel Francis.
"This president has always been focused on putting people on the court who are Constitution-abiding judges who are textualists, who are originalists, who believe that the words on the pages of the Constitution or a statute are the plain meaning of what they are," McEnany told Fox News. "Someone who protects the right to life, someone who protects the Second Amendment, this is a president who is guided by the founding of this country and the Constitution. "
Ginsburg was lauded for her pushes for equal rights, including her 1972 launch of the Women's Rights Project for the American Civil Liberties Union (ACLU). McEnany praised the late justice for "paving the way" for women like her to attend Harvard Law School. The White House spokeswoman described Ginsburg as a "tireless and resolute champion of justice."
McEnany praised the president for having a "legacy" of two Supreme Court Justice nominations already during his tenure, adding that he's also appointed nearly 300 judges to federal benches.
"You look at the justices [Trump's] put in place—Neil Gorsuch, Justice Kavanaugh, these are great justices who fall very much in that ilk and that's always been the guiding principles of this president," she said.
McEnany declined repeated questions about a timeline for potentially nomination a Justice before the November 3 election. She said Trump will speak on the matter this afternoon during his planned visit to North Carolina. Newsweek reached out to the White House and Biden campaign for additional remarks Saturday morning.