Trump Has More Than 2,500 Conflicts of Interest and Counting, Live Tracker by Watchdog Finds
President Donald Trump has racked up more than 2,500 conflicts of interest in less than half the number of days he has been in office, according to a new live tracker launched by a watchdog.
Trump has 2,551 conflicts in the 1,004 days he has been in the White House as of Monday, Citizens for Responsibility and Ethics in Washington (CREW) reported in its tracker published on its website.
"One thing it's saying is no conflict happens in a vacuum," CREW research director Robert Maguire told Newsweek. "It's part of a growing number, thousands of conflicts between the Trump administration and Trump businesses."
Trump's conflicts were sorted into five broad categories by CREW. Here is the tally of conflicts by type:
1,493: visits to Trump properties by government officials including the president
533: miscellaneous interactions between government officials and the Trump Organization
286: instances in which the president or administration officials used their platform to promote Trump properties
176: events by political organizations or foreign governments held at Trump's properties
63: trademark approvals to Trump businesses in foreign countries during while he is in office
CREW's research team has been keeping track of Trump's conflicts daily through public records requests, social media accounts and news reports in databases, for its annual and benchmark reports.
"We realized that they're rising so quickly that we needed to make a resource for people to be able to see them day in and day out go up," Maguire said.
The data is broken down further to show, for example, that Trump has paid 387 visits to all his properties, including 240 to his golf resorts and 6 to his places abroad.
Among executive branch officials, the president's son-in-law and senior White House adviser Jared Kushner had the most visits to Trump properties at 29, followed by Vice President Mike Pence at 27, the president's daughter and senior White House adviser Ivanka Trump at 24, and Counselor to the President Kellyanne Conway at 22.
"It's not merely the fact that President Trump refused to divest his businesses, it's that this arrangement has been embraced by administration officials, by members of Congress, by members of foreign governments and Trump himself who continues to go to his properties either to golf or to stay there," Maguire said.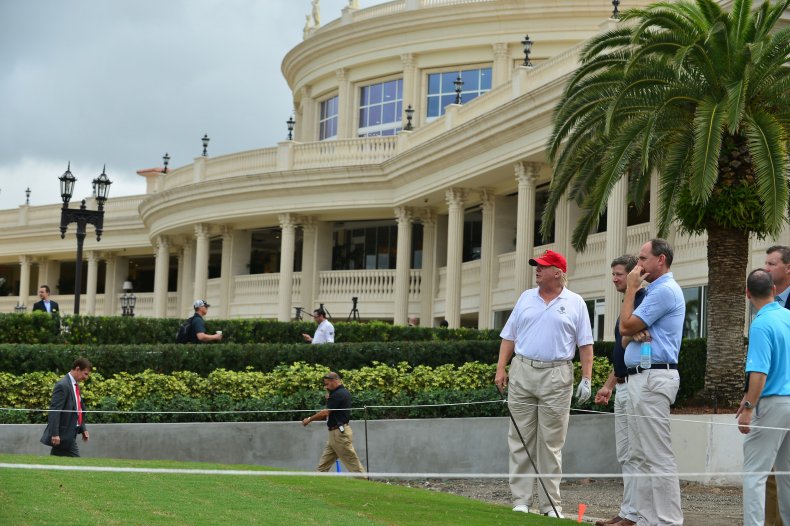 The watchdog's research director added that Donald Trump's visits to his properties "give his paid customers a perk that no other luxury location can provide, which is access to the president of the United States and the more than 200 administration officials who have made appearances at his properties."
Maguire noted that though the president canceled having the G7 summit at Trump National Doral Miami two days after announcing that would be the case, it "absolutely" still counts as a conflict.
"Even when he walked it back, he turned it into, as he often does, a promotion for the property," Maguire said. "So even in saying he would have it there, he talked about what a tremendous place Doral is. It's sort of again signaling that this place is owned by the president of the United States and maybe you run into me."
The White House did not immediately respond to a request for comment from Newsweek on Monday.
CREW's report poses a question in relation to every action and policy decision by the administration: "Are President Trump's actions driven by his duty to represent the best interests of the American people or by a self-serving pursuit of his own personal financial interests?"