Donald Trump Appears to Confuse Approval and Disapproval Rating in Tweet Boasting About Popularity
President Donald Trump misstated his overall approval rating Sunday while again bashing the media for its coverage of his administration and for labeling him as "bad and evil."
Trump claimed he had received a 52 percent approval rating, which would be his highest by far throughout his year and a half in office, and also touted a 90 percent rating among Republicans.
"Over 90% approval rating for your all time favorite (I hope) President within the Republican Party and 52% overall. This despite all of the made up stories by the Fake News Media trying endlessly to make me look as bad and evil as possible. Look at the real villains please!" Trump tweeted.
It's unclear if the president's statement can be tacked on to his more than 4,200 false or misleading statements cataloged by The Washington Post, or if Trump was simply confused by recent polling.
The president had indeed enjoyed high marks from members of his own party, but not from a majority of the country. Even Rasmussen Reports, which has often found far higher approval numbers for Trump both before and following his election in 2016, found last week the president had a 46 approval rating with 53 percent disapproving.
And the latest NBCNews/Wall Street Journal poll, conducted following the plea deal struck by Trump's former lawyer Michael Cohen and the guilty verdict of former Trump campaign chairman Paul Manafort, reflected a 44 percent approval and 52 percent disapproval rating.
Cohen's guilty plea, coupled with Manafort's verdict, however, did not appear to hit Trump's approval rating overall. The president has remained in the mid to low-40s in most polls for several months now after toiling in the mid to low-30s for much of last half of 2017.
The president was relatively close when he cited love amongst Republicans. Earlier this month, Gallup found Trump had received 87 percent approval from GOP members, and the president has routinely stayed in the high 80s when it comes to members of his party.
Trump has reached 90 percent approval from Republicans several times this year, including twice in June and last month. And the president has never earned an approval rating lower than 78 percent from Republicans, according to Gallup.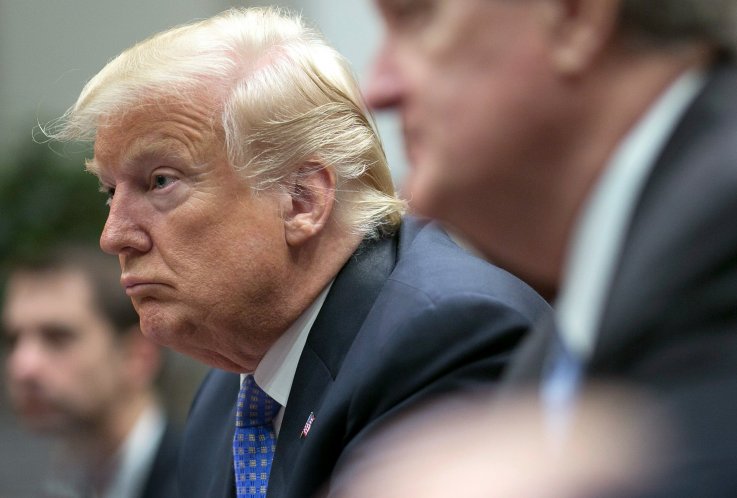 Yet even a poll that typically finds much higher approval numbers for Trump did not show a majority of the country behind the president. Rasmussen Reports' latest poll released on Monday found 46 percent approved of Trump compared to 54 percent disapproving. Earlier this month Rasmussen found 50 percent approved but also 49 percent disapproving.
This story has been updated to include details of a new poll from Rasmussen Reports.
Donald Trump Appears to Confuse Approval and Disapproval Rating in Tweet Boasting About Popularity | U.S.