Trump Considering Ron DeSantis for Vice President if He Runs in 2024
Former President Donald Trump is still considering a run for president in 2024 and said he would be open to putting Florida Gov. Ron DeSantis on the ticket as his running mate.
Trump has been a longtime supporter of the governor, dating back to when DeSantis served in Congress and praised his response to COVID-19. While it may be too early to make a final pick of who he would like to run alongside him if he makes another bid for president, Trump put DeSantis in the pile of candidates he would consider.
"Sure I would," Trump responded when Fox Business' Stuart Varney asked if Trump would potentially consider DeSantis as a running mate. However, Trump indicated he isn't entirely sold on DeSantis and added that there were "numerous people who are great."
Trump hasn't committed to running in 2024, although he's alluded to the possibility that he'll be on the Republican ticket at the next presidential election. That ticket, though, might not include former Vice President Mike Pence.
After a speech at the North Carolina Republican Convention on Saturday night, he told Fox News correspondent Mark Meredith that it was "too early" to discuss running mates, but he was "disappointed with Mike on one thing." That "thing," is likely the 2020 presidential election and Congress' certification of President Joe Biden's victory.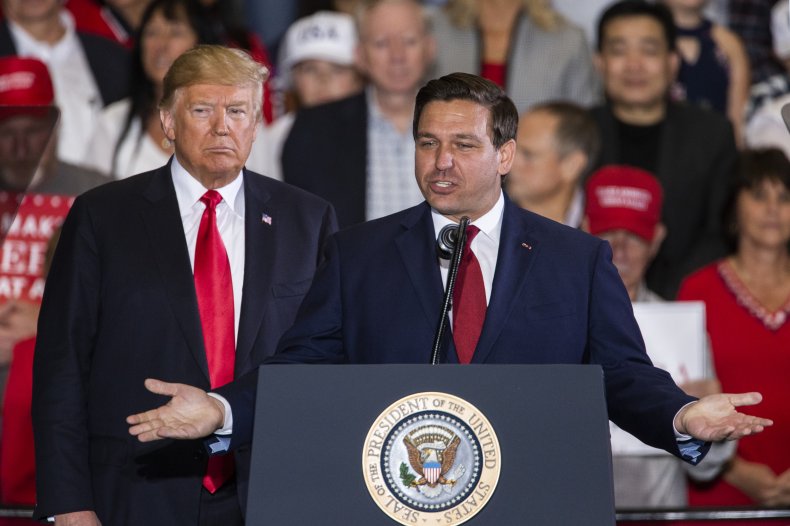 Trump pushed Pence to intervene in the election certification and on Jan. 6, expressed the hope that Pence would do the "right thing" and send the election back to states to recertify. Pence rejected that urging and said he saw his role as a manager of the process, during which he would ensure proper objections were heard, but not interject himself otherwise.
On Thursday night, Pence told a group of Republicans in New Hampshire that he doesn't know if he and the former president will ever "see eye to eye" on Jan. 6. During the Capitol riot, which Pence called a "dark day," rioters interrupted Congress' counting of the electoral votes and some even shouted to "hang Mike Pence."
Despite their disagreement on the events of Jan. 6, Pence noted that he will "always be proud" of the Trump administration's accomplishments.
DeSantis faced heavy criticism for keeping the state of Florida open during the pandemic as governors across the country closed down businesses, schools and issued stay-at-home orders. Through the health crisis, he stood firm in the decisions he made and data from the Centers for Disease Control and Prevention (CDC) were largely in line with the situation in New York, a state that had strict closures.
The Florida governor has honed in on the economic boom that Florida has been experiencing, putting him in a solid position to potentially mount a 2024 run. Although he's been heavily discussed as a contender for the GOP presidential nomination in 2024, DeSantis, a staunch Trump ally, is unlikely to challenge the former president for the seat.
However, his lead with Republican voters if Trump isn't in the running and his ability to tout Florida's economic recovery could put him in a good position to join the former president on a 2024 ticket.
Newsweek reached out to DeSantis for comment but did not receive a response in time for publication.