Controversies Test Trump's Resilience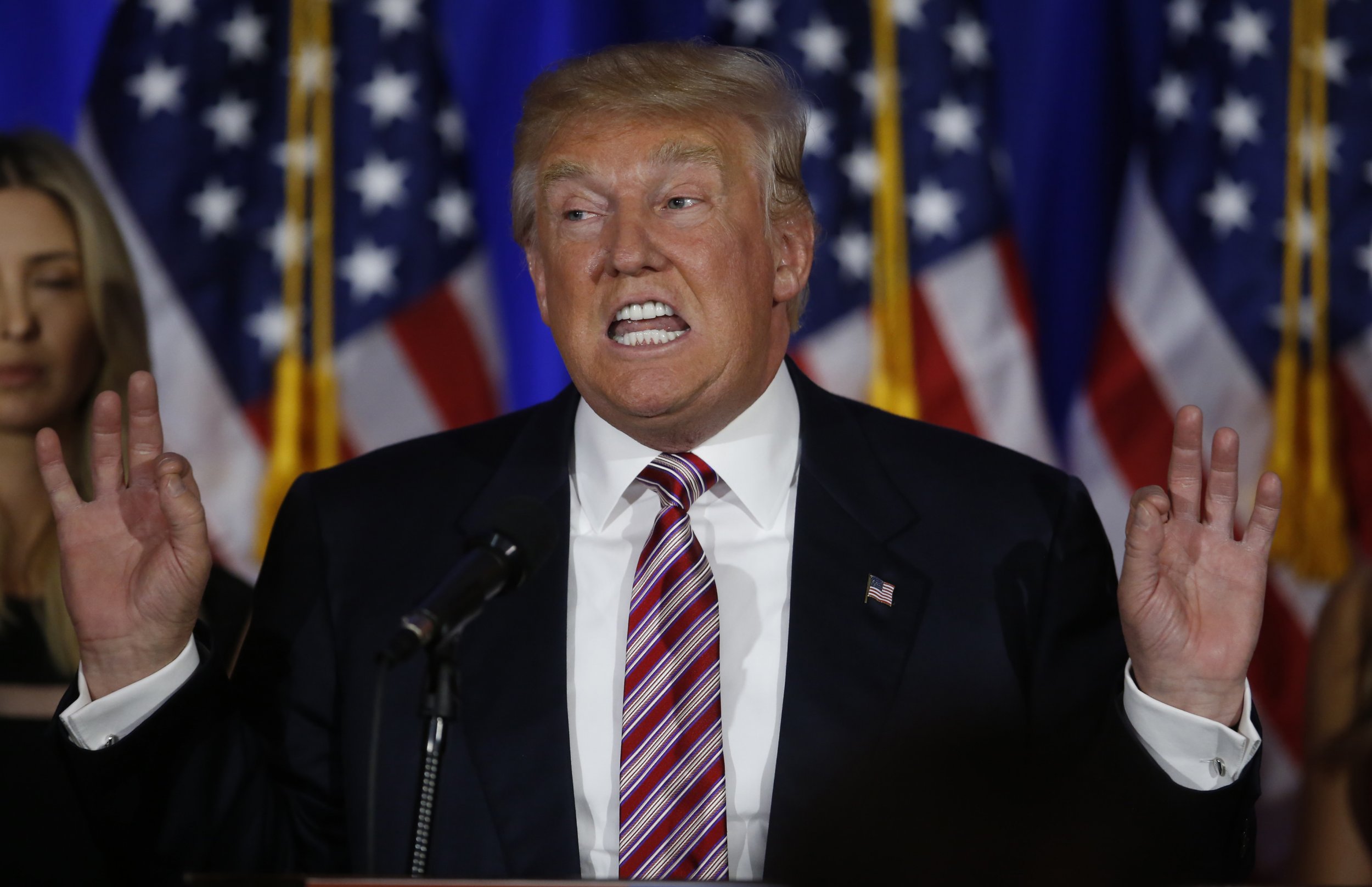 Donald Trump has had a rough couple weeks. It started with the news, which came out over Memorial Day weekend, that a California judge was unsealing documents in the lawsuit against Trump University, the real estate mogul's venture into for-profit education that is accused of fraud. That was followed by a combative press conference on May 31 in which he responded to revelations the presumptive Republican presidential nominee hadn't actually donated $6 million to veterans groups, as he'd pledged in the winter. It went downhill from there, with the mogul declaring that the Hispanic judge in the Trump University case, an Indiana native, is biased against him because he is "Mexican." Finally, on June 2 archrival Hillary Clinton ripped Trump on foreign policy in a heavily publicized speech. Now chatter is building that the fledgling #NeverTrump movement has been revived, with designs on ousting the real estate mogul as the nominee at the Republican convention in July.
But if we've collectively learned one lesson over the course of this election cycle, it's that every time it looks like an attack has knocked Trump out, he somehow comes back stronger. And while the general election race against Clinton is certainly different terrain from the GOP primary, there are signs Trump's Teflon remains intact—for now. A YouGov poll released on Wednesday found that while 51 percent of Americans thought Trump's comments about California Judge Gonzalo Curiel were racist, just 22 percent of Republicans and 44 percent of independents agreed. And a Reuters/Ipsos poll conducted June 4–8 found that Clinton's lead over Trump actually narrowed from a poll conducted a week prior.
The uproar over Trump's comments on Judge Curiel is still playing out, so it's too soon to get a full sense of the fallout, says Peter Brown of the Quinnipiac University Poll. "In a week or so, we'll probably get a better reading on it," Brown says. But he also cautions those jumping to the conclusion that Trump's campaign is now deeply wounded. "One of the things I've learned in the last year in this campaign, I only look at data," Brown says. "In this campaign, going back to the primary and the pre-primary period last year, data has at times been very much at odds with the conventional wisdom."
The concern for Republicans is that Trump now faces a new, far more diverse electorate than he has in the party primary, and these voters are just tuning in to the contest. "There's going to be a race in the next few weeks to define what a Trump presidency would look like," says Alex Conant, former communications director for 2016 GOP rival Senator Marco Rubio.
Democrats are already trying to capitalize on Trump's remarks about Judge Curiel. The Clinton-aligned super PAC Priorities USA launched a set of digital ads Thursday aimed at Latinos in Colorado, Nevada and Florida, including one replaying Trump's comments and the various Republican leaders who have condemned them. The group is betting that the latest controversy will help cement Trump's unfavorable rating with Latino voters in those swing states. Nationally, a Fox News Latino poll released May 20 found nearly 80 percent of registered Latino voters view Trump negatively.
Republicans in general, pollster and Saint Louis University Professor Ken Warren notes, don't tend to do very well among minority voters. "But I think he's going to do even worse," Warren says of Trump. "The kind of insults that he's thrown at women, Hispanics, I just don't think that Teflon's going to hold for him."
The question is how much alienating those voters actually hurts Trump. If he can continue to galvanize mostly white voters with his brusque, politically incorrect campaign style, does he have a shot at winning? The conventional wisdom says no. But a New York Times analysis published Thursday suggested that "millions more white, older working-class voters went to the polls in 2012 than was found by exit polls on Election Day." A repeat of this could give someone like Trump a path to victory in November, even without improving Republicans' numbers among minorities. That would be especially true, Brown notes, if Trump can continue to bring a whole new class of voters to the polls, as he appears to have done in the primaries. The presumptive GOP nominee regularly points out he won the most votes in a Republican primary in history, though, as The Washington Post recently highlighted, he also "won a lower percentage of votes…than anyone since Reagan in 1968." But Republicans did set records for turnout in 2016, and most of those primary voters aren't the types to get offended by controversial comments Trump has made on race or gender over the course of the campaign.
In that sense, the controversies that may end up being the most damaging in the long run are the ones that undermine Trump's image as a wildly successful real estate tycoon and strong leader—like the revelations about how Trump University operated as a marketing ploy rather than as an honest business. A national Quinnipiac poll released June 1 found Trump topped Clinton on the questions "Who do you think is a stronger leader?" and "Who do you think would do a better job creating jobs?"
"During the primary campaign voters looked at Trump as a successful businessman and a celebrity, and nobody tried to attack that brand until very, very late in the campaign, until it was too late," says Conant.
The other challenge Trump has made for himself with the latest controversies is he's pushing away the GOP leadership, who have been roundly critical of his comments on Judge Curiel. That may not hurt him in the polls—the GOP establishment is deeply unpopular with the party's conservative base. But as Conant points out, "it's hard to win a state if the popular sitting governor isn't supporting you." And right now, that is the case in Ohio, the ultimate battleground state. Ohio's Republican governor, John Kasich, also an erstwhile 2016 candidate, told Fox News Thursday morning he wasn't sure yet if he could support Trump. "This latest thing about the judge is terrible, it's just terrible," Kasich said.
"You know for a fact there are Republican voters who are going to sit out this fall's election," says Conant. "And our party doesn't have much margin for error when you look at the challenging electoral map."