Trump Wants Country Open By Easter, Says America Wasn't 'Built' to Be Shut Down Because of Coronavirus
President Donald Trump announced on Tuesday that he would "love" the country to be reopened by Easter, which falls on April 12.
"It's such an important day for other reasons but I'll make it an important day for this too. I'd love to have the country opened up and raring to go by Easter," Trump said.
Cases of a new coronavirus that causes COVID-19 have spiked in the United States as more than 46,000 people have tested positive and 593 have died. States across the country have closed essential businesses and advised people to stay home whenever possible to curb the spread of a new coronavirus.
During a Fox News coronavirus town hall on Tuesday, Trump said that America wasn't designed to shut down and advocated for returning to nearly normal operations as soon as possible.
"Our country is not built to shut down, our people are full of vim and vigor and energy, they don't want to be locked into a house or apartment or some space," Trump said. "We're not built that way."
The president added that keeping businesses closed and people out of work could "destroy" the country, and he repeated a message he sent Monday night that he didn't want the "cure to be worse than the problem itself."
Trump built his presidency and re-election campaign around the economy and has been accused of downplaying the threat of a new coronavirus. The president, however, championed his early decision to restrict travel from China, where the virus originated, and subsequent restrictions.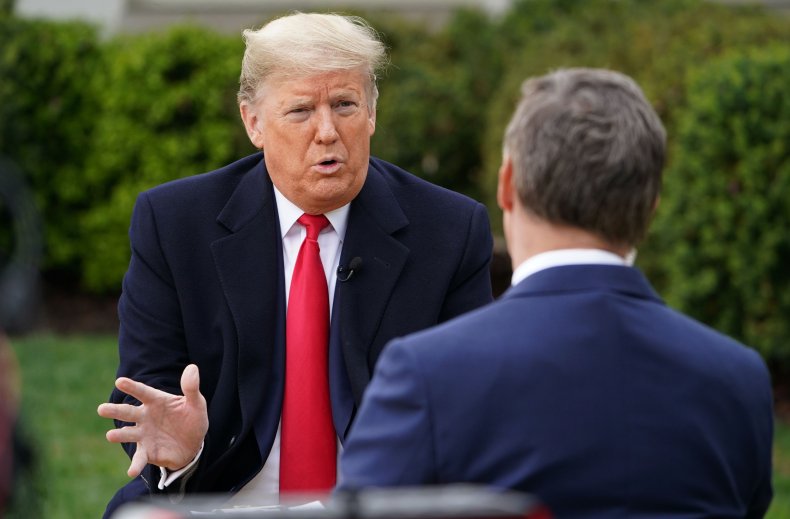 Outbreaks in Europe and China, as well as, travel restrictions and advisories, reduced demand for flights and forced airlines to cancel massive numbers of trips. It's taken a toll on the tourism industry and Airlines for America, an airline industry group, estimated the industry will need at least $50 billion in aid.
Trump has promised to help airlines, as well as, restaurants. Multiple states have limited restaurants to take-out and delivery services to prevent large groups of people from gathering in one place in an attempt to decrease the risk of exposure.
Easing regulations in New York include allowing restaurants to temporarily include alcoholic beverages in take-out and delivery menus. The effort is one that Governor Andrew Cuomo hopes will lessen the financial burden, but hundreds of thousands of hospitality workers across the country have already been laid off.
Unite Here, a labor union with more than 300,000 workers in the U.S. and Canada, previously told Newsweek that it anticipates 80 to 90 percent of its workers, equivalent to about 240,000 to 270,000 people, will be out of work as the pandemic continues. By summer, it's possible as many as 3 million jobs could be gone, according to the Economic Policy Institute.
To help people survive during the outbreak, Trump instructed the Small Business Administration to offer low-interest loans to small businesses and has supported sending checks to the American people. Ultimately, he said, he wants to reopen the country and do it sooner rather than later.
"You can destroy a country this way by closing it down," Trump said during the town hall. "People are going to go out of business and they're going to go bankrupt."
However, officials have warned that reopening the country too soon could cause a resurgence of the outbreak. When asked on Monday if Dr. Anthony Fauci, director of the National Institute for Allergy and Infectious Diseases, agreed with reopening the country, Trump said he didn't "not agree."
Fauci noted that easing social distancing restrictions were "under very intense discussion" during an interview with WMAL's Mornings on the Mall. He said that Trump was attempting to balance the "enormous impact" the outbreak was having on the economy and public health issues. At this point, Fauci, who only weighs a measure's impact on public health, said there wasn't enough data on mitigation efforts to know if they were flattening the curve.
The Trump administration's 15-day plan to curb the spread of the virus is set to expire on Monday, at which point, the president said they'll reassess the situation.
"We'll give it some more time if we need more time but we have to open this country up," Trump said on Tuesday. "We can social distance ourselves and go to work."