On Independence Day, protesters in Washington D.C. will drive around a truck with video display monitors that show the "Trump Death Clock" to call out President Donald Trump's allegedly inadequate response to the coronavirus pandemic.
The creators of the "Death Clock" art installation series teamed up with Public Citizen to drive the truck around D.C., mainly in front of the White House and Trump International Hotel to disrupt July Fourth celebrations and "highlight President Donald Trump's reckless and deadly response to the coronavirus pandemic," according a press release.
The clock's organizers criticized Trump for holding Fourth of July celebrations despite a surge in coronavirus cases reported on Friday. "Unforgivable and surreal on a holiday meant to celebrate LIFE, liberty, pursuit of happiness," they wrote on Twitter.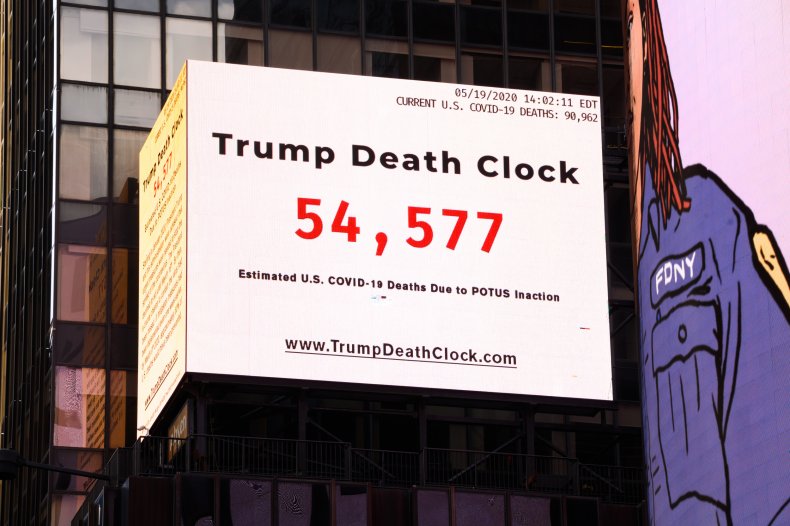 The truck's video display information from the Trump Death Clock website, which shows an estimated number of deaths due to the coronavirus pandemic. The names of people who have died from coronavirus will also be read over a loudspeaker. At the time of publication, the website currently lists over 77,000 deaths. The website receives its information from the COVID Tracking Project.
In the press release, Public Citizen explained that the clock's purpose is to show the consequences of Trump's allegedly poor response to the virus. "Trump and his administration were advised as early as January that urgent measures were needed to stop the spread of the pandemic, but he refused to take action until mid-March, resulting in an estimated 76,000 unnecessary deaths, or 60% of the overall coronavirus death total," the organization said. "Trump has also undermined his own public health experts, pushed states to reopen early and spread misleading information about the virus."
Public Citizen president Robert Weissman told Newsweek that showing a counter of deaths attributable to the president's alleged inaction is an effective way of showing people the Death Clock's message.
"The objective is to convey in concrete terms the cost in human life of President Trump's callousness, cruelty and incompetence. The idea of a counter to not just say, 'Look this has been badly handled and a lot of people have died,' but to attribute some portion of the horrendous death toll to the president for his failures is an important message that we're hoping to communicate," he said.
The Trump Death Clock truck has previously appeared in multiple locations. Most recently, it made its way to Tulsa, Oklahoma for Trump's rally on June 20. The Trump Death Clock has also appeared as a digital billboard in several places, including in New York's Times Square.
The Trump Death Clock website also provides people with a form to bring Trump Death Clock installations to their own towns in various forms, including digital billboards, guerrilla street art and more.
Newsweek reached out to the White House for comment but did not receive a response in time for publication.