Trump Defends Coronavirus Evacuations But Claimed in 2014 Such a Move Showed Obama's Incompetence During Ebola
President Donald Trump claimed there was no comparison between his decision to repatriate Americans at risk from the new coronavirus and President Barack Obama's doing so during the Ebola outbreak—a move he once said showed his predecessor's incompetence.
"There's a vast difference," Trump said during a Tuesday press conference in India. "I felt that we should bring them back. They're Americans, we should bring them back."
COVID-19 cases in the United States rose to 53 on Monday, according to the U.S. Centers for Disease Control and Prevention (CDC). The bulk of those cases, 39, involve people who were either evacuated from the Diamond Princess cruise ship, which was quarantined off the coast of Japan, or repatriated from Wuhan, China, the epicenter of the outbreak.
Trump told reporters during Tuesday's press conference that bringing Americans on the ship home was the "right thing to do" and said he was confident they'd be in "very good shape, very soon."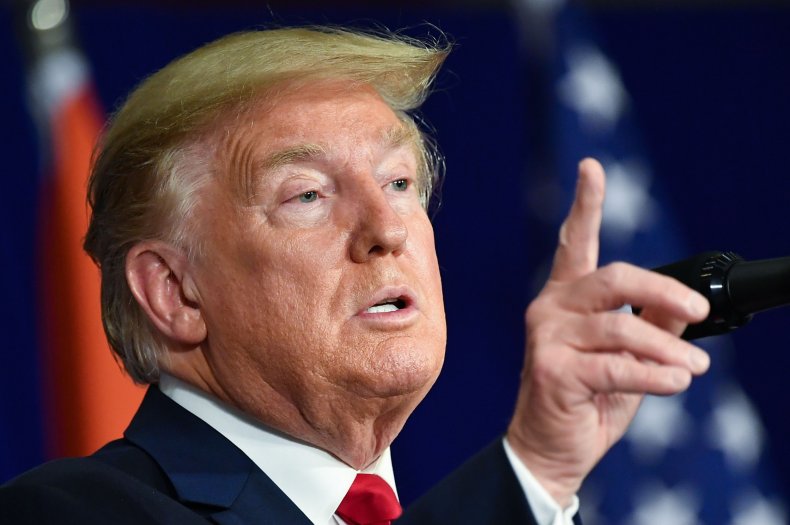 But during the Ebola outbreak in 2014 that infected 28,651 people and killed 11,325, Trump had a different opinion on repatriating Americans from at-risk areas.
In August 2014, Dr. Kent Brently, who was working with Ebola patients in Liberia, was flown to Georgia's Emory University Hospital for treatment after contracting the virus. Missionary Nancy Writebol, who also contracted the virus while working in Liberia, followed days later.
"Ebola patient will be brought to the U.S. in a few days - now I know for sure that our leaders are incompetent. KEEP THEM OUT OF HERE!" Trump tweeted at the time.
Asked on Tuesday if his assessment of Obama's actions signaled incompetence in his own administration, Trump said there was a "big difference" in the two situations. He claimed that at the time of the 2014 outbreak there was virtually a "100 percent" chance of death, compared with the new coronavirus, which currently has a fatality rate of about 2 percent. The final Ebola fatality rate, as reported by the CDC, was about 39 percent.
"It's like day and night," Trump said. "There's a very good chance you're not going to die."
Trump added that the Americans who were evacuated from the Diamond Princess were immediately put into quarantine, a measure that was also taken in the U.S. during the Ebola outbreak.
On February 16, the State Department repatriated more than 300 U.S. citizens and their family members from the ship. All passengers, including those who weren't showing symptoms, were put under a 14-day quarantine at Travis Air Force Base in California or Joint Base San Antonio-Lackland in Texas.
By last Friday, 18 passengers had tested positive for the virus, according to the CDC, and were receiving treatment at the University of Nebraska Medical Center and facilities near Travis and Lackland. That number doubled by Monday, according to the CDC, bringing the total number of passengers with the virus to 36.