Trump on Coronavirus Outbreak: 'I Like That' People Are Now 'Staying In the U.S., Spending Money In The U.S.'
President Donald Trump managed to find a silver lining to the coronavirus outbreak on Thursday, telling viewers of his Fox News town hall that he "likes" that people are "staying in the U.S." and spending money domestically.
During a discussion about the coronavirus' impact on the U.S. economy on Fox News, Trump said, "We were set to hit 30,000 on the Dow, this is a number that no one even came close to... [coronavirus] certainly might have an impact."
"At the same time, I must say, people are now staying in the United States, spending their money in the U.S. and I like that. I have been after that for a long time," the president continued, "I've been saying, 'let's stay in the U.S., spend your money here,' and they're doing that. They're sort of enforced doing that."
He added: "We met with the airline companies yesterday, they're doing a fantastic job. And they're just not flying to areas that have big problems. So it's going to all work out, everybody has to be calm. It's all going to work out."
The White House declined to offer additional comments.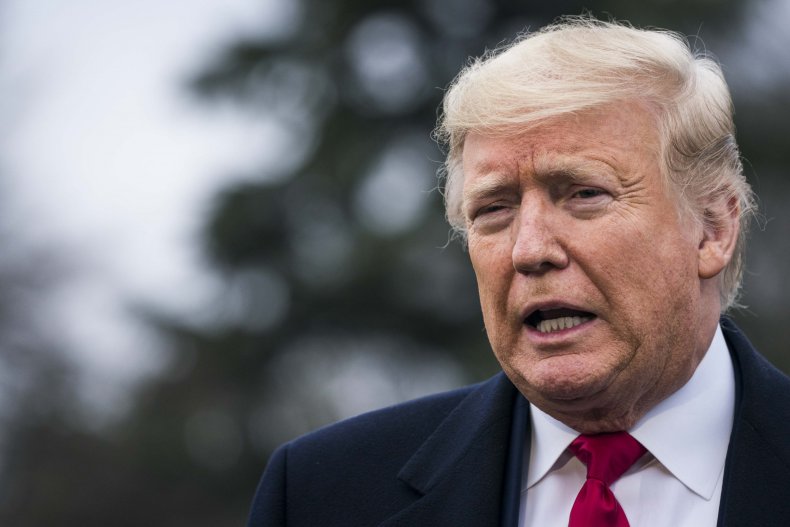 Trump deflected the criticisms his administration has been receiving from critics over their allegedly poor handling of the virus outbreak to former President Barack Obama during a meeting with airline executives at the White House on Wednesday.
"The Obama administration made a decision on testing that turned out to be very detrimental to what we're doing and we undid that decision a few days ago so that testing can take place in a much more accurate & rapid fashion," the president said, referring to a regulation that limited non-FDA approved screenings run by states, companies and universities.
Trump continued to defend his handling out of the new virus during the Fox News town hall event at Scranton, Pennsylvania tonight. "We've been given really tremendous marks ... for the way we've handled it," he said.
The president also suggested that Senator Elizabeth Warren, who ended her presidential campaign earlier today, hindered Senator Bernie Sanders' shot at the Democratic nomination by failing to drop out of the race before Super Tuesday.
"Bernie Sanders would have won five, six, seven states," Trump said. "When you look at it, she did him no favors. That was not a good friendship. We started to see that during the debates, by the way. It became unhinged."
He noted that former Vice President Joe Biden's sudden surge in the race came as a surprise to him. "I'm all set for Bernie, communist," the president remarked. "And then we have this crazy thing that happened on Tuesday."