Trump Coronavirus Task Force Briefing Livestream: How to Watch Latest COVID-19 Announcements From the White House
The Coronavirus Task Force will continue its daily briefings on Wednesday, as cases of a new coronavirus in the United States surpassed 55,000.
On Wednesday, members of the Coronavirus Task Force, including Vice President Mike Pence, will hold a briefing at 5 p.m. ET, according to Pence's official schedule. To watch officials' remarks about the outbreak, people can tune in to the live stream that's available on the White House's YouTube channel.
The U.S. had 55,238 cases of a new coronavirus as of Wednesday morning, according to a tracker maintained by Johns Hopkins University. Of those cases, 802 people have died. Every state has confirmed cases, but New York City has been hit hardest with 15,597 cases and 192 deaths.
In an attempt to curb the virus from spreading, state officials have closed down non-essential businesses and canceled gatherings of any number of people. Similar mitigation measures haven't been enacted at the federal level, but President Donald Trump issued a 15-day plan to slow the spread of the virus on March 16.
The guidelines instructed people to follow the directions of their state and local authorities and stay home if they're sick, have an underlying health condition, are an "older person," or if someone in their home tests positive. Its deadline is coming up on Monday and Trump said the task force will reassess the situation at that time to determine the next steps.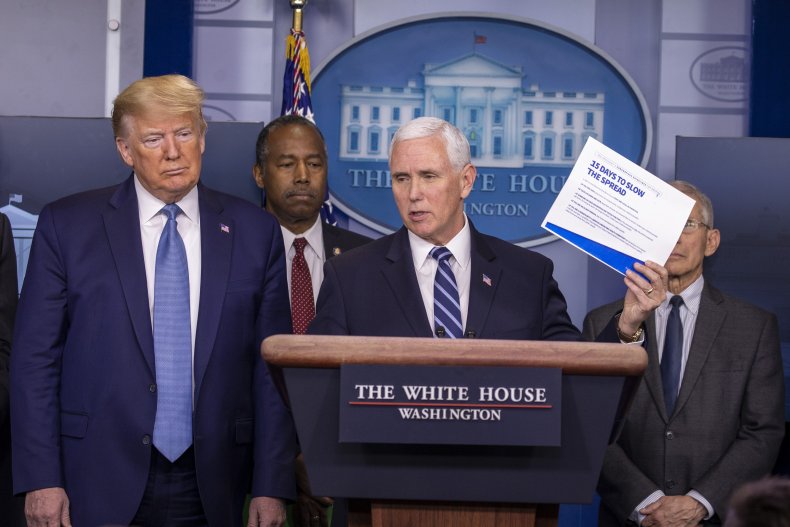 If needed officials will "give it some more time," Trump said during a Fox News town hall on Tuesday, but he stressed the need to reopen the country. Given that America wasn't built to be shut down, his hope is to have the country "raring to go" by Easter, which falls on April 12.
Officials have warned that easing up mitigation measures too early could cause a resurgence in cases and Trump clarified during a task force briefing on Tuesday that they'd only do it "if it's good." He floated the possibility of opening up "large sections" of the country, where outbreaks are far less significant.
Dr. Anthony Fauci, the director of the National Institute for Allergy and Infectious Diseases, explained that in an evolving situation like the one America is in, people need to be flexible. In New York City, common sense and good public health practice indicate that measures shouldn't be toned down. But, as they evaluate information from areas that aren't considered outbreak "hot spots," Fauci said it might be best to implement measures on an area-by-area basis and not at a nationwide scale.
"We need to know what's going on in those areas of the country where there isn't an obvious outbreak," Fauci said. "Is there something underneath the surface that says, 'Wait a minute, you better be careful and really clamp down,' or what looks there that you don't really have to be as harsh as you are in other areas?"
Task force members that appear at the briefings vary daily and it's unclear if Trump or Fauci will attend Wednesday's press conference. However, it's likely whichever officials that attend will field questions about the effectiveness of the 15-day plan and assessments about reopening the country.