Trump Tells Congresswomen Targeted in 'Go Back' Tweets to Apologize to Him: 'So Many People Are Angry at Them'
President Donald Trump has renewed his attack on the Democratic congresswomen who were the targets of tweets he sent over the weekend that many deemed as racist.
Trump provoked outrage when he tweeted that the congresswomen should "go back and help fix the totally broken and crime-infested places from which they came."
Without mentioning anyone by name, the implication was that he was referring to the four members of the so-called "Squad," a group of women from different ethnic backgrounds, including first-term Reps. Alexandria Ocasio-Cortez (D-N.Y.), Ilhan Omar (D-Minn.), Rashida Tlaib (D-Mich.) and Ayanna Pressley (D-Mass.)
However, after #RacistInChief trended on Twitter, an unapologetic Trump took another swipe at the group with two tweets on Monday morning, suggesting that it was they who needed to apologize.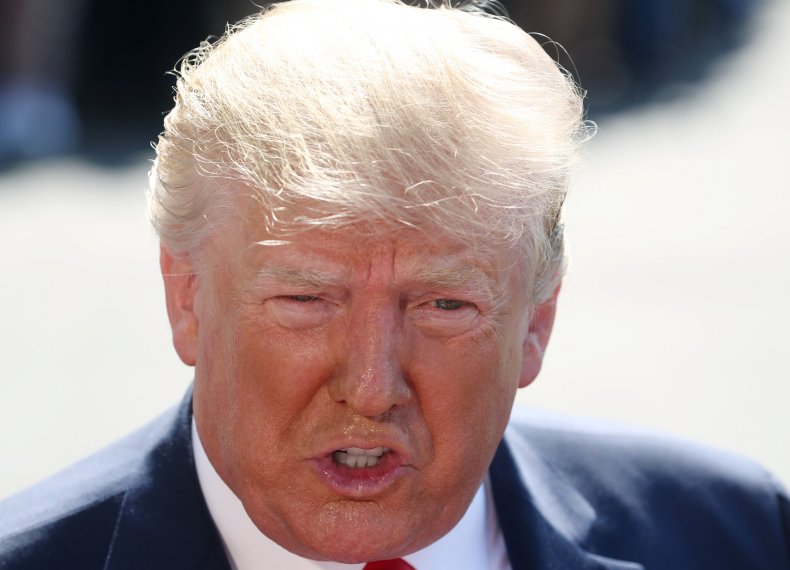 He wrote: "When will the Radical Left Congresswomen apologize to our Country, the people of Israel and even to the Office of the President, for the foul language they have used, and the terrible things they have said. So many people are angry at them & their horrible & disgusting actions!"
Less than an hour later, he doubled down on his criticism, tweeting: "If Democrats want to unite around the foul language & racist hatred spewed from the mouths and actions of these very unpopular & unrepresentative Congresswomen, it will be interesting to see how it plays out. I can tell you that they have made Israel feel abandoned by the US," he added.
Tlaib, born to Palestinian immigrants, was accused by Trump in May of having a "tremendous hatred of Israel and the Jewish people" in response to comments she made in a podcast interview in which she said that her ancestors created a "safe haven for Jews." She said her remarks were deliberately misrepresented by Republicans trying to smear her.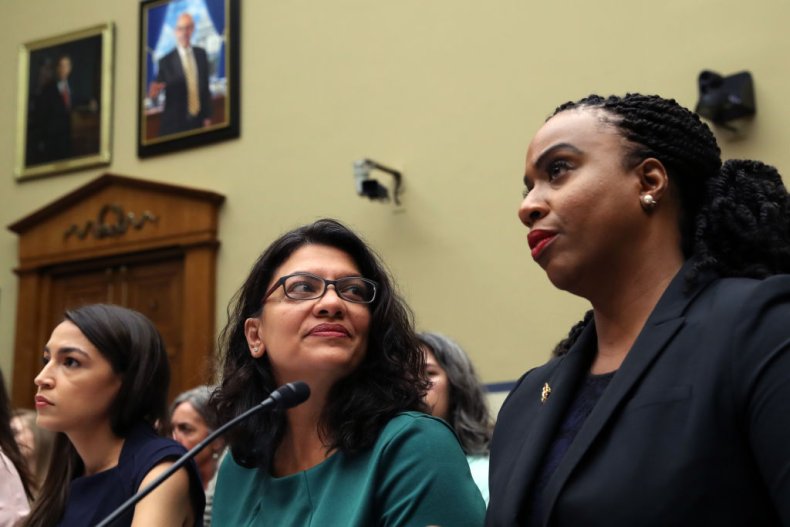 Originally from Somalia and since naturalized as a citizen, Omar is the only one of the four who was not born in the U.S. Ocasio-Cortez, who is of Puerto Rican descent, was born in the Bronx, New York. Pressley, the first black woman elected to the House from Massachusetts, was born in Cincinnati.
Trump's earlier tweets were condemned by Democrats. Speaker of the House Nancy Pelosi said they were "xenophobic comments" which "reaffirms his plan to 'Make America Great Again' has always been about making America white again."
Following Trump's weekend tweets, Tlaib hit back by saying on Twitter: "Want a response to a lawless and complete failure of a president? He is the crisis. His dangerous ideology is the crisis. He needs to be impeached."