Trump Could Be Barred From Future Office Without Senate Conviction, But It Could Take Years
Donald Trump has been charged with "incitement of insurrection" after a mob of his supporters stormed the U.S. Capitol, making him the first president in history to be impeached twice. Now, some lawmakers want to go a step further and ensure he can never run for office again.
But a conviction in the Senate, where a two-thirds majority is needed to find Trump guilty and potentially disqualify him from office—is likely to be an uphill battle, even under a Joe Biden administration.
That's where a little-known provision in the 14th Amendment comes into play. Ratified in 1868, the amendment is primarily known for providing citizenship and equal protection under the law to anyone born or naturalized in the United States. That included formerly enslaved and free Black people.
But Section 3 of the amendment also provides a path for disqualification, stating that no person shall hold office if they have taken part in an "insurrection or rebellion" against the United States. When Congress has invoked Section 3 in the past, it did so with a simple majority or 51 votes.
And while it's never been used against a president, some Democrats are considering it following the attack against the U.S. Capitol on January 6 when a mob of Trump supporters clashed with federal police and breached the building. The riot, which was meant to disrupt the congressional certification of President-elect Joe Biden's Electoral College victory, resulted in five deaths.
In a letter to House Democrats on January 10, Speaker Nancy Pelosi (D-Calif.) said their views were "valued" on Section 3 of the 14th Amendment as well as impeachment and the 25th Amendment. Freshman Representative Cori Bush tweeted that she would introduce a resolution to expel members of Congress who objected to the Electoral College, stating they "violated the 14th Amendment."
The only problem is that the Constitution does not give any directive on how Section 3 of the 14th Amendment should be invoked.
"It's not automatic," Laurence Tribe, a Harvard constitutional law professor, told Newsweek. "It only applies to those people who were guilty of engaging in insurrection or rebellion. And someone still has to determine who those people were, whether the president was himself guilty in engaging in the insurrection."
Tribe said it would be unconstitutional for Congress to simply declare Trump guilty, without a trial conviction, as some people have advocated. But lawmakers could bypass the trial requirement by creating new legislation under Section 5 of the 14th Amendment to provide a procedure for applying Section 3. The new legislation would need to pass both chambers and be signed by the president.
"This was horrible stuff," Tribe said of the January 6 attack. "I'm sure that Congress will want to consider legislation after the impeachment trial is over to create a fair process for enforcing Section 3 against all the people who were engaged in this insurrection."
Michael Gerhardt, a University of North Carolina law professor, also told Newsweek that the House and the Senate would likely impose the directive on how to use Section 3 when a new legislative session begins and members are seated.
Other scholars, Gerhardt noted in an email statement, "believe further that Section 3 might also require a judicial finding, or a congressional one, that the person ruled ineligible did in fact participate in the prohibited misconduct; and some argue that Section 3 implicitly allows each chamber of the Congress to render its judgment through a majority vote in the chamber to which the member violating the section belongs."
But the process could take years, as University of Chicago's Daniel Hemel noted in an editorial for The Washington Post. He also argued that "a law barring Trump from future officeholding that is passed by a simple majority of the House and Senate would raise serious constitutional questions." The better route, Hemel said, would be for Congress to establish a judicial procedure to disqualify insurrectionists.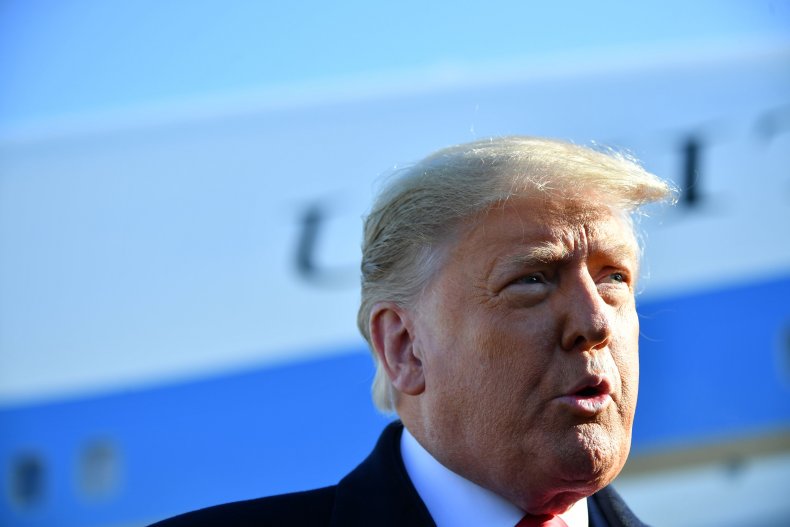 Representative Alexandria Ocasio-Cortez (D-N.Y.) told ABC News that Congress should explore all possible avenues to respond to the Capitol riot and hold political leaders accountable.
"This is not either the 25th Amendment or impeachment or, you know, investigating our other avenues through the 14th Amendment," she told anchor George Stephanopoulos."I do not believe that this is a question of deciding or debating between which of these avenues we should pursue. I believe we should take an all-of-the-above approach."
Pelosi also doubled down on her commitment to hold members of Congress and the president responsible for any role they may have played in the January 6 attack during a press conference on Friday.
"If it in fact it is found that members of Congress were accomplices to this insurrection, if they aided and abetted the crime, there may have to be actions taken beyond the Congress in terms of prosecution," she told reporters.
An impeachment trial in the Senate is not likely to begin until after Trump has left office on January 20. Senate Majority Leader Mitch McConnell (R-Ky.), who is soon to become the upper chamber's minority leader when Georgia's two Democratic senators are sworn in, issued a statement saying Congress should spend the immediate future "completely focused on facilitating a safe inauguration and an orderly transition of power."