Trump Could Be Impeached for Attacking Sessions on Twitter Over GOP Indictments, Toobin Says
Lawyer and CNN analyst Jeffrey Toobin criticized President Donald Trump Tuesday for his attacks on Attorney General Jeff Sessions over the indictments of two Republican congressmen, saying the president's comments may be grounds for impeachment.
"This tweet alone may be an impeachable offense," Toobin said on CNN's New Day. "This is such a disgrace. This is so contrary to the traditions of the Department of Justice.... It's such an insult to the decent people who work there."
Although the president has attacked many of his enemies on Twitter before, Toobin said Trump's decision to complain about Sessions and the indictments, and their potential effect on the Repulican Party in the midterm elections, are more serious breaches of behavior and "such an affront to the values of the Justice Department."
Trump took to Twitter Monday to slam the investigations of Republican Representatives Chris Collins of New York and Duncan Hunter of California, claiming that they jeopardized the Republican Party's prospects in the November midterm elections.
"Two long running, Obama era, investigations of two very popular Republican Congressmen were brought to a well publicized charge, just ahead of the Mid-Terms, by the Jeff Sessions Justice Department," Trump wrote. "Two easy wins now in doubt because there is not enough time. Good job Jeff."
Collins and Hunter, who have both declared their support for Trump, were recently indicted on criminal charges.
Hunter and his wife were charged in August with using campaign funds for personal expenses. They have claimed the charges are politically motivated. Hunter's campaign told the Los Angeles Times that he had no plans to drop out of his re-election race.
Collins is also seeking re-election, despite the charges of insider trading brought against him in August.
"The Democrats, none of whom voted for Jeff Sessions, must love him now," the president continued on Monday. "Same thing with Lyin' James Comey. The Dems all hated him, wanted him out, thought he was disgusting - UNTIL I FIRED HIM! Immediately he became a wonderful man, a saint like figure in fact. Really sick!".
Toobin wasn't the first to criticize the president for his tweets. Several notable Republican lawmakers also called out the president for his comments about Sessions and the Justice Department's investigations.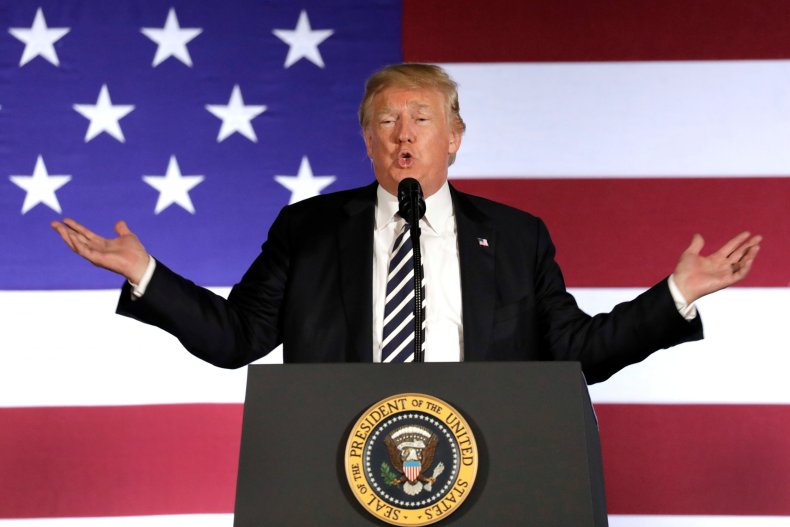 Republican Senator Ben Sasse of Nebraska said in a statement that the "United States is not some banana republic with a two-tiered system of justice—one for the majority party and one for the minority party."
Sasse said the congressmen were charged based on the evidence against them. "Instead of commenting on ongoing investigations and prosecutions," he said, "the job of the President of the United States is to defend the Constitution and protect the impartial administration of justice."