Trump to Close Palestinians' Washington Office Unless Leaders Get Serious About Peace Talks With Israel
The State Department has threatened to close the Palestinian diplomatic mission in Washington D.C unless it enters into serious peace negotiations with Israel.
Secretary of State Rex Tillerson has determined that the Palestinians have broken U.S. laws allowing their consulate to remain open, State Department officials told ABC News and the Associated Press.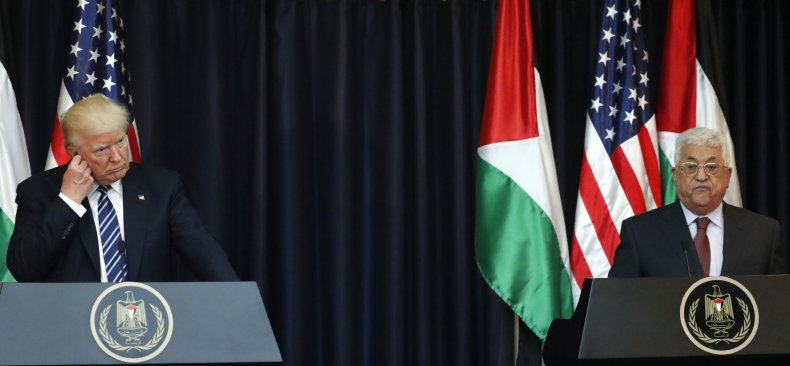 Trump has 90 days to make the decision about whether to close the office. If, after that period, Trump determines that the Palestinians have entered into "direct, meaningful negotiations with Israel," then the office will be allowed to remain open.
Palestinian foreign minister Riad Malki said Saturday that Palestinians would not give in to "extortion" by the U.S. Malki told Palestine Radio that the Palestinians are waiting for further communication from the U.S. government, adding "the ball is now in the American court."
According to the State Department, the office of the Palestinian Liberation Organization (PLO) must close under a U.S. law which forbids it calling for Israelis to be prosecuted for crimes against Palestinians.
Palestinian President Mahmoud Abbas is accused of crossing that line when he called for Israelis to be prosecuted by the International Criminal Court (ICC) in September.
Speaking at the United Nations General Assembly, Abbas called for the ICC to "open an investigation and to prosecute Israeli officials for their involvement in settlement activities and aggressions against our people."
The PLO is the organization that officially represents all Palestinians, and though the U.S. does not formally recognize Palestine as a state, the PLO maintains a Washington office that helps to facilitate contact between U.S. and Palestinian officials.
Trump's son-in-law and adviser Jared Kushner is leading U.S. efforts to broker a peace between Palestine and Israel, with White House officials working on a peace proposal whose details have not been made public. Currently, there are no peace negotiations underway between Palestinians and Israelis.
Abbas was reportedly enraged after his first meeting with Kushner in June in the West Bank city of Ramallah, when Kushner rattled off a series of demands from Israeli Prime Minister Benjamin Netanyahu.