Trump Could Face 'Unpleasant' Jail Time in New York, Former U.S. Attorney Says After Cohen Interviewed for Probe
Ex-U.S. attorney Joyce Vance told MSNBC on Wednesday that President Donald Trump could be facing an "unpleasant" jail sentence after reports indicated that his former personal attorney Michael Cohen is cooperating with the New York district attorney's office as part of its probe into the Trump Organization.
Prosecutors with the New York district attorney's office recently interviewed Cohen for their investigation into the Trump Organization's handling of hush money payments made to Stormy Daniels and Karen McDougal, sources familiar with the probe told CNN. The interview reportedly took place at Otisville federal prison, where Cohen is currently being held on a three-year sentence after pleading guilty last year to various crimes including campaign finance violations, tax fraud and bank fraud.
NBC News also cited an anonymous source in reporting that Cohen struck an agreement with the prosecutors to "provide information about the president's business operation." NBC's source also confirmed that a meeting took place between Cohen and officials from the DA's office at Otisville prison last month.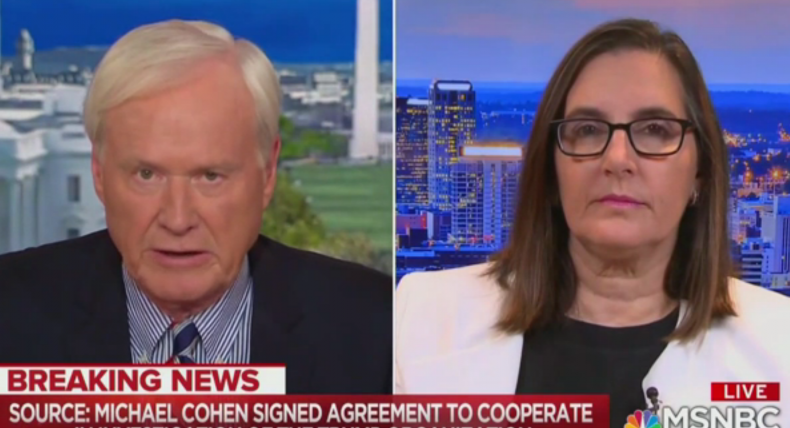 During a segment on MSNBC's Hardball, host Chris Matthews and Vance discussed the potential consequences of Cohen's cooperation for the president.
"Let's talk about Cohen's cooperation here," Matthews said. "He has a point of view, it's fair to say, about Trump and what he thinks of Trump and what they did together. Sneaky, dirty, et cetera, et cetera."
Matthews then asked if there was a "criminal violation by the president in regards to how he paid off Stormy Daniels?"
"What prosecutors seem to be focusing on is the idea that there would have been false business records that would have been submitted," Vance explained. "Normally that's a misdemeanor. But if you submit false business records in an effort to conceal another crime — here, presumably a federal crime involving campaign finance fraud — then it becomes a felony and you're really in hot water."
"What we're hearing in this testimony is that there's an effort to convert the [hush money payment] into legal fees and that is likely how Trump's organization reported it in business records, as legal fees," she added.
Wallace then noted that this "could be a big case, if you're taking the President of the United States down into a criminal matter," before asking Vance what the potential penalties are for Trump.
"That really depends on how it's ultimately structured," Vance responded. "If they were able to make some sort of a tax charge here, which we don't know — we don't know if they have tax records — we could be looking at a lengthy violation for a felony. It's certainly not a misdemeanor."
"The felony crime is a serious one, it carries a lot of collateral consequences," said Vance. "But most significantly is the threat there is jail time involved, and any amount of jail time in the state system in New York would be very unpleasant for the president of the United States."